Reborn on the Run: My Journey from Addiction to Ultramarathons (Hardcover)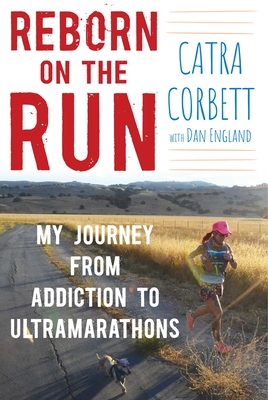 Description
---
"This is a story you'll love and never forget."—Christopher McDougall, author, Born to Run and Natural Born Heroes

Aside from her rock star looks, Catra Corbett is a standout in the running world on her accomplishments alone. Catra is the first American woman to run over one hundred miles or more on more than one hundred occasions and the first to run one hundred and two hundred miles in the Ohlone Wilderness, and she holds the fastest known double time for the 425-miles long John Muir Trail, completing it in twelve days, four hours, and fifty-seven minutes.

And, unbelievably, she's also a former meth addict.

After two years of addiction, Catra is busted while selling, and a night in jail is enough to set her straight. She gives up drugs and moves back home with her mother, abandoning her friends, her boyfriend, and the lifestyle that she came to depend on. Her only clean friend pushes her to train for a 10K with him, and surprisingly, she likes it—and decides to run her first marathon after that.

In Reborn on the Run, the reader keeps pace with Catra as she runs through difficult terrain and extreme weather, is stalked by animals in the wilderness, and nearly dies on a training run but continues on, smashing running records and becoming one of the world's best ultrarunners. Along the way she attempts suicide, loses loved ones, falls in love, has her heartbroken, meets lifelong friends including her running partner and dachshund TruMan, and finally faces the past that led to her addiction.
About the Author
---
Catra Corbett, a former meth addict, is now the first American woman to run more than one hundred miles or more on over one hundred occasions, and holds the fastest known time for the John Muir trail of 425 miles, completing it in twelve days, four hours, and fifty-seven minutes. Her story has been covered in SBNation, ESPN W, HBO's Real Sport with Bryant Gumble, Runner's World, Fit and Feminist, the San Francisco Chronicle, and other outlets. She lives with her trail-running dachshund, TruMan, in Fremont, California.

Dan England is a writer and features editor for the Greeley Tribune. He lives and works in Greeley, Colorado.
Praise For…
---
"One of greatest adventure stories I ever heard involves a meth addict, an exotic dancer, a Goth hairdresser, and a suicidal jailbird, and the amazing transformation that combined all of them into the joyful, iron-tough athlete known as the "Dirt Diva." I'd heard bits of the Dirt Diva legend for years, but until this book, I never knew her story was so painful, tragic, and heroic. This is a story you'll love and never forget." —Christopher McDougall, author of bestselling Born to Run and Natural Born Heroes
"Catra Corbett tells a story that left me gasping for breath at times, wondering if she would survive, and then cheering for her as she overcomes obstacles, one after another. She epitomizes determination and exemplifies a truly rare passion for living." —Charlie Engle, bestselling author of Running Man
"Catra has been a huge inspiration to me to push my own limits and enjoy the process. She's a living rainbow, full of life and color. Her passion and love for running, others, and her dear dog TruMan shines through every day. She shows us what's possible with a strong will and a heart of gold! I thank her for sharing her life and journey with us and being an exemplary role model. She epitomizes perseverance and is the one-of-a-kind Dirt Diva." —Camille Heron
"[Catra] she bares her soul to the reader. She allows us an inside look at the struggles she had not only with addiction but with loss of life and love. Her story is truly gripping." -Vegan Cable Guy

"One of greatest adventure stories I ever heard involves a meth addict, an exotic dancer, a Goth hairdresser, and a suicidal jailbird, and the amazing transformation that combined all of them into the joyful, iron-tough athlete known as the "Dirt Diva." I'd heard bits of the Dirt Diva legend for years, but until this book, I never knew her story was so painful, tragic, and heroic. This is a story you'll love and never forget." —Christopher McDougall, author of bestselling Born to Run and Natural Born Heroes
"Catra Corbett tells a story that left me gasping for breath at times, wondering if she would survive, and then cheering for her as she overcomes obstacles, one after another. She epitomizes determination and exemplifies a truly rare passion for living." —Charlie Engle, bestselling author of Running Man
"Catra has been a huge inspiration to me to push my own limits and enjoy the process. She's a living rainbow, full of life and color. Her passion and love for running, others, and her dear dog TruMan shines through every day. She shows us what's possible with a strong will and a heart of gold! I thank her for sharing her life and journey with us and being an exemplary role model. She epitomizes perseverance and is the one-of-a-kind Dirt Diva." —Camille Heron
"[Catra] she bares her soul to the reader. She allows us an inside look at the struggles she had not only with addiction but with loss of life and love. Her story is truly gripping." -Vegan Cable Guy