Ohio (Hardcover)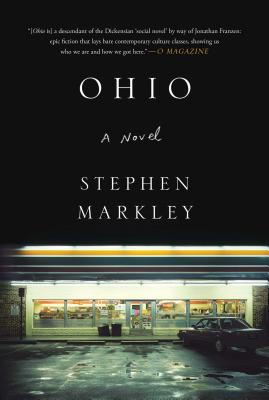 Description
---
"Extraordinary...beautifully precise...[an] earnestly ambitious debut." —The New York Times Book Review

"A wild, angry, and devastating masterpiece of a book." —NPR

"[A] descendent of the Dickensian 'social novel' by way of Jonathan Franzen: epic fiction that lays bare contemporary culture clashes, showing us who we are and how we got here." —O, The Oprah Magazine

"A book that has stayed with me ever since I put it down." —Seth Meyers, host of Late Night with Seth Meyers

One sweltering night in 2013, four former high school classmates converge on their hometown in northeastern Ohio.

There's Bill Ashcraft, a passionate, drug-abusing young activist whose flailing ambitions have taken him from Cambodia to Zuccotti Park to post-BP New Orleans, and now back home with a mysterious package strapped to the undercarriage of his truck; Stacey Moore, a doctoral candidate reluctantly confronting her family and the mother of her best friend and first love, whose disappearance spurs the mystery at the heart of the novel; Dan Eaton, a shy veteran of three tours in Iraq, home for a dinner date with the high school sweetheart he's tried desperately to forget; and the beautiful, fragile Tina Ross, whose rendezvous with the washed-up captain of the football team triggers the novel's shocking climax.

Set over the course of a single evening, Ohio toggles between the perspectives of these unforgettable characters as they unearth dark secrets, revisit old regrets and uncover—and compound—bitter betrayals. Before the evening is through, these narratives converge masterfully to reveal a mystery so dark and shocking it will take your breath away.
About the Author
---
Stephen Markley is an author, screenwriter, and journalist. A graduate of the Iowa Writer's Workshop, Markley's previous books include the novel Ohio, the memoir Publish This Book: The Unbelievable True Story of How I Wrote, Sold, and Published This Very Book, and the travelogue Tales of Iceland. He lives in Los Angeles.
Praise For…
---
PRAISE FOR OHIO BY STEPHEN MARKLEY

"Markley [does] some extraordinary things with the structure of the book . . . Casual details suddenly take on new surprising significance. There's real pleasure in this hopscotching narrative: with each new point of view, a clearer sense of the hidden story emerges as the reader slowly pieces together some shocking revelations . . . The most moving parts of the book are those that step back and let the events and the actions speak for themselves, as when one character (the shy bookish one from high school) recalls his first tours in Afghanistan. The beautifully precise details are all the more vivid for their lack of accompanying commentary. The real core of this earnestly ambitious debut lies not in its sweeping statements but in its smaller moments, in its respectful and bighearted renderings of damaged and thwarted lives. It's the human scale that most descriptively reveals the truth about the world we're living in."—DAN CHAON, NEW YORK TIMES BOOK REVIEW

"[Ohio is] a descendent of the Dickensian 'social novel' by way of Jonathan Franzen: epic fiction that lays bare contemporary culture clashes, showing us who we are and how we got here…Markley's prose [is] as lively as a bonfire, crackling with incisive details…Markley's gift is keeping one eye on these intimate specifics and the other on the expansive landscape of modern American life."—O MAGAZINE

"Ohio isn't just a remarkable debut novel, it's a wild, angry and devastating masterpiece of a book. Markley's debut is a sprawling, beautiful novel that explores the aftermath of the Great Recession and the wars in Iraq and Afghanistan, and a powerful look at the tenuous bonds that hold people together at their best and at their worst. [Ohio] is intricately constructed, with gorgeous, fiery writing that pulls the reader in and never lets go."—NPR

"Genuinely absorbing…Ohio burns with alienation, nihilism, frustration and finally love for a place that gave birth to all of them."—WASHINGTON POST

"A book of genuine substance and style...Markley's skill is apparent...Both a lament and a love letter, Ohio is a reminder of the wealth of stories hidden in small towns, and of how much 'history and pathos could accumulate in errant pockets on any given night.'"—WALL STREET JOURNAL

"Markley's ambitious foray into fiction reunites four high school classmates on a fateful summer night in their Ohio hometown, in what reads like a darker-themed epilog to Friday Night Lights…Markley's prose sparkles with insight and supports an intricate narrative architecture that recalls Nathan Hill's The Nix and Patrick Somerville's This Bright River…highly recommended for all literary collections."—LIBRARY JOURNAL (STARRED REVIEW)

"Reporters have fanned out in search of answers to Middle America's decline and Trumpist desperation, but Markley is one of the first novelists to fully reflect the social forces at work without sacrificing an iota of character work or narrative tension. Drawing on the reunion-novel tradition, he brings together four alumni of the same (fictional) Ohio high school on one momentous evening a decade after graduation, each with their own pattern of escape and return—and their own mission of repentance or retribution."—VULTURE (NYMAG.COM)

"[Ohio is] a thoughtful examination of the neglected corners of a traumatized country — and one that will pierce your loyal, loving heart."—ENTERTAINMENT WEEKLY

"[A] standout debut…Markley's novel is alternately disturbing and gorgeous, providing a broad view of the anxieties of a post-9/11 Middle America and the complexities of the humans who navigate them."—PUBLISHERS WEEKLY

"[Ohio is] so rich in complex storytelling and literary excellence that it's difficult to believe it's a fiction debut."—PUBLISHERS WEEKLY

"Timely and of vital importance, Ohio delves into the spectrum of issues consuming contemporary America's Rust Belt, exploring topics like joblessness, addiction, terrorism, sexuality, religion and sex, to name a few. Markley's disturbing masterpiece reads like the offspring of Harlan Coben, Jonathan Franzen and Hanya Yanagihara: an illuminating snapshot of our current era masquerading as a twisted character-driven thriller, filled with mordant wit and soul-shaking pathos... an edifying and unforgettable read that leaves [readers] breathless."—BOOKPAGE

"The characters walk and talk like real, messed-up people; the author cares about them, and so does the reader. The prologue-four sections-coda structure works because Markley took the time to connect everything in a masterful set of flashbacks and flash-forwards that parcel out enough information to make the conclusion both shocking and inevitable. Ohio is a big novel about what happened after 9/11, the initial euphoria and the long depression that grips us still."—SEATTLE TIMES

"Effectively four tart, well-turned novellas bundled in a symphonic prologue and epilogue...Markley writes each of these character studies with powerhouse command and painterly detail about socioeconomic distinctions...Markley's novel is in line with a dark strain of Midwestern fiction that runs from Edgar Lee Masters to Gillian Flynn. Its bleakness and style are appealing."—MINNEAPOLIS STAR TRIBUNE

"[A] knockout debut...fully engrossing from the start, save moments when you're taken aback by how good the writing really is, how flawless the storytelling...Ohio is a ceaselessly beautiful and gut-wrenching debut."—CHICAGO REVIEW OF BOOKS

"Ambitious and suspenseful." —COLUMBUS DISPATCH

"The kind of book that people rarely attempt to write anymore…A Big American Novel that seeks to tell us where we live now."—THE MILLIONS

"In his bold debut novel, Ohio, Stephen Markley visits the fictional northeastern Ohio town of New Canaan to paint in vivid colors the shattered dreams and stunted lives of young adults removed by roughly a decade from their high school graduation. It's an intensely realistic and keenly observed portrait that puts a human face on subjects often obscured by statistics and expert opinion… a dark and deeply felt examination of a generation confronting problems that can't be solved quickly or with ease…it has earned a place in any conversation about the important role fiction can play in reflecting life back to us when we look squarely in the mirror."—SHELF AWARENESS

"Markley is a knockout storyteller, infusing each section with realistic detail, from the drudgery of Walmart work to war to the fleeting ecstasies of drugs to violence, especially self-harm."—KIRKUS REVIEWS

"Important and ambitious...this year's Hillbilly Elegy of fiction."—SALON


"Beautifully descriptive...an insightful, tragic story."—BOOKLIST

"Ambitious...one of the most human novels I've read in a long, long time...it does what a good book should, which is just sucks you in to the extent that time not spent reading it feels like wasted time...it makes you think long after you have turned the final page...highly, highly recommend it."—ROGER BENNETT, MEN IN BLAZERS

"Ohio captures the hacking cough of 2018's poisoned America. Markley's dialogue often sums up our national Great Depression—not economic, but the spiritual frustration of this bitter century...a biting portrayal of Midwest ennui."—THE DAILY BEAST

"Stephen Markley is an expert cartographer of the American Rust Belt and the haunted landscapes of his characters' interiors. A fast-moving and devastating debut."—KAREN RUSSELL, New York Times bestselling author of Swamplandia!

"Ohio is that rarest of unicorns, a novel that swings for the fences, and actually tries to explain just what the fuck happened to this country after the towers fell, and how we got to this awful particular moment. Stephen Markley goes for the universe with every single sentence he writes. That the universe answers him as often as it does makes for a hugely impressive first novel."—CHARLES BOCK, New York Times bestselling author of Alice & Oliver

"If the American dream has given way to American carnage, then this is the great American novel of its time. Stephen Markley is a gifted storyteller who has written a fearless and impressive debut."—DAVID BEZMOZGIS, author of Natasha and The Betrayers

"Ohio is heartbreaking, frightening, and occasionally, amidst the sorrow and horror, transcendent—a novel that casts the clearest possible eye on people haunted by who they used to be and might have become, and a country haunted by the same. Stephen Markley is unflinching."—KEVIN BROCKMEIER, author of The Illumination