Love Lockdown: Dating, Sex, and Marriage in America's Prisons (Hardcover)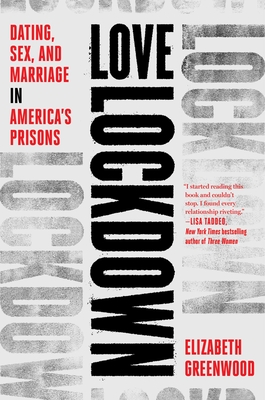 Description
---
This evocative and gripping investigative look into romantic relationships between incarcerated people and their spouses on the outside "is impossible to put down" (The Globe and Mail, Toronto).

What is it like to fall in love with someone in prison?

Over the course of five years, Elizabeth Greenwood followed the ups and downs of five couples who met during incarceration. In Love Lockdown, she pulls back the curtain on the lives of the husbands and wives supporting some of the 2.3 million people in prisons around the United States. In the vein of Modern Love, this book shines a light on how these relationships reflect the desire and delusion we all experience in our romantic pairings.

Love Lockdown infiltrates spaces many of us have only heard whispers of—from conjugal visits to prison weddings to relationships between the incarcerated themselves. "A tour de force of empathetic nonfiction storytelling" (Vanessa Grigoriadis, author of Blurred Lines), Love Lockdown changes the way you look at the American prison system and perhaps relationships in general.

Also published as Love in the Time of Incarceration.
About the Author
---
Elizabeth Greenwood is the author of Playing Dead: A Journey Through the World of Death Fraud. Her work has appeared in The New York Times, VICE, O, the Oprah Magazine, Longreads, GQ, and others.
Praise For…
---
"Journalist Greenwood (Playing Dead) paints a colorful portrait of the world of MWIs… Enriched by the author's curiosity and empathy, and shot through with memorable details (Jo and Benny 'toast[ed] each other with blue Powerade from the vending machine'), this is an intriguing look at a little-known world."
—Publishers Weekly

"[A] compassionate inquiry into the hidden phenomena of prison relationships, particularly the 'MWI' (Met While Incarcerated) demographic…Greenwood makes good use of interviews with prisoners, academics, and others, and the writing is observant, humorous, and even sensuous… An empathetic and well-characterized book that will add complexity to debates about mass incarceration."
—Kirkus Reviews

"An engaging, informative, open-minded account of family dynamics that are often overlooked."
—Library Journal

"Greenwood profiles a range of different situations—ranging from prisoners who meet spouses through pen-pal sites to a man and trans woman who fall in love on the inside—and the ways in which affection, support, and care sustained and buffered them from the cruelty of a system that often destroys intimate bonds. A compulsively readable book, Love Lockdown is impossible to put down."
—The Globe & Mail

"An utterly engrossing and deeply human portrait of love behind bars, LOVE LOCKDOWN turns the caricature of the groupie "prison wife" on its head, revealing the trials and triumphs of loving someone caught up in the prison system. This is the kind of non-fiction that reads like the best of fiction--nuanced, evocative, and ultimately, enlightening."
—Susannah Cahalan, New York Times bestselling author of Brain on Fire and The Great Pretender

"I started reading this book and couldn't stop. There's nothing quite so beguiling as impossible love affairs, but what sets this book apart is the empathy and normalcy with which Greenwood writes about her subjects. It's a clear-eyed, compassionate look at prison love stories, and I found every relationship riveting."
—Lisa Taddeo, #1 New York Times bestselling author of Three Women

"Big-hearted and insightful, funny and heartbreaking, Love Lockdown paints a complex portrait of couples who came together during—and in spite of—incarceration. Greenwood delves deeply into these experiences, revealing paradoxes in the romantic lives of her subjects that will resonate with readers everywhere. A page-turner and a triumph."
—Ayelet Waldman, author of A Really Good Day

"Love Lockdown is a tour de force of empathetic nonfiction storytelling. Elizabeth Greenwood goes to the heart of our prisons' modern romantic relationships, and returns with a morality tale about what's gained and lost when America perpetuates the carceral state."
—Vanessa Grigoriadis, author of Blurred Lines: Rethinking Sex, Power, and Consent on Campus

"Greenwood has unearthed the ultimate American romance story: flawed people loving one another imperfectly,against a backdrop of violence. An important new work by a fearless writer."
—Kerry Howley, author of Thrown

"Love can be by turns funny, life-affirming, and heart-breaking; the same can be said about Elizabeth Greenwood's Love Lockdown, a warmly engaging look at how relationships find a way (or don't) despite a criminal justice system that stacks the deck against them."
—Rachel Monroe, author of Savage Appetites: Four True Stories of Women, Crime, and Obsession

"Thorough, empathetic immersive journalism, Love Lockdown is a testament to the power of action, belief, and hope—and urges us to rethink the toll of mass incarceration on loved ones who live free, but with force fields around their hearts and lives."
—Sarah Weinman, author of The Real Lolita and editor of Unspeakable Acts: True Tales of Crime, Murder, Deceit & Obsession

"With deep empathy, wisdom and an irrepressible sense of humor that finds lightness even in the darkest places, Liz Greenwood has brought her journalistic brilliance to bear on relationships forged under the most extreme circumstances imaginable. This is a must-read for anyone who cares about the nature of love, both in prison and out."
—Emily Gould, author of Perfect Tunes