Lightning Men: A Novel (The Darktown Series #2) (Hardcover)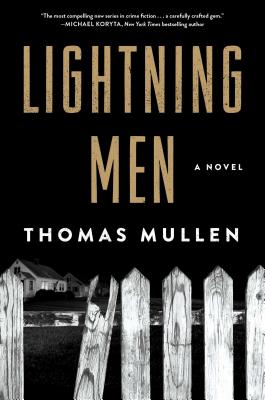 Other Books in Series
This is book number 2 in the The Darktown Series series.
Description
---
"Writes with a ferocious passion that'll knock the wind out of you." —The New York Times, on Darktown

"Reads like the best of James Ellroy." —Publishers Weekly (starred review), on Darktown

"Mullen is a wonderful architect of intersecting plotlines and unexpected answers." —The Washington Post, on Darktown

From the acclaimed author of The Last Town on Earth comes the gripping follow-up to Darktown, a "combustible procedural that will knock the wind out of you" (The New York Times).

Officer Denny Rakestraw and "Negro Officers" Lucius Boggs and Tommy Smith have their hands full in an overcrowded and rapidly changing Atlanta. It's 1950 and racial tensions are simmering as black families, including Smith's sister, begin moving into formerly all-white neighborhoods. When Rake's brother-in-law launches a scheme to rally the Ku Klux Klan to "save" their neighborhood, his efforts spiral out of control, forcing Rake to choose between loyalty to family or the law.

Across town, Boggs and Smith try to shut down the supply of white lightning and drugs into their territory, finding themselves up against more powerful foes than they'd expected. Battling corrupt cops and ex-cons, Nazi brown shirts and rogue Klansmen, the officers are drawn closer to the fires that threaten to consume the city once again.

With echoes of Walter Mosley and Dennis Lehane, Mullen demonstrates in Lightning Men why he's celebrated for writing crime fiction "with a nimble sense of history...quick on its feet and vividly drawn" (Dallas Morning News).
About the Author
---
Thomas Mullen is the author of The Lightning Men, Darktown, and The Last Town on Earth, which was named Best Debut Novel of 2006 by USA TODAY. He was also awarded the James Fenimore Cooper Prize for excellence in historical fiction for The Many Deaths of the Firefly Brothers and The Revisionists. His works have been named to Year's Best lists by The Chicago Tribune and USA TODAY, among others. His stories and essays have been published in Grantland, Paste, and the Huffington Post, and his Atlanta Magazine true crime story about a novelist/con man won the City and Regional Magazine Award for Best Feature. He lives in Atlanta with his wife and sons.
Praise For…
---
"LIGHTNING MEN proves the promise: Thomas Mullen is writing the most compelling new series in crime fiction. This is an extraordinarily talented writer working at the top of his game -- each character, plot thread, scene, and sentence is a carefully crafted gem. LIGHTNING MEN and DARKTOWN are must-read novels."
— Michael Koryta, New York Times bestselling author

"Mullen again brilliantly combines a suspenseful plot with a searing look at a racist [1950s] South."
— Publishers Weekly, starred review

"It deserves a place on every suspense reader's list."
— Library Journal, Starred Review

"Mullen effectively uses the police procedural format to shine a light on the daily indignities and violence blacks suffered in the pre–civil rights South, while delivering a plot that never lets up on suspense."
— Booklist, Starred Review

"A multilayered thriller . . . an epic of mid-20th century American transformation."
— Kirkus Reviews

PRAISE FOR DARKTOWN BY THOMAS MULLEN:

"A brilliant blending of crime, mystery, and American history (Atlanta, just after WWII). Terrific entertainment."
— Stephen King

"One incendiary image ignites the next in this highly combustible procedural, set in the city's rigidly segregated black neighborhoods during the pre-civil-rights era and written with a ferocious passion that'll knock the wind out of you."
— New York Times Book Review

"Mullen is a wonderful architect of intersecting plotlines and unexpected answers. But you also want justice, which you know neither Mullen nor our own time can provide...Compelling works of fiction such as Mullen's walk a fine line between art that reminds us of horrors past and art that trades on them with pieces too unfinished to play with."
— Washington Post

As his previous historical novels have proven, Mullen is skilled at bringing the past to life, both socially and visually… fans of well-written literary thrillers will want this expert example.
— Library Journal

From the very first page of Darktown, I was stunned, mesmerized, and instantly a huge fan of Tom Mullen. Beyond the history and the thrilling mystery, the book's soul lies in the burgeoning partnership (and dare I say friendship) at the center of the book. It's a reminder of the ties that cut across race in America. There is nothing I love more in a book than hope.
— Attica Locke

Fine Southern storytelling meets hard-boiledcrime in a tale that connects an overlooked chapter of history to our owncontinuing struggles with race today.
— Charles Frazier

Mullen uses the lens of a twisted murder mystery to unsettle readers with his unflinching looks at racism in post-WWII Atlanta… This page-turner reads like the best of James Ellroy.
— Publisher's Weekly (Starred Review)

"Mullen succeeds in delivering a narrative heartbreakingly irresistible"
— Shelf Awareness, Starred Review

Mullen's writing is extremely evocative in bringing the pre–civil rights South to life.
— Booklist (Starred Review)

"Gripping…. A complicated crime fiction that melds an intense plot with fully realized characters… Mullen's unflinching description[s] add to the realism and relevance of Darktown."
— Associated Press

"[An] absorbing new mystery, reminiscent of E.L. Doctorow in a genre mood."
— USA Today

"This a particularly satisfying read."
— Kirkus Reviews 10 Favorite Crime Noves of the Year

"In the way the story is told coupled with its heightened racial context, "Darktown" reminded me of a Walter Mosley or a George Pelecanos novel."
— Milwaukee Journal Sentinel

"Tenebrous and super-cinematic…and in no small sense reminiscent of 1997's L.A. Confidential."
— Seattle Review of Books

"In a year when the literary community has seen some stellar releases examining the issue of race in unique ways – books like Underground Airlines by Ben H. Winters, Colson Whitehead's The Underground Railroad – Darktown stands beside Revolver by Duane Swierczynski as examples of how crime fiction can elucidate the topic with pinpoint accuracy. This novel should be required reading for both police forces nationwide and the citizens they seek to protect."
— BOLO Books

"Darktown is a compelling well-crafted read, and a reminder of how far we have come as a nation from a time when race defined success and opportunity. Or have we?"
— New York Journal of Books

"This is high-quality historical crime fiction with a nimble sense of history and well-researched details, quick on its feet and vividly drawn."
— Dallas Morning News

"It is no surprise the much anticipated DARKTOWN is more than just a fictional crime thriller- infused with historical details and timely controversial subjects."
— JDC Must Read Books, 5 Star Review

"Some books educate, some books entertain, Thomas Mullen's DARKTOWN is the rare book that does both…a novel that holds up a mirror to the vestiges of discrimination that remain alive and well today."
— Huffington Post

"Lovers of Harry Bosch, Dave Robicheaux and Easy Rawlins should delight in 'Darktown' and its new detective team."
— Bookfilter

"This is such a moving piece of fictionalized American history...I was completely invested in this story and I highly recommend people pick this up."
— Kissin' Blue Karen

"Hitting the page like the second coming of Ellroy, Mullen delivers a timely and tense story set in Atlanta in the days immediately following World War II...a throroughly modern, compelling thriller that resonates and crackles with dark energy."
— B&N Reads, September's Best New Thrillers

"An addictive novel…reminiscent of Dennis Lehane novels."
— The Missourian

"Mullen's epic novel works both as a fast-paced, hard-boiled thriller with the sweep of L.A. Confidential and as a vivid depiction of systemic police racism and corruption, all the while alive to the complexities and subtleties surrounding class, religion and sex within the black community. In this age of Black Lives Matter, a historical crime novel might well be the most topical book of the season."
— Irish Times

"Novelist Mullen's research is impeccable…This novel is highly recommended for those who like a good police procedural and for those interested in the African-American struggle to cross over the thin blue line of policing."
— Historical Novel Society

"Mullen's attention to historical detail and living, breathing narrative draws readers into an engaging crime story."
— Creative Loafing Atlanta

"At times, the day-to-day experience of blacks and whites living in the Jim Crow south seen through this fictional lens seems like bulletins from a distant past, something long gone and half-forgotten, shocking in its strangeness. At other times it reads like tomorrow's headlines."
— Reviewing the Evidence

"Darktown is a powerful book. When you've read it, it will reverberate in your thoughts continuously."
— Spare Change News

"The plot has the hallmarks of a classic noir mystery, making the novel an enjoyable read both for mystery fans and for readers who want to get a better sense of life in the segregated south shortly after World War II."
— Tzer Island

?"Darktown is a thrilling, fast-paced crime novel, but the complex questions it raises will haunt readers long after the final page."
— Toledo Blade

"Darktown is a thrilling, fast-paced crime novel, but the complex questions it raises will haunt readers long after the final page,"
— The Toledo Blade

"Darktown is a thrilling, fast-paced crime novel, but the complex questions it raises will haunt readers long after the final page,"
— The Toledo Blade

"While true to history and context, the book is a heck of a ride."
— Tampa Bay Times

Top 10 Crime Novels of 2017
— New York Times Book Review