Look Who's Cooking: The Rhetoric of American Home Cooking Traditions in the Twenty-First Century (Folklore Studies in a Multicultural World) (Paperback)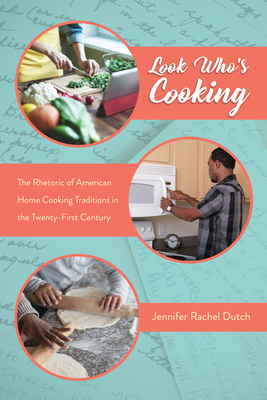 Description
---

Home cooking is a multibillion-dollar industry that includes cookbooks, kitchen gadgets, high-end appliances, specialty ingredients, and more. Cooking-themed programming flourishes on television, inspiring a wide array of celebrity chef-branded goods even as self-described "foodies" seek authenticity by pickling, preserving, and canning foods in their own home kitchens. Despite this, claims that "no one has time to cook anymore" are common, lamenting the slow extinction of traditional American home cooking in the twenty-first century.

In Look Who's Cooking: The Rhetoric of American Home Cooking Traditions in the Twenty-First Century, author Jennifer Rachel Dutch explores the death of home cooking, revealing how modern changes transformed cooking at home from an odious chore into a concept imbued with deep meanings associated with home, family, and community.

Drawing on a wide array of texts--cookbooks, advertising, YouTube videos, and more--Dutch analyzes the many manifestations of traditional cooking in America today. She argues that what is missing from the discourse around home cooking is an understanding of skills and recipes as a form of folklore. Dutch's research reveals that home cooking is a powerful vessel that Americans fill with meaning because it represents both the continuity of the past and adaptability to the present. Home cooking is about much more than what is for dinner; it's about forging a connection to the past, displaying the self in the present, and leaving a lasting legacy for the future.
About the Author
---
Jennifer Rachel Dutch is assistant professor of English and chair of the English Department at York College. Her work has appeared in Digest: A Journal of Foodways and Culture.