The Fireside Cook Book: A Complete Guide to Fine Cooking for Beginner and (Paperback)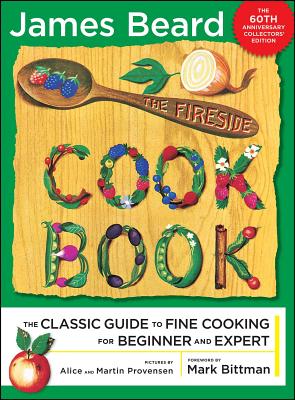 $31.99

Usually Ships in 1-5 Days
Description
---
The Fireside Cook Book is designed for people who are not content to regard food just as something one transfers periodically from plate to mouth. It is for those who recognize that a simple family meal (as well as a dress-up dinner party) can be a pleasure and a special event.

The wide variety of I-can't-wait-to-try-it dishes in the book are presented according to a new and different theory. You will find here no attempt to overwhelm the cook with all the recipes ever concocted. Instead, you will find clear, easy-to-follow instructions for the basic preparation of every food, followed in each case by fascinating variations. The basic recipes and variations add up to 1,217 tested dishes -- simple enough for the novice, delicious enough for the most meticulous master chef, complete enough for the most imaginative menus without a repetition.

A detailed chapter is devoted to the art of outdoor cookery, another to the preparation of hors d'oeuvres, cocktail snacks, and supper snacks. There is an entire section of suggested menus subdivided into cold weather meals and summer doldrum hints. There is also a complete section on wines and liquors.

The 36 full-color pictures and the nearly 400 other color pictures are themselves full of helpful invention. Handsome double-page spreads employ visual-aid methods to give practical details about, and special uses of, cuts of meat, varieties of wine, and types of fish.

Here, in short, is a book that is an indispensable addition to every American home in which good food is appreciated. It is a book to use constantly, to pore over with delight, and give to all friends from whom you can reasonably expect a future dinner invitation.
About the Author
---
James Beard had a national reputation as an authority on every phase of food. Consultant to a wine and spirits establishment, he wrote seventy-six other books and numerous articles for national magazines on widely varied phases of cooking. Mr. Beard, who knew the cooking of every corner of our country, cooked in nearly every language. He lived abroad, traveled throughout Europe a number of times, saw most of the Western Hemisphere, and visited Hawaii and North Africa. His familiarity with exotic foreign foods spiced his extensive knowledge of American cooking at its best.

Mr. Beard was adviser to several large food companies, was food editor of Argosy magazine, and made many appearances on radio and television. His first three books are Hors d'Oeuvres and Canapes, Cook It Outdoors, and Fowl and Game Cookery. Equally at home in the kitchen of his own New York apartment and that of a hotel, James Beard brought the same sure touch to a half-hour supper as he did to the most elaborate buffet. He died in 1985.

Alice Provensen is the author and illustrator of Murphy in the City, A Day in the Life of Murphy, and Klondike Gold. She collaborated with her late husband, Martin, on many other highly acclaimed picture books, including the Caldecott Medal–winning The Glorious Flight and Nancy Willard's Newbery Medal–winning A Visit to William Blake's Inn, which was also a Caldecott Honor Book. The Provensens have been on the New York Times list of the Ten Best Illustrated Books eight times. Alice lives in California.

Mark Bittman is the author of thrity books, including Food Matters, How to Cook Everything, Dinner for Everyone, How to Eat, and Animal, Vegetable, Junk. He worked on the weekly New York Times column, The Minimalist and his work has appeared in countless newspapers and magazines. He has made many televison appearances on shows such as CBS's The Dish and the Today show. Bittman is currently Special Advisor on Food Policy at Columbia University's Mailman School of Public Health, where he teaches and hosts a lecture series called Food, Public Health, and Social Justice.