The Falklands Naval Campaign 1982: War in the South Atlantic (Paperback)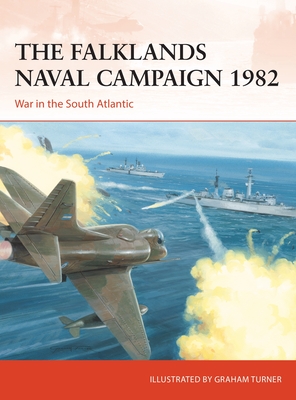 Description
---
On April 2, 1982, Argentine armed forces invaded and captured the Falkland Islands, a British dependency in the South Atlantic long claimed by Argentina. In this comprehensive account, renowned naval historian Dr Edward Hampshire takes advantage of new sources to examine the Naval campaign that saw Britain eventually retake the islands.

The Falklands Conflict was remarkable for many reasons: it was a hard fought, bloody and short conflict between a leading NATO power and one of the most capable armed forces in South America; it demonstrated the capabilities of a range of cutting-edge technologies including nuclear-powered attack submarines, Exocet missiles and Sea Harrier VSTOL aircraft; and it was fought many thousands of miles away from the Royal Navy's home bases.

In this illustrated study, renowned naval historian Dr Edward Hampshire draws upon the latest available sources to offer a comprehensive examination of the Falklands naval campaign. Blow-by-blow accounts of key engagements, such as the sinking of the General Belgrano, the loss of HMS Sheffield, and the landings at San Carlos Bay, are presented alongside lesser known but equally important naval operations that helped shape the outcome of the conflict.
About the Author
---
Edward Hampshire is a historian at the Naval Historical Branch of the Ministry of Defence. He has lectured at the Joint Services Command and Staff College and the Royal Military Academy Sandhurst and worked for ten years at the United Kingdom National Archives. He has written on the Cold War at sea, British defence policy and intelligence history, and is currently researching British naval policy in the 1980s. His publications include From East of Suez to Eastern Atlantic, British Naval Policy 1964-70 and (co-authored) British Intelligence: Secrets, Spies and Sources.

Graham Turner is a leading historical artist, specializing in the medieval period. He has illustrated numerous titles for Osprey, covering a wide variety of subjects from the dress of the 10th-century armies of the Caliphates, through the action of bloody medieval battles, to the daily life of the British Redcoat of the late 18th century. The son of the illustrator Michael Turner, Graham lives and works in Buckinghamshire, UK.