Daniel: My French Cuisine (Hardcover)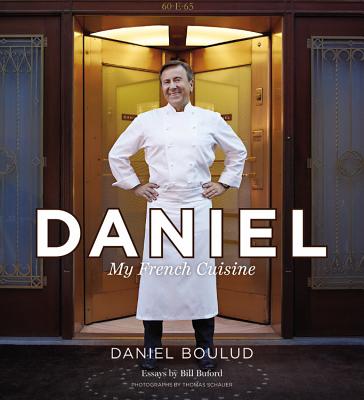 Description
---
Daniel Boulud, one of America's most respected and successful chefs, delivers a definitive, yet personal cookbook on his love of French food.

From coming of age as a young chef to adapting French cuisine to American ingredients and tastes, Daniel Boulud reveals how he expresses his culinary artistry at Restaurant Daniel. With more than 75 signature recipes, plus an additional 12 recipes Boulud prepares at home for his friends on more casual occasions.

Daniel is a welcome addition to the art of French cooking. Included in the cookbook are diverse and informative essays on such essential subjects as bread and cheese (bien svªr), and, by Bill Buford, a thorough and humorous look at the preparation of 10 iconic French dishes, from Pot au Feu Royale to Duck a la Presse...with more than 120 gorgeous photographs capturing the essence of Boulud's cuisine and the spirit of restaurant Daniel, as well as a glimpse into Boulud's home kitchen, Daniel is a must-have for sophisticated foodies everywhere.
About the Author
---
Daniel Boulud was born in France in 1955 and trained under renowned chefs Roger Verge, Georges Blanc, and Michel Guerard. He moved to the United States, where he served as Executive Chef at Le Cirque in New York. In 1993 he opened Daniel, Zagat's top-rated New York restaurant for two years running, followed by Café Boulud and DB Moderne. Among numerous other awards, he has been named "Chef of the Year" by Bon Appétit, and has received Gourmet's Top Table award. He lives in New York City.
Praise For…
---
"Just when you think you know everything about one of your closest friends, he surprises you with anecdotes, reflections and insight. French cuisine is in Daniel's blood, but this book---the most personal he has written---goes well beyond the traditional rules and codes of French cooking. It's an intimate look at Daniel as a chef, and a vivid portrait of Daniel as a person, highlighting the art and science in his iconic and regional cooking, and the humility that guides everything he does." --Thomas Keller, Chef/Owner of The French Laundry

"Daniel: My French Cuisine is a beautiful homage to not only French cooking, but also to its culture. Mastering techniques, and ultimately creating harmony, is what Daniel accomplishes brilliantly in this stunning book. I'm inspired by the exquisite photography and also by the riveting essays by Bill Buford that highlight the talent, curiosity, sense of hospitality and the legendary generosity of Daniel." --Eric Ripert, Chef/Co-Owner, Le Bernardin

"Reading Daniel: My French Cuisine, I experienced a very Proustian emotion; I was back at age 13 in my mother's kitchen restaurant in Lyon. From Daniel's remembrance of Chefs Nandron and Bocuse to the Lyon market and his coming to America, I was young again, cooking in France and New York. Thoroughly grounded in classical training, passionate and talented, Daniel has created an exciting, personal, and innovative cuisine in his multiple restaurants and has become a leader in the extraordinary rise of American cuisine of the last 20 years." --Jacques Pepin, Chef, Author, Teacher

"This book is a true representation of all that has contributed to the success and reputation of Restaurant Daniel over the past 20 years. My friendship with Daniel has spanned the last three decades, starting when we both began our careers in New York City. We have grown along a parallel path, and I am pleased to be able to call Daniel one of my oldest friends. I have a great respect for him as a man and as a chef." --Jean-Georges Vongerichten, Chef/Owner of Jean-Georges

"Grand tenors of the kitchen, such as my friend Daniel, never cease to enchant me. Daniel: My French Cuisine shows his extraordinary journey, marked by relentless conviction, overwhelming passion, his instinctual culinary intelligence, and just the right amount of ambition. Along the way he has cultivated his ceaseless inquisitive nature-the hallmark of visionary insight." --Michel Guérard, Chef / Owner Les Prés d'Eugénie - Michel Guérard