Red Cell: A Novel (a Jonathan Burke/Kyra Stryker Thriller) (Hardcover)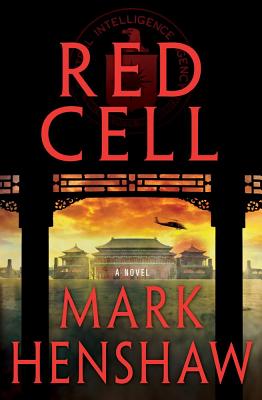 Description
---
From the Tom Clancy of a new generation, a debut thriller following two CIA outcasts who must race to stop a secret Chinese weapon that threatens to provoke a world war.

From the Tom Clancy for a new generation, a debut thriller following two CIA outcasts who must race to stop a secret Chinese weapon that threatens to provoke a world war

After her first assignment in Venezuela goes disastrously awry, rookie case officer Kyra Stryker is brought back to Langley to work in the Red Cell, the CIA's out-of-the-box think tank. There she's paired with Jonathan Burke, a straitlaced analyst who has alienated his colleagues with his unorthodox methods and a knack for always being right, political consequences be damned.

When a raid on Chinese spies in Taiwan ends in a shoot-out and the release of a deadly chemical, CIA director Kathy Cooke turns to the Red Cell to figure out why China is ready to invade the island nation without any fear of reprisal from the US Navy. Stryker and Burke's only lead is the top CIA asset in China, code named Pioneer. But when Pioneer reports that Chinese security has him under surveillance, Stryker is offered a chance for redemption with a highly dangerous mission: extract Pioneer from China before he's arrested and executed. The answers he holds could mean the difference between peace in the Pacific or another world war.

From CIA headquarters to the White House to a Navy carrier in the South China Sea and the dark alleyways of Beijing, Red Cell takes readers on a whirlwind race against time as Stryker and Burke work to save Pioneer and discover the hidden threat to America's power: China's top-secret weapon.

CIA analyst Mark Henshaw infuses expert knowledge of the intelligence world into a pulse-pounding plot to create a fascinating, authentic, and unforgettable read.
About the Author
---
Mark Henshaw is a graduate of Brigham Young University and a decorated CIA analyst with more than sixteen years of service. In 2007, Henshaw was awarded the Director of National Intelligence Galileo Award for innovation in intelligence analysis. A former member of the Red Cell think tank, Henshaw is the author of Red Cell, Cold Shot, and The Fall of Moscow Station, and lives with his family in Leesburg, Virginia. Visit him at MarkHenshaw.com.
Praise For…
---
"CIA analyst Henshaw's assured debut, an exciting espionage thriller, puts him solidly in the ranks of the top writers of the genre. Henshaw deftly weaves together all the major and minor players—the U.S., Chinese, and Taiwanese governments; the spies who provide information; and the analysts who turn that information into intelligence. The masterfully handled battle at the end is worthy of Tom Clancy." —Publishers Weekly (starred review)

"Red Cell is as smart as it is exciting, a thriller that makes you think from the edge of your seat. Mark Henshaw's unique perspective from the inside makes it all feel terrifyingly real." —Howard Gordon, co-creator of Homeland and author of Hard Target

"Mark Henshaw is the real deal and he delivers big-time in his debut novel Red Cell. Only a decorated CIA analyst like Henshaw could take you this deep into the psyche of CIA operatives—and even deeper into one of the most dangerous and imminent geopolitical flashpoints of our times. If the events Henshaw plays out on the pages of his novel have not already taken place in secret, they may well play out in public sooner rather than later. Mr. President, this intelligence briefing is worth your special attention." —Thomas Greanias, New York Times bestselling author of Dominus Dei

"Mark Henshaw clearly knows the terrain, from the geopolitical to the tradecraft in the shadows. I'm surprised this made it past the CIA censors. A rock solid thriller as plausible as tomorrow's headlines." —Brad Taylor, New York Times bestselling author of One Rough Man and All Necessary Force

"If you're looking for a great, authentic and thrilling story, look no further. Lock the door and turn off the phone, because you're going on a journey only a gifted insider like Mark Henshaw could take you on. This author is a rare double threat—a man with the knowledge and access few have, and the rare talent as a writer to bring it to life. If you want to learn how things really work when it hits the fan, you can apply for a job at the CIA or read Mark's book." —David Ayer, screenwriter of Training Day and S.W.A.T.