The Coincidence Makers: A Novel (CD-Audio)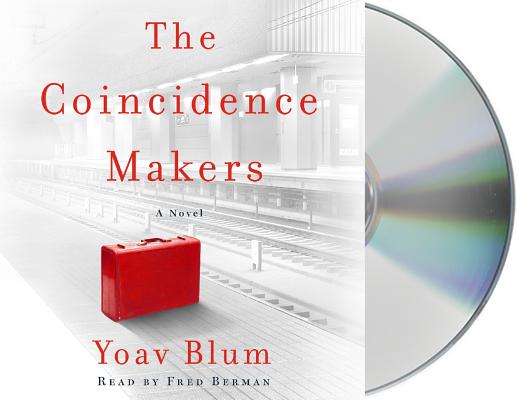 Staff Reviews
---
This quirky Israeli bestseller imagines the lives of rank and file "coincidence makers," part of a behind the scenes bureaucracy that subtly nudges people in the right directions in their lives.  Inventive and heartfelt.
— Christy
Description
---
"This existential, mind-bending, jigsaw puzzle of a novel is supremely satisfying." — BookPage

In this genre-bending audiobook from bestselling Israeli author Yoav Blum, there is no such thing as chance and every action is carefully executed by highly trained agents. Listeners will never look at coincidences the same way again.
What if the drink you just spilled, the train you just missed, or the lottery ticket you just found was not just a random occurrence? What if it's all part of a bigger plan? What if there's no such thing as a chance encounter? What if there are people we don't know determining our destiny? And what if they are even planning the fate of the world?
Enter the Coincidence Makers—Guy, Emily, and Eric—three seemingly ordinary people who work for a secret organization devoted to creating and carrying out coincidences. What the rest of the world sees as random occurrences, are, in fact, carefully orchestrated events designed to spark significant changes in the lives of their targets—scientists on the brink of breakthroughs, struggling artists starved for inspiration, loves to be, or just plain people like you and me…
When an assignment of the highest level is slipped under Guy's door one night, he knows it will be the most difficult and dangerous coincidence he's ever had to fulfill. But not even a coincidence maker can see how this assignment is about to change all their lives and teach them the true nature of fate, free will, and the real meaning of love.

Part thriller, part mystery, part love story—Kirkus calls The Coincidence Makers "a smart, unpredictable, and heartfelt adventure story."
About the Author
---
Yoav Blum is an international bestselling author and software developer. His first three books became instant Israeli bestsellers.
The Coincidence Makers
, his debut, will be translated into more than ten languages. He currently lives in Israel with his wife and two daughters. When he is not writing (literature or code) he contemplates what he'll do when he grows up.
Fred Berman is a five-time winner of the AudioFile Earphone Award for Audiobook Narration and the recipient of the 2013 Audie Award for narration in Spy the Lie. He has read a number of audiobooks for young listeners, including Judy Blume's Soupy Saturdays with The Pain & The Great One and Andrew Clements's The Last Holiday Concert. He has also narrated the audiobooks for Robert Kirkman's popular series, The Walking Dead.
Berman is an accomplished actor of both the stage and screen as well, performing on Broadway as Timon in The Lion King and off-Broadway in Hamlet, Twelfth Night, and King Lear. On television, Berman has had roles on NBC's hit series Smash as well as All My Children and Law and Order. He lives in New York City.