Lush Life (Compact Disc)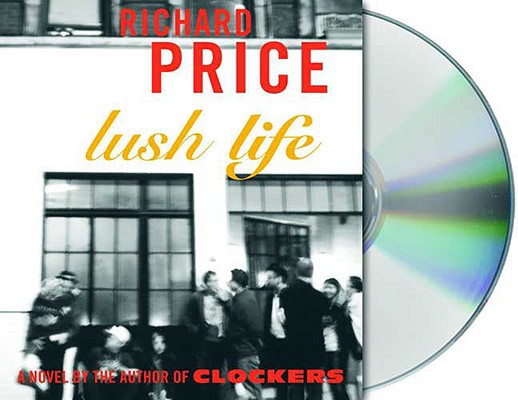 Spring/Summer '09 Reading Group List
---
"Like a modern, urban Crime and Punishment, this brilliant book is an intimate study of the interior lives of everyone touched by a too-quick trigger. You will be haunted by Price's riveting portraits of all involved, from the disillusioned detective to the victim's family, as well as the New York neighborhood they share."
— Carla Jimenez, Inkwood Books, Tampa, FL
Fall '09/Winter '10 Reading Group List
---
"Like a modern, urban Crime and Punishment, this brilliant book is an intimate study of the interior lives of everyone touched by a too-quick trigger finger. You will be haunted by Price's riveting portraits of the self-pitying initial suspect, the lonely young perp, the disillusioned detective, and the victim's family, as well as the New York City neighborhood they share."
— Carla Jimenez, Inkwood Books, Tampa, FL
Description
---
"So, what do you do?" Whenever people asked him, Eric Cash used to have a dozen answers. Artist, actor, screenwriter...But now he's thirty-five years old and he's still living on the Lower East Side, still in the restaurant business, still serving the people he always wanted to be. What does Eric do? He manages. Not like Ike Marcus. Ike was young, good-looking, people liked him. Ask him what he did, he wouldn't say tending bar. He was going places--until two street kids stepped up to him and Eric on Eldridge Street one night and pulled a gun. At least, that's Eric's version.
In "Lush Life," Richard Price tears the shiny veneer off the "new" New York to show us the hidden cracks, the underground networks of control and violence beneath the glamour. "Lush Life" is an X-ray of the street in the age of no broken windows and "quality of life" squads, from a writer whose "tough, gritty brand of social realism...reads like a movie in prose" (Michiko Kakutani, "The New York Times").
About the Author
---
Richard Price is the author of seven novels, including "Clockers," "Freedomland," and "Samaritan." He won a 2007 Edgar Award for his writing on the HBO series "The Wire." Bobby Cannavale won an Emmy Award for his guest appearance on the hit TV show "Will & Grace." His other TV credits include "Third Watch, Ally McBeal, Law & Order, Oz, " and "Six Feet Under."
Praise For…
---
Praise for Bobby Cannavale:
"Bobby Cannavale gives an incredible performance, getting every nuance of vibrant, varied New York speak right, even flawless, rapid-fire Puerto Rican Spanish. He takes a page of print and makes it three-dimensional..."—BookPage on Lush Life "With a perfect ear for dialogue, Bobby Cannavale sounds like he grew up on the same patch of New York's Lower East Side that Price so effectively captures….As Clark, Cannavale adds just the right mixture of weariness and frustration. He adds dimension and surprisingly subtle touches to all of Price's already rich characters…Better yet, Cannavale delivers Price's sometimes mind-boggling slanguages (including cop-speak, Ebonics and a sort of restaurateur rap) as smoothly, effortlessly and clearly as an expertly trained Old Vic thespian interprets lines from the Bard." - Publishers Weekly, starred review "I had the rare treat...to read and listen to Lush Life, Richard Price's glowingly acclaimed new novel. And, admitted audiophile though I am, I really think the audio is better. Bobby Cannavale gives an incredible performance, getting every nuance of vibrant, even flawless, rapid-fire Puerto Rican Spanish. He takes a page of print and makes it three-dimensional..."- Sukey Howard, Sukey's Favorite, BookPage "Price's latest novel is a tale of two men going in completely different directions in their respective lives who are ultimately united after a single late-night incident. The story is wonderfully realized by narrator Bobby Cannavale. The reading is the stuff that makes audiobooks so wonderful: impassioned, authentic, and true. Cannavale's throaty New York accent brings these characters to life in a way that will make listeners feel nosy just by listening. Cannavale understands the complicated psychological narrative that Price has penned and never fails to captivate his listener through the mounting tension that builds from the very start. This reading is a remarkable performance that grips the audience and brings them into Eric and Ike's dark world. Fantastic!
—AudioFile on Lush Life, Winner of an AudioFile Earphones Award "Reader Bobby Cannavale does an excellent job translating the tale from print to the spoken word, bringing the many characters to life. One of the better audiobooks produced recently, it is highly recommended for all audio collections." - Library Journal, starred review Praise for Richard Price:
"Price is a master observer and chronicler of urban grit bracketed by the culture of crime and the culture of cops. The novel is structured as a police procedural...But Price gives it the depth of fine fiction driven by his amazing talent for dialogue, for capturing the cadences of the street and the more subtle cadences of fear, bravado, sorrow and shame."—BookPage on the audiobook of Lush Life "Richard Price is the greatest writer of dialogue, living or dead, this country has ever produced. Wry, profane, hilarious, and tragic, sometimes in a single line, Lush Life is his masterwork. I doubt anyone will write a novel this good for a long, long time."
—Dennis Lehane on Lush Life

"Price writes with the slightly manic desperation of someone determined to tell the
absolute truth...This heightened, anxious awareness of moral and psychological
complexity is one of the great accomplishments of first-rate writing."
—Francine Prose, The New York Times Book Review on Freedomland

"Perhaps we are no longer used to novelists who are superb reporters...[Price's] characters come alive in a few paragraphs and remain living presences after they depart."
—Charles Taylor, Salon on Samaritan "Narrator Bobby Canavale does a superb job of capturing all the nuances - the foreign accents, the gritty street slang, and the overall New Yorker rhythm and vibe. The audio production values are fantastic, the sound crisp and clear, making for a very pleasurable listening experience." - Curledup.com