Conscious Parenting: A Guide to Raising Resilient, Wholehearted & Empowered Kids (Hardcover)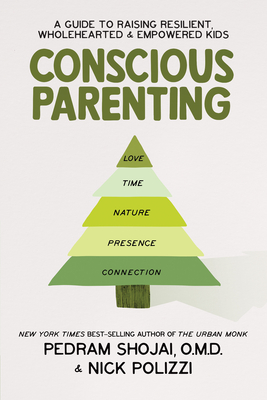 Description
---
A timely guide for mindful parenting and family connectivity.

Do you feel like you and your kids are caught in a cycle of passing greetings, technological distraction, and fatigued interaction? Do you feel overwhelmed by parental stress and anxiety?

Know that you are not alone. There are techniques available that you can use today to help you better connect with and raise your kids. Pedram Shojai, O.M.D., New York Times best-selling author of The Urban Monk and The Art of Stopping Time, and Nick Polizzi, author of The Sacred Science, offer advice and actionable tips for:
· Nurturing your family unit into a cohesive whole
· Connecting with your kids amid technology overload
· Confronting real-world existential threats and fears

Filled with the wisdom and insight of the world's top parenting consultants, therapists, pediatricians, and child educators, you will be able to embrace conscious parenting as a way of life for right now rather than some day, creating a new present and future for you and your family.

Conscious Parenting is not about controlling our kids or who they become. Instead, it is about giving them a foundation that allows them to walk into adulthood with confidence, assertiveness, a deep connection to themselves, emotional and spiritual resiliency, and mental fortitude.
About the Author
---
Dr. Pedram Shojai is the founder of Well.Org; the New York Times best-selling author of The Urban Monk, Rise and Shine, The Art of Stopping Time, Inner Alchemy, and Focus; and the co-author of Exhausted and Trauma. He is the producer and director of the movies Vitality, Origins, and Prosperity. He has also produced such documentary series as Interconnected, Gateway to Health, and Exhausted. In his spare time, he's a Taoist abbot, a doctor of oriental medicine, and a qigong master.

Nick Polizzi is the founder of the Sacred Science, director of the feature documentary by the same name, and author of the book based on the film. He is also the co-author of Exhausted and Trauma and the host and executive producer of the docuseries Remedy: Ancient Medicines for Modern Illness. He has been traveling the world, documenting forgotten healing methods, ever since he cured himself of a debilitating illness at age 25 using a traditional therapy.