Notes from Underground: Introduction by Richard Pevear (Everyman's Library Classics Series) (Hardcover)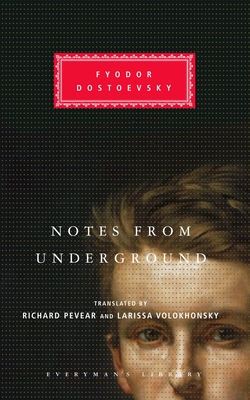 $24.00

Usually Ships in 1-5 Days
Description
---
Dostoevsky's most revolutionary novel, Notes from Underground marks the dividing line between nineteenth- and twentieth-century fiction, and between the visions of self each century embodied. One of the most remarkable characters in literature, the unnamed narrator is a former official who has defiantly withdrawn into an underground existence. In full retreat from society, he scrawls a passionate, obsessive, self-contradictory narrative that serves as a devastating attack on social utopianism and an assertion of man's essentially irrational nature.

Richard Pevear and Larissa Volokhonsky, whose Dostoevsky translations have become the standard, give us a brilliantly faithful edition of this classic novel, conveying all the tragedy and tormented comedy of the original.
About the Author
---
Fyodor Mikailovich Dostoevsky's life was as dark and dramatic as the great novels he wrote. He was born in Moscow in 1821. A short first novel, Poor Folk (1846) brought him instant success, but his writing career was cut short by his arrest for alleged subversion against Tsar Nicholas I in 1849. In prison he was given the "silent treatment" for eight months (guards even wore velvet soled boots) before he was led in front a firing squad. Dressed in a death shroud, he faced an open grave and awaited execution, when suddenly, an order arrived commuting his sentence. He then spent four years at hard labor in a Siberian prison, where he began to suffer from epilepsy, and he returned to St. Petersburg only a full ten years after he had left in chains.

His prison experiences coupled with his conversion to a profoundly religious philosophy formed the basis for his great novels. But it was his fortuitous marriage to Anna Snitkina, following a period of utter destitution brought about by his compulsive gambling, that gave Dostoevsky the emotional stability to complete Crime and Punishment (1866), The Idiot (1868-69), The Possessed (1871-72), and The Brothers Karamazov (1879-80). When Dostoevsky died in 1881, he left a legacy of masterworks that influenced the great thinkers and writers of the Western world and immortalized him as a giant among writers of world literature.
Praise For…
---
Praise for previous translations by Richard Pevear and Larissa Volokhonsky, winners of the PEN/Book-of-the-Month Club Prize

The Brothers Karamazov
"One finally gets the musical whole of Dostoevsky's original." –New York Times Book Review

"It may well be that Dostoevsky's [world], with all its resourceful energies of life and language, is only now–and through the medium of [this] new translation–beginning to come home to the English-speaking reader." –New York Review of Books

Crime and Punishment
"The best [translation] currently available…An especially faithful re-creation…with a coiled-spring kinetic energy… Don't miss it." –Washington Post Book World

"Reaches as close to Dostoevsky's Russian as is possible in English…The original's force and frightening immediacy is captured…The Pevear and Volokhonsky translation will become the standard version." –Chicago Tribune

Demons
"The merit in this edition of Demons resides in the technical virtuosity of the translators…They capture the feverishly intense, personal explosions of activity and emotion that manifest themselves in Russian life." –New York Times Book Review

"[Pevear and Volokhonsky] have managed to capture and differentiate the characters' many voices…They come into their own when faced with Dostoevsky's wonderfully quirky use of varied speech patterns…A capital job of restoration." –Los Angeles Times

With an Introduction by Richard Pevear