The Best American Science Fiction and Fantasy 2020 (The Best American Series ®) (Paperback)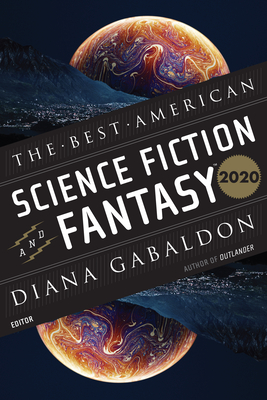 $16.99
Usually Ships in 1-5 Days
Description
---
The best science fiction and fantasy stories from 2019, guest-edited by author of the mega-best-selling Outlander series, Diana Gabaldon.

Today's readers of science fiction and fantasy have an appetite for stories that address a wide variety of voices, perspectives, and styles. There is an openness to experiment and pushing boundaries, combined with the classic desire to read about spaceships and dragons, future technology and ancient magic, and the places where they intersect. Contemporary science fiction and fantasy looks to accomplish the same goal as ever—to illuminate what it means to be human. With a diverse selection of stories chosen by series editor John Joseph Adams and Diana Gabaldon, The Best American Science Fiction and Fantasy 2020 explores the ever-expanding and changing world of SFF today.
About the Author
---
JOHN JOSEPH ADAMS is the series editor of The Best American Science Fiction & Fantasy, as well as many other anthologies, such as Wastelands, The Living Dead, and The Apocalypse Triptych. He is also the editor and publisher of the magazines Nightmare and the Hugo Award–winning Lightspeed, and is a producer for WIRED's The Geek's Guide to the Galaxy podcast. He lives in California.

DIANA GABALDON is the author of the award-winning, #1 New York Times best-selling Outlander novels, described by Salon magazine as "the smartest historical sci-fi adventure-romance story ever written by a science Ph.D." She serves as co-producer and advisor for the Starz network Outlander series based on her novels.
Praise For…
---
Praise for THE BEST AMERICAN SCIENCE FICTION AND FANTASY:
"This long-running anthology series continues its tradition of excellence with guest editor Gabaldon's selections... 
The Best American Science Fiction and Fantasy 2020
 is highly recommended for anyone interested in contemporary speculative fiction, or just some of the best current American fiction, period."
--
Booklist, starred review
"Gabaldon (the Outlander series) brings together 20 stories that memorably and creatively explore genre themes.... The variety of styles and themes on offer here demonstrate the sustained vitality of genre fiction." --Publishers Weekly

"Every year, The Best American Science Fiction and Fantasy series collects some of the best examples of the genre, highlighting some of our greatest writers." --Tor.com