The Girls at 17 Swann Street: A Novel (CD-Audio)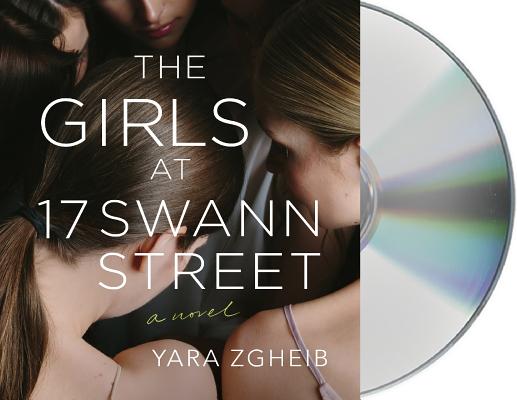 Staff Reviews
---
When Anna, a young wife and former dancer, is admitted to the treatment center at 17 Swann Street, she weighs just 88 pounds. As she struggles against the anorexia that has taken over her life and threatened her future, she's forced to rely on a personal strength she's not even sure she has. Zgheib does an amazing job of drawing us into Anna's world, showing us how thoroughly she's at the mercy of her disease and giving us a reason to root for her (and her husband and fellow patients—all compelling characters). This is such a gripping, beautifully-told story.
— Erika
February 2019 Indie Next List
---
"Through first-person narration, Yara Zgheib does a masterful job of presenting Anna, a young woman who has gradually spiraled into anorexia. So vivid are Anna's guilt and physical revulsion toward food that I was absolutely shaken. The other characters are equally well-developed. Anna's husband, Mathias, is loving and supportive but not immune to feelings of fear, frustration, and anger. Insights into the other residents and staff at 17 Swann Street provide a compelling context within which we experience Anna's excruciating struggle toward recovery. This is a very readable yet sobering reminder that eating disorders remain a serious problem in our image-conscious society and that anyone is potentially vulnerable."
— Samantha Flynn, Quail Ridge Books, Raleigh, NC
Description
---
"[Narrator Saskia Maarleveld's] tour de force reading perfectly encapsulates Anna's anxieties, shame, and overwhelming guilt at failing to achieve perfection" — Booklist, starred review

**A People Pick for Best New Books**
Yara Zgheib's poetic and poignant debut novel is a haunting portrait of a young woman's struggle with anorexia on an intimate journey to reclaim her life.

The chocolate went first, then the cheese, the fries, the ice cream. The bread was more difficult, but if she could just lose a little more weight, perhaps she would make the soloists' list. Perhaps if she were lighter, danced better, tried harder, she would be good enough. Perhaps if she just ran for one more mile, lost just one more pound.
Anna Roux was a professional dancer who followed the man of her dreams from Paris to Missouri. There, alone with her biggest fears – imperfection, failure, loneliness – she spirals down anorexia and depression till she weighs a mere eighty-eight pounds. Forced to seek treatment, she is admitted as a patient at 17 Swann Street, a peach pink house where pale, fragile women with life-threatening eating disorders live. Women like Emm, the veteran; quiet Valerie; Julia, always hungry. Together, they must fight their diseases and face six meals a day.
Every bite causes anxiety. Every flavor induces guilt. And every step Anna takes toward recovery will require strength, endurance, and the support of the girls at 17 Swann Street.
Praise for The Girls at 17 Swann Street:

"A singular celebration of the lifesaving power of community and small gestures." — New York Times Book Review
"Powerful and poetic...Zgheib's lyrical, dreamlike style...will resonate with fans of Wally Lamb's and Anne Tyler's novels and Augusten Burrough's memoirs." — Booklist

"Heartbreaking and beautiful...a brave book, stark in its realism, yet tempered by its lyrical prose." — Diane Chamberlain, New York Times bestselling author of The Dream Daughter
About the Author
---
Yara Zgheib is a Fulbright scholar with a Masters degree in Security Studies from Georgetown University and a PhD in International Affairs in Diplomacy from Centre D'études Diplomatiques et Stratégiques in Paris. She is fluent in English, Arabic, French, and Spanish. Yara is a writer for several US and European magazines, including The Huffington Post, The Four Seasons Magazine, A Woman's Paris, The Idea List, and Holiday Magazine. She is the author of The Girls at 17 Swann Street and writes on culture, art, travel, and philosophy on her blog, "Aristotle at Afternoon Tea"
Praise For…
---
"Heartbreaking and beautiful . . . a brave book, stark in its realism, yet tempered by its lyrical prose." - Diane Chamberlain, New York Times bestselling author of The Dream Daughter
"Heart-wrenching and beautiful . . . a must read." - Erica Bauermeister, national bestselling author of The School of Essential Ingredients
"Written with spare, poetic grace, The Girls at 17 Swann Street is engaging, tragic and ultimately hopeful. It opened my eyes as well as my heart." - Susan Crandall, national bestselling author of The Myth of Perpetual Summer

"[Saskia] Maarleveld's tour de force reading perfectly encapsulates Anna's anxieties, shame, and overwhelming guilt ...so compellingly performed, emphasizes this powerful novel's importance for mainstream and specialized collections." -Booklist, Starred Review