Unpresidented: A Biography of Donald Trump (Hardcover)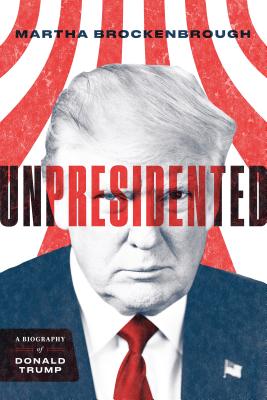 Description
---
A riveting, meticulously researched, and provocative biography of Donald J. Trump from the author of Alexander Hamilton, Revolutionary.

Born into a family of privilege and wealth, he was sent to military school at the age of 13. After an unremarkable academic career, he joined the family business in real estate and built his fortune. His personal brand: sex, money and power. From no-holds-barred reality TV star to unlikely candidate, Donald J. Trump rose to the highest political office: President of the United States of America.

Learn fascinating details about his personal history, including:

-Why Trump's grandfather left Germany and immigrated to America
-Why Woodie Guthrie wrote a song criticizing Trump's father
-How Trump's romance with Ivana began—and ended
-When Trump first declared his interest in running for President

Discover the incredible true story of America's 45th President: his questionable political and personal conduct, and his unprecedented rise to power.

Richly informed by original research and illustrated throughout with photographs and documents, Unpresidented is a gripping and important read.
About the Author
---
Martha Brockenbrough draws on her diverse experience in journalism, research, nonfiction, and literary teen fiction to bring Alexander Hamilton to life in Alexander Hamilton, Revolutionary. A powerful storyteller and narrative voice, Brockenbrough is also the author of the critically acclaimed YA novels The Game of Love and Death and Devine Intervention. She enjoys reading Hamilton's original correspondence, playing board games, and spending time with her family. She lives in Seattle, Washington.
Praise For…
---
Washington State Book Award Finalist

"[A] thorough, hard-hitting volume that seeks to explain Trump, from the time he was born. . . to his shocker of a presidential campaign" —New York Times Book Review on Unpresidented: A Biography of Donald Trump

"well-researched and sugarcoats neither his actions nor his words." —Washington Post on Unpresidented: A Biography of Donald Trump

"Painstaking research, straightforward delivery, and succinct explanations make this a smart addition to nonfiction collections." —School Library Journal, starred review, on Unpresidented: A Biography of Donald Trump

"A thorough, timely guide to a wretched hive of scum and villainy." —Kirkus Reviews on Unpresidented: A Biography of Donald Trump

"Brockenbrough documents her book in copious notes, and her bibliography shows diverse sources. . . this measured resource will provide readers—and citizens—with the tools they need to stay informed despite murky waters." —Booklist on Unpresidented: A Biography of Donald Trump

"an engrossing, readable narrative of Trump's rise . . . Chapters on the growth—or if not verifiable financial growth, at least sprawl—of this business empire are probably worth the price of admission for teens of all political stripes who are drawn to bios of tech, social media, and e-commerce moguls." —The Bulletin on Unpresidented: A Biography of Donald Trump

"It is not a flattering portrait of the forty-fifth president, but it is a factually accurate one, scrupulously documented and well-reasoned, with photographs and primary-source documents included throughout." —The Horn Book on Unpresidented: A Biography of Donald Trump

Praise for Alexander Hamilton, Revolutionary:

"A highly enjoyable, well-researched biography of Alexander Hamilton that both applauds his significant accomplishments and highlights his flaws." —School Library Journal, starred review

"Brockenbrough's ambitious and impressively researched project gives equal weight to Alexander Hamilton's personal and professional lives and to the history of the founding and early years of the United States." —Publishers Weekly

"The musical Hamilton has unleashed a crop of young Hamiltonians on the world, but where are they to go if they're looking for some biographical expansion without tackling Ron Chernow's adult work? Brockenbrough . . . comes to the rescue with this lively and affectionate treatment of the subject." —The Bulletin

"Hamilton's life is an inspiration, a fact that Brockenbrough captures nicely in a well-written biography . . . Expect wide reader interest." —Booklist

"Brockenbrough takes the reader on a chronological journey through his life using biographical research to present a well-rounded account that explores his strengths and flaws. Interested readers will find this depth satisfying" —VOYA


Praise for The Game of Love and Death:

"Haunting and masterfully orchestrated." —Kirkus Reviews, starred review

"Inventive and affecting." —Publishers Weekly, starred review

"Breathtaking prose." —Booklist, starred review


Praise for Divine Intervention:

"Frequently hysterical . . . devastatingly honest writing that surprises with its occasional beauty and hits home with the keenness of its insight." —Kirkus Reviews, starred review