Binti (Hardcover)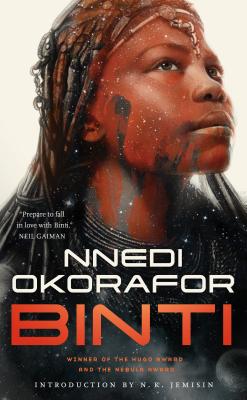 $15.99
Usually Ships in 1-5 Days
Other Books in Series
This is book number 1 in the Binti series.
Description
---
"Prepare to fall in love with Binti." —Neil Gaiman
Winner of the Hugo Award and the Nebula Award for Best Novella!

Her name is Binti, and she is the first of the Himba people ever to be offered a place at Oomza University, the finest institution of higher learning in the galaxy. But to accept the offer will mean giving up her place in her family to travel between the stars among strangers who do not share her ways or respect her customs.
Knowledge comes at a cost, one that Binti is willing to pay, but her journey will not be easy. The world she seeks to enter has long warred with the Meduse, an alien race that has become the stuff of nightmares. Oomza University has wronged the Meduse, and Binti's stellar travel will bring her within their deadly reach.
If Binti hopes to survive the legacy of a war not of her making, she will need both the gifts of her people and the wisdom enshrined within the University, itself — but first she has to make it there, alive.
The Binti Series
Book 1: Binti
Book 2: Binti: Home
Book 3: Binti: The Night Masquerade
PRAISE FOR BINTI
"Binti is a supreme read about a sexy, edgy Afropolitan in space! It's a wondrous combination of extra-terrestrial adventure and age-old African diplomacy. Unforgettable!" — Wanuri Kahiu, award-winning Kenyan film director of Punzi and From a Whisper
About the Author
---
Nnedi Okorafor, born to Igbo Nigerian parents in Cincinnati, Ohio on April 8, 1974, is an author of fantasy and science fiction for both adults and younger readers. Her children's book
Long Juju Man
(Macmillan, 2009) won the 2007-08 Macmillan Writer's Prize for Africa, and her adult novel
Who Fears Death
(DAW, 2010) was a Tiptree Honor Book. She is an associate professor of creative writing and literature at the University at Buffalo.
N(ora). K. Jemisin is an author of speculative fiction short stories and novels who lives and writes in Brooklyn, NY. Her work has won the Hugo Award and been nominated for the Nebula and World Fantasy Awards; shortlisted for the Crawford, the Gemmell Morningstar, and the Tiptree. She has won a Locus Award for Best First Novel as well as multiple Romantic Times Reviewer's Choice Awards.
Her short fiction has been published in pro markets such as Clarkesworld, Postscripts, Strange Horizons, and Baen's Universe; semipro markets such as Ideomancer and Abyss & Apex; and podcast markets and print anthologies.
Her first six novels, a novella, and a short story collection are out now from Orbit Books. Her novels are represented by Lucienne Diver of the Knight Agency.
She is currently a member of the Altered Fluid writing group. In addition to writing, she is a counseling psychologist and educator (specializing in career counseling and student development), a sometime hiker and biker, and a political/feminist/anti-racist blogger.
Praise For…
---
Praise for Nnedi Okorafor and the Binti trilogy
"Nnedi Okorafor writes glorious futures and fabulous fantasies. Her worlds open your mind to new things, always rooted in the red clay of reality. Prepare to fall in love with Binti." —Neil Gaiman, New York Times bestselling author of American Gods

"There's more vivid imagination in a page of Nnedi Okorafor's work than in whole volumes of ordinary fantasy epics." — Ursula Le Guin
"Okorafor's writing is wonderful, and the details of her world-building — including Binti's rich culture of origin, living spaceships, and maths that reads almost like music — are complex and fascinating" —Veronica Roth
"Okorafor's writing is even more beautiful than I remember it being in Binti, evocative and sharply elegant in its economy." —NPR
"The prose is vivid and unadorned, the pacing strong, and the novella as a whole, deeply compelling. I enjoyed it. I hope Okorafor writes more." —Locus

"[Binti: Home] opens up Binti's tale in astonishing ways, while provocatively exploring questions of identity and kinship." —The Chicago Tribune
"Nnedi Okorafor's imagination and worldbuilding are unparalleled, as are the heartfelt emotional struggles she creates." —Jim C. Hines, author of Blood of Heroes and the Goblin Quest trilogy
"Binti is a supreme read about a sexy, edgy Afropolitan in space! It's a wondrous combination of extra-terrestrial adventure and age-old African diplomacy. Unforgettable!"—Wanuri Kahiu, award winning Kenyan film director of Pumzi and From a Whisper
"Okorafor's impressive inventiveness never flags." — Gary K. Wolfe on Lagoon