Falter: Has the Human Game Begun to Play Itself Out? (Hardcover)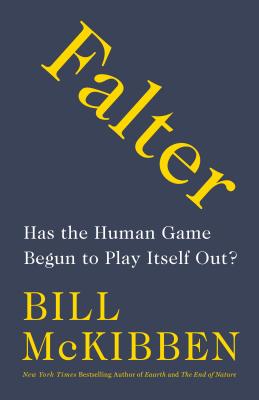 Description
---
Thirty years ago Bill McKibben offered one of the earliest warnings about climate change. Now he broadens the warning: the entire human game, he suggests, has begun to play itself out.

Bill McKibben's groundbreaking book The End of Nature -- issued in dozens of languages and long regarded as a classic -- was the first book to alert us to global warming. But the danger is broader than that: even as climate change shrinks the space where our civilization can exist, new technologies like artificial intelligence and robotics threaten to bleach away the variety of human experience.

Falter tells the story of these converging trends and of the ideological fervor that keeps us from bringing them under control. And then, drawing on McKibben's experience in building 350.org, the first truly global citizens movement to combat climate change, it offers some possible ways out of the trap. We're at a bleak moment in human history -- and we'll either confront that bleakness or watch the civilization our forebears built slip away.

Falter is a powerful and sobering call to arms, to save not only our planet but also our humanity.
About the Author
---
Bill McKibben is a founder of the environmental organization 350.org and was among the first to have warned of the dangers of global warming. He is the author of more than a dozen books, including the bestsellers The End of Nature, Eaarth, and Deep Economy.

He is the Schumann Distinguished Scholar in Environmental Studies at Middlebury College and the winner of the Gandhi Prize, the Thomas Merton Prize, and the Right Livelihood Prize. He lives in Vermont with his wife, the writer Sue Halpern.
Praise For…
---
"He has gathered the most vivid statistics, distilled history to its juiciest turns, and made the case as urgently and clearly as can be: The whole breadth of our existence—the 'human game'—is in jeopardy." —The Washington Post

"[An] unsettling look at the prospects for human survival. . . . Readers open to inconvenient and sobering truths will find much to digest in McKibben's eloquently unsparing treatise." —Publishers Weekly (starred review)

"A compelling call for change." —Kirkus Reviews

"[A] deeply caring, eloquently reasoned inquiry into environmental and techno-utopian threats. . . . Profoundly compelling and enlightening, McKibben balances alarm with hope." —Booklist (starred review)

"McKibben provides a fresh perspective with surprising examples and an engaging writing style." —Jared Diamond, The New York Times Book Review

"[A] lyrical masterpiece . . . [and] a humane and wise book, even a beautiful one, if that's not oxymoronic, given its subject . . . Falter provides ample evidence that we are on the cusp of an avoidable disaster." —Los Angeles Review of Books

"Fascinating. . . McKibben is a mighty orator on the page here, just as he was in The End of Nature (1989) and Eaarth (2010), and his call for creating more compassionate and equitable societies is inspiring." —Pacific Standard

"Falter is McKibben's most powerfully argued book, and maybe his most important since The End of Nature 30 years ago. . . . It affirms him as among a very few of our most compelling truth-tellers about the climate catastrophe and the ideological forces driving it." —Wen Stephenson, The Nation

"Falter is the work of one of America's most skillful long-form journalists. . . . [McKibben has] an uncannily entertaining way of combining information with interpretation and insight." —Seven Days

"A deeply reported, broad-spanning investigation. . . . Compelling." —Outside

"McKibben, a veteran environmental writer, is never hectoring or hyperbolic; here, he turns the possibility of human extinction (from climate change, artificial intelligence, etc.) into an absorbing analysis with a glimmer of hope." —The New York Times Book Review, Editor's Choice

"Falter is a book about which it would be impossible to say too much. . . . McKibben has positioned himself on the cutting edge of history." —The Progressive

"The strength of [McKibben's] writing on climate change is that its specificity burns away the mist from what, to most people, is a hazy issue." —The Times (London)

"Falter is a bracing call to arms, one that concerned readers ignore at their peril." —Palo Alto Weekly

"A love letter, a plea, a eulogy, and a prayer. This is Bill McKibben at his glorious best. Wise and warning, with everything on the line. Do not miss it."—Naomi Klein, author of This Changes Everything and The Shock Doctrine

"McKibben himself is a hopeful soul . . . Rather than pushing us toward despair, McKibben situates his book as a call to action. Hope is a useful tool only if you know the shape of reality that you face." —The Christian Century

"I braced myself to plunge into this book about the largest and grimmest of situations our species has faced, and then I found myself racing through it, excited by the grand synthesis of innumerable scientific reports on the details of the crisis. And then at the end I saw the book as a description of a big trap with a small exit we could take, if we take heed of what Bill McKibben tells us here, and act on it."—Rebecca Solnit, author of A Paradise Built in Hell and Hope in the Dark

"It's not an exaggeration to say that Bill McKibben has written a book so important, reading it might save your life, not to mention your home: Planet Earth. Falter is a brilliant, impassioned call to arms to save our climate from those profiting from its destruction before it's too late. Over and over, McKibben has proven one of the most farsighted and gifted voices of our times, and with Falter he has topped himself, producing a book that honestly, everyone should read."—Jane Mayer, bestselling author of Dark Money

"No one has done more than Bill McKibben to raise awareness about the great issues of our time. Falter is an essential book—honest, far-reaching and, against the odds, hopeful."—Elizabeth Kolbert, Pulitzer Prize-winning author of The Sixth Extinction

"McKibben describes just how much trouble we're in, yet his voice is so calm, his examples so fresh and unexpected . . . that you easily glide into his lucid, engaging contemplation of the potential end of human civilization. Later in Falter, when he describes just as equably what we must do to prevent it, you believe it's still worth trying." —Alan Weisman, The New York Review of Books

"McKibben . . . has a charming writing style—inclusive, funny, intelligent and lucid. And he is a delightful companion on the journey—so delightful in fact that the terrifying nuggets are slipped in like a stiletto knife, in and out before you even notice. . . . [Falter is] one of the most articulate and compelling descriptions of our changing climate that I have yet read." —Gabrielle Walker, The Times Literary Supplement
Coverage from NPR