Lillian Boxfish Takes a Walk: A Novel (Paperback)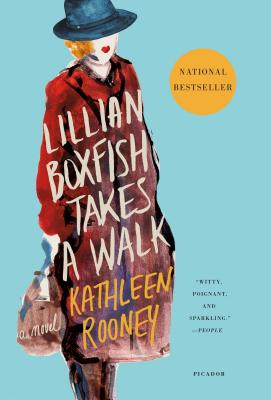 Staff Reviews
---
Chicagoan Rooney's witty, funny novel about a witty, funny, whip smart woman named Lillian Boxfish is an absolute blast! Lillian, based on a real person, is a woman ahead of her time--she's 'the highest paid woman in advertising' in the early 1930's and achieves fame as a poet as well.  As she walks through Manhattan on New Year's Eve 1984, she recalls her fascinating life.  Really fun!
— Greg
February 2017 Indie Next List
---
"Join 85-year-old Lillian on a New Year's Eve stroll through Manhattan, a city as changed by time as Lillian herself. As with Joyce's Ulysses, the reader is privy to a life told in snapshots of memory within a single day. Based loosely on the life of Margaret Fishback, Lillian is a former Depression-era advertising copywriter for R.H. Macy's and a poet of light verse. She is also a mother and an ex-wife. Rooney's work has a light touch, but she is never frivolous. Rooney has the capacity to portray depth within brevity, pain within humor. Here is a novel that both entertains and enlightens, a balance rarely achieved."
— Sarah Sorensen (E), Bookbug, Kalamazoo, MI
Description
---
NOW A NATIONAL INDIE BESTSELLER

A love letter to city life in all its guts and grandeur, Lillian Boxfish Takes a Walk by Kathleen Rooney paints a portrait of a remarkable woman across the canvas of a changing America: from the Jazz Age to the onset of the AIDS epidemic; the Great Depression to the birth of hip-hop.

"In my reckless and undiscouraged youth," Lillian Boxfish writes, "I worked in a walnut-paneled office thirteen floors above West Thirty-Fifth Street…"

She took 1930s New York by storm, working her way up writing copy for R.H. Macy's to become the highest paid advertising woman in the country. It was a job that, she says, "in some ways saved my life, and in other ways ruined it."

Now it's the last night of 1984 and Lillian, 85 years old but just as sharp and savvy as ever, is on her way to a party. It's chilly enough out for her mink coat and Manhattan is grittier now—her son keeps warning her about a subway vigilante on the prowl—but the quick-tongued poetess has never been one to scare easily. On a walk that takes her over 10 miles around the city, she meets bartenders, bodega clerks, security guards, criminals, children, parents, and parents-to-be, while reviewing a life of excitement and adversity, passion and heartbreak, illuminating all the ways New York has changed—and has not.

Lillian figures she might as well take her time. For now, after all, the night is still young.

"Transporting…witty, poignant and sparkling."
—People (People Picks Book of the Week)
About the Author
---
KATHLEEN ROONEY is a founding editor of Rose Metal Press and a founding member of Poems While You Wait. She has been recognized as one of Newcity Lit's "Lit 50: Who Really Books in Chicago 2018." Her previous work includes poetry, fiction, and nonfiction, and has appeared in The New York Times Magazine, Allure, Salon, The Rumpus, The Nation, the Poetry Foundation website, and the Chicago Tribune. Kathleen was named "Best Novelist" by the Chicago Reader in 2017. She is married to the novelist Martin Seay.
Praise For…
---
A NATIONAL INDIE BESTSELLER

Powell's Best Books of 2017

Audible Best Books of 2017

"Irresistible...funny and touching....This witty and heartfelt ode to a city, to its infinite variety, to its melting pot of citizens not only enchants but offers an important lesson: that human connections and work are what give life meaning."
—Boston Globe

"Transporting…witty, poignant and sparkling."
—People (People Picks Book of the Week)

"Prescient and quick....A perfect fusing of subject and writer, idea and ideal."
—Chicago Tribune

"Lillian's wide-ranging meditations are reason enough to read this charming novel, but it's also like taking a street-level tour through six decades of New York."
—New York Times

"Needle-sharp." —Wall Street Journal

"I love this book....Just wonderful....A picture of a woman who tried and succeeded in making it in what was a man's profession." —Nancy Pearl

"Extraordinary…hilarious…Elegantly written, Rooney creates a glorious paean to a distant literary life and time—and an unabashed celebration of human connections that bridge past and future.
—Publishers Weekly (starred and boxed)

"Rooney's delectably theatrical fictionalization is laced with strands of tart poetry and emulates the dark sparkle of Dorothy Parker, Edna St. Vincent Millay, and Truman Capote. Effervescent with verve, wit, and heart, Rooney's nimble novel celebrates insouciance, creativity, chance, and valor."
—Booklist (starred review)

"Effervescent…steeped in humanity and wit."
—The Christian Science Monitor (10 Best Books of January)

"Needle-sharp....A delightful stroll with a colorful character."
—Library Journal (starred review)

"If you haven't read Lillian Boxfish Takes a Walk, you'll want to rectify that immediately. It is tart and charming and might make you miss your Nanna." —Jennifer Weiner, #1 New York Times bestselling author

"Enchanting….[Rooney] is clearly in her element here….Pre-Mad Men, [Lillian] combines the smarts of Peggy Olson, the sex appeal of Joan Holloway, and a hefty dose of independence that's all her own."
—FinancialTimes (UK)

"Illuminating….singular…wonderful."—The Philippine Star

"Past and present intermingle in Rooney's novel, distinguished by a careful shift from past to present tense but always unified by Lillian's unfailingly witty, reflective voice."
—BookReporter

"Charming."
—Minneapolis Star-Tribune

"Well written, funny, and wise, Lillian Boxfish Takes A Walk is one of those novels that once again remind us of the power and value of fiction." —Smoky Mountain News

"Rooney courts regret and vulnerability with humor, as only a poet could....Lillian's walk is for anyone who craves a forgotten past or strains to make sense of the future." —Edge Media

"Easily the best gadding-around-town novel since Dawn Powell and Dorothy Parker."
—Daniel Handler, author of Why We Broke Up and We Are Pirates

"There is a little of Lillian Boxfish in all of us. And if there isn't, there ought to be."
—Julia Claiborne Johnson, author of Be Frank With Me

"A lively, fictionalized version of Fishback's story...[with] plenty of charm."
—Kirkus Reviews

"If you are not charmed by Lillian Boxfish, then there may be no hope for you."
­—Bookpage (Book of the Day)

"This walk will sweep listeners off their feet…seemingly effortless yet so compelling."
—AudioFile Magazine (Earphones Award winner)