In the Light of What We Know: A Novel (Paperback)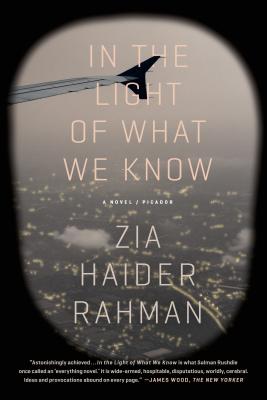 $36.00

Usually Ships in 1-5 Days
Description
---
A BOLD, EPIC DEBUT NOVEL SET DURING THE WAR AND FINANCIAL CRISIS THAT DEFINED THE BEGINNING OF OUR CENTURY

One September morning in 2008, an investment banker approaching forty, his career in collapse and his marriage unraveling, receives a surprise visitor at his West London townhouse. In the disheveled figure of a South Asian male carrying a backpack, the banker recognizes a long-lost friend, a mathematics prodigy who disappeared years earlier under mysterious circumstances. The friend has resurfaced to make a confession of unsettling power.
In the Light of What We Know takes us on a journey of exhilarating scope—from Kabul to London, New York, Islamabad, Oxford, and Princeton—and explores the great questions of love, belonging, science, and war. It is an age-old story: the friendship of two men and the betrayal of one by the other. The visitor, a man desperate to climb clear of his wrong beginnings, seeks atonement; and the narrator sets out to tell his friend's story but finds himself at the limits of what he can know about the world—and, ultimately, himself. Set against the breaking of nations and beneath the clouds of economic crisis, this surprisingly tender novel chronicles the lives of people carrying unshakable legacies of class and culture as they struggle to tame their futures.
In an extraordinary feat of imagination, Zia Haider Rahman has telescoped the great upheavals of our young century into a novel of rare intimacy and power.
About the Author
---
Born in rural Bangladesh, Zia Haider Rahman was educated at Balliol College, Oxford, and at Cambridge, Munich, and Yale Universities. He has worked as an investment banker on Wall Street and as an international human rights lawyer. In the Light of What We Know is his first novel.
Praise For…
---
"Astonishingly achieved . . . In the Light of What We Know is what Salman Rushdie once called an 'everything novel.' It is wide-armed, hospitable, disputatious, worldly, cerebral. Ideas and provocations abound on every page." —James Wood, The New Yorker

"[A] strange and brilliant novel . . . I'm surprised it didn't explode in my hands." —Amitava Kumar, The New York Times Book Review

"An ambitious novel by any measure . . . In the Light of What We Know is a novel of ideas, a compendium of epiphanies, paradoxes, and riddles. . . . [A] unique work of fiction bearing witness to much that is unspeakable in human relationships as in international relations, while it is also unknowable." —Joyce Carol Oates, The New York Review of Books

"In the Light of What We Know is an extraordinary meditation on the limits and uses of human knowledge, a heartbreaking love story, and a gripping account of one man's psychological disintegration." —The Guardian (London)