Beneath the Bonfire: Stories (Hardcover)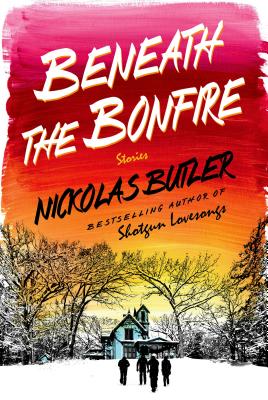 $34.99

Usually Ships in 1-5 Days
Description
---
Nickolas Butler's debut novel, Shotgun Lovesongs, has become an international bestseller and won numerous accolades, including France's Prix Page/America. Now, in Beneath the Bonfire, he demonstrates his talent for portraying "a place and its people with such love that you'll find yourself falling for them, too" (Josh Weil, author of The Great Glass Sea).

Young couples gather to participate in an annual "chainsaw party," cutting down trees for firewood in anticipation of the winter. A group of men spend a weekend hunting for mushrooms in the wilderness where they grew up and where some still find themselves trapped. An aging environmentalist takes out his frustration and anger on a singular, unsuspecting target. One woman helps another get revenge against a man whose crime extends far beyond him to an entire community. Together, the ten stories in this dazzling, surprising collection evoke a landscape that will be instantly recognizable to anyone who has traveled the back roads and blue highways of America, and they completely capture the memorable characters who call it home.
About the Author
---
NICKOLAS BUTLER was born in Allentown, Pennsylvania, and raised in Eau Claire, Wisconsin.  His writings have appeared in: Narrative Magazine, Ploughshares, The Kenyon Review Online, The Progressive, The Christian Science Monitor, and elsewhere.  A graduate of the University of Wisconsin and the Iowa Writer's Workshop, he currently lives in Wisconsin with his wife and their two children. Shotgun Lovesongs is his first novel.
Praise For…
---
"Nickolas Butler follows up his acclaimed debut novel, Shotgun Lovesongs, with this collection of well-made short stories set in the Midwest. ... Mr. Butler's characters could have emerged from vintage American rock songs, living on small hopes and banding together as best they can." —The New York Times

"The stories in Beneath the Bonfire pack a sincere, emotional punch. Nickolas Butler's territory might be the Midwest (which warms this particular reader's heart), but the losses--and hard-won gains are universal. This writer is the real deal." —Peter Orner, author of Last Car over the Sagamore Bridge

"I love these stories: they're quiet, careful.As glaciated as their own vistas. Butler's is a deft hand, who as in the title story, takes us beneath the ice and forces us to confront the deepest extents of our friendships, our marriages, our family.Without a doubt, Beneath the Bonfire is a diamond of a collection, shaped and hardened through the profound geologic pressures of love and pain." —Bill Cheng, author of Southern Cross the Dog

"Beneath the Bonfire burns with nostalgia for those youthful years when we know too little and surrenders to the later years when we've learned too much. With honesty and tenderness, Butler portrays people at crossroads, as hardened and hopeful as the landscape they can't leave behind." —Diane Cook, author of Man V. Nature

"Nickolas Butler's characters lust and cherish and sustain and betray and redeem and console, traveling through every chamber of the human heart, and it's hard to say--based on these excellent stories whether love is the easiest or the most complicated emotion, but it's clearly the best." —Benjamin Percy, author of The Dead Lands, Red Moon, and The Wilding

"Sentence-by-sentence, Beneath the Bonfire is a truly beautiful collection that offers full and big-hearted tales of people leaning on one another when the world turns on them. It's a love letter to a landscape, yes, but it's also elegiac, funny, and dazzlingly dreamy, a look into the complicated inner lives of outwardly stoic souls. These stories warm and snap your heart all at once." —Dean Bakopoulos, author of Summerlong

"These stories kept me reading all night and filled my heart all day. From the surreal to the surprisingly spot-on, Nickolas Butler's greatest gift is his ability to report the rusty truth while still allowing the stainless steel soul of his characters to shine through. For every struggler, scrabbler and dead-ender in these stories, triumph--when it comes, if it comes may be ragged, but it is triumph nonetheless." —Michael Perry, author of Coop and Truck

"When I finished Nickolas Butler's stellar debut novel, I thought: Here's a man who sees the saint in all of us. Well, his vision is only getting stronger. The ten stories in Beneath the Bonfire are teeming with the sort of people I know best. Losers at love, failures as parents and daughters and sons, folks hardly able to make ends meet but always striving toward the good. His characters have hearts the size of Wisconsin without ever seeming like they're from anywhere other than the streets we grew up on. And though it hardly seems fair that one man should have access to so many beautiful and dented lives, I'm glad it's Nickolas Butler who does. He's the Midwestern bard I've been waiting my whole life for." —Peter Geye, author of The Lighthouse Road and Safe from the Sea

"There's a quiet heartbreak throughout Beneath the Bonfire. Every elemental staple pays off a tree, a chainsaw, a fire, the morel mushroom that blooms into the possible but unexpected disaster with a twist of Butler's mind and wrist. Another wonderful story collection that conjures all the craft of Denis Johnson's Jesus' Son." —Nicole Lea Helget, author of Stillwater

"The stories in Nickolas Butler's Beneath the Bonfire highlight the strength in people during some of their weakest moments. The rich poetry in Butler's gut-wrenching prose makes for a stunning portrait of quiet life in small town America. A universally relatable voice, filled with heart and grit. A truly enjoyable read." —Marcus Burke, author of Team Seven

"Sensitive to the human condition, Butler continues to demonstrate his impressive command of atmosphere and humanity." —Publishers Weekly

"Butler seemingly came out of nowhere last year with Shotgun Lovesongs. No one had really heard of him, yet he wrote one of the best books of the year. And he continues his success in writing with Beneath the Bonfire." —Spencer Daily Reporter

"Impressively original." —The New York Times on Shotgun Lovesongs

"Shotgun Lovesongs is the kind of book that restores your faith in humanity." —The Toronto Star

"We all have them, right? Those songs that indelibly mark the milestones in our lives? Songs that stir up our deepest feelings and remind us of who we are.…Only the best, most emotionally resonant novels work in the same way. Nickolas Butler's Shotgun Lovesongs is one of those novels." —Minneapolis Star Tribune

"Sparkles in every way. A love letter to the open lonely American heartland…A must-read." —People on Shotgun Lovesongs

"Totally smitten. That was me, within four pages of the beginning of Shotgun Lovesongs. … This is one of those books you step into, but never want to leave." —Reedsburg Times-Press

"A dreamy novel that leaves readers with a lasting impression about friendship and its purpose -- to teach, inspire, and, most of all, fill our hearts with love." —Wilkes Barre Times-Leader on Shotgun Lovesongs

"There is also a profound empathy for the characters and the small-town dynamic that the reader will likely share, an appreciation for what 'America was, or could be.'" —Kirkus Reviews (starred review) on Shotgun Lovesongs

"The hearty Midwest, which thrums and beats through tiny Little Wing, Wisconsin -- an Anytown, USA, if there ever was one -- assumes the whole soul of Butler's fetching debut.... Readers can feel the winter cold on the other side of the neon sign and hear the peanut shells crunching underfoot." —Booklist on Shotgun Lovesongs

"A beautifully written, big-hearted celebration of the enduring power of different kinds of love." —The Independent (UK) on Shotgun Lovesongs