Stories of Your Life and Others (Paperback)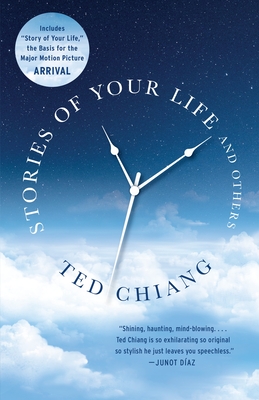 $16.95
Usually Ships in 1-5 Days
Staff Reviews
---
Ted Chiang is not a prolific writer (he has written 15 stories in the last 26 years), but when he does release a new story it is an event.  Reading this, his only collection, it is easy to see why.  These stories are about normal everyday people coming up against giant incomprehensible things. While writing about aliens, a tower built to the heavens, angelic visitations, Chiang still manages to keep the stories focused on the characters, and their very human struggles.  Several of these stories (Tower of Babel, Story of Your Life, and Hell is the Absence of God) have already managed to become some of my all time favorites.
— Wayne
Description
---
An award-winning book from the author of Exhalation, this short story collection "blend[s] absorbing storytelling with meditations on the universe, being, time and space. . . . raises questions about the nature of reality and what it is to be human." —The New York Times

Includes "Story of Your Life" the basis for the major motion picture Arrival

Stories of Your Life and Others delivers dual delights of the very, very strange and the heartbreakingly familiar, often presenting characters who must confront sudden change—the inevitable rise of automatons or the appearance of aliens—with some sense of normalcy. With sharp intelligence and humor, Chiang examines what it means to be alive in a world marked by uncertainty, but also by beauty and wonder. An award-winning collection from one of today's most lauded writers, Stories of Your Life and Others is a contemporary classic.
About the Author
---
Ted Chiang was born in Port Jefferson, New York, and holds a degree in computer science. In 1989 he attended the Clarion Science Fiction and Fantasy Writer's Workshop. His fiction has won four Hugo, four Nebula, and four Locus awards, and he is the recipient of the John W. Campbell Award for Best New Writer and the Theodore Sturgeon Memorial Award. Stories of Your Life and Others has been translated into ten languages. He lives near Seattle, Washington.
Praise For…
---
"A swell movie adaptation always sends me to the source material, so Arrival had me pick up Ted Chiang's Stories of Your Life and Others: lean, relentless, and incandescent."—Colson Whitehead, GQ
 
"Chiang writes with a gruff and ready heart that brings to mind George Saunders and Steven Millhauser, but he's uncompromisingly cerebral."—The New Yorker
 
"Blend[s] absorbing storytelling with meditations on the universe, being, time and space. . . . raises questions about the nature of reality and what it is to be human."—The New York Times
 
"Shines with a brutal, minimalist elegance. Every sentence is the perfect incision in the dissection of the idea at hand."—The Guardian

"Meticulously pieced together, utterly thought through, Chiang's stories emerge slowly . . . but with the perfection of slow-growing crystal."—Lev Grossman, Best of the Decade: Science Fiction and Fantasy, Techland

"Ted Chiang is one of the best and smartest writers working today. If you don't know his name, let's fix that. Now."—Karen Joy Fowler, author of We Are All Completely Beside Ourselves

"Ted Chiang astonishes. You must read him."—Kelly Link, author of Get in Trouble

"United by a humane intelligence that speaks very directly to the reader, and makes us experience each story with immediacy and Chiang's calm passion."—China Mieville, The Guardian

"Ted is a national treasure . . . each of those stories is a goddamned jewel."—Cory Doctorow, BoingBoing

"Confirms that blending science and fine art at this length can produce touching works, tales as intimate as our own blood cells, with the structural strength of just-discovered industrial alloys."—Seattle Times

"Chiang derides lazy thinking, weasels it out of its hiding place, and leaves it cowering."—Washington Post

"Essential. You won't know SF if you don't read Ted Chiang."—Greg Bear

"Chiang writes seldom, but his almost unfathomably wonderful stories tick away with the precision of a Swiss watch—and explode in your awareness with shocking, devastating force."—Kirkus Reviews (starred Review)

"The first must-read SF book of the year."—Publishers Weekly (starred Review)

"He puts the science back in science fiction—brilliantly."—Booklist (starred Review)
Coverage from NPR