The Revolving Door of Life: 44 Scotland Street Series (10) (Paperback)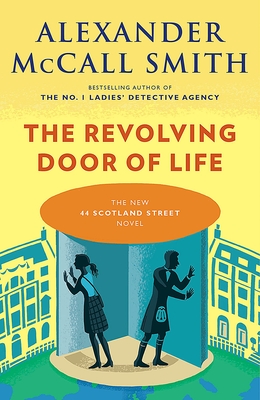 Other Books in Series
This is book number 10 in the 44 Scotland Street Series series.
Description
---
Excitement abounds when the revolving door of life brings fresh faces and hilarious new developments to the residents of 44 Scotland Street.

Things are looking up for seven-year-old Bertie Pollock. The arrival of his spirited grandmother and the absence of his meddlesome mother—who is currently running a book club in a Bedouin harem (don't ask)—bring unforeseen blessings: no psychotherapy, no Italian lessons, and no yoga classes. Meanwhile, surprises await Scotland Street's grown-ups. Matthew makes a discovery that could be a major windfall for his family, but also presents a worrisome dilemma. Pat learns a secret about her father's fiancée that may shake up her family, unless she can convince the perpetually narcissistic Bruce to help her out. And the Duke of Johannesburg finds himself in sudden need of an explanation—and an escape route—when accosted by a determined guest at a soirée. From the cunning schemes of the Association of Scottish Nudists to the myriad expressive possibilities of the word "aye," Alexander McCall Smith guides us through the risks and rewards of friendship, love, and family with his usual inimitable wit and irresistible charm.
About the Author
---
Alexander McCall Smith is the author of the No. 1 Ladies' Detective Agency series, the Isabel Dalhousie series, the Portuguese Irregular Verbs series, the 44 Scotland Street series, and the Corduroy Mansions series. He is professor emeritus of medical law at the University of Edinburgh in Scotland and has served with many national and international organizations concerned with bioethics.
Praise For…
---
Praise for the 44 Scotland Street Series:
 
"Powerfully addicting fiction. . . . Delightful. . . . [A] graceful and always amusing depiction of the pleasures and problems of everyday life." —Entertainment Weekly
 
"As colorful as a tartan. . . . Entertaining and witty." —Orlando Sentinel

"Irresistible. . . . Packed with the charming characters, piercing perceptions, and shrewd yet generous humor that have become McCall Smith's cachet." —Chicago Sun-Times
 
"Feel the warmth of McCall Smith's wit, deft characterization, and overarching theme of kindness. . . . You'll be treated to an astonishing view of changes in characters' lives, very much like a time-lapse video in book form." —Booklist (starred review)
 
"McCall Smith, a fine writer, paints his hometown of Edinburgh as indelibly as he captures the sunniness of Africa. We can almost feel the mists as we tread the cobblestones." —The Dallas Morning News
 
"Underpinned by a guiding moral intelligence. . . . Sense and humor fuse absolutely. . . . Very special." —The Scotsman 
 
"Will make you feel as though you live in Edinburgh, if only for a short while, and it's a fine place to visit indeed. . . . Long live the folks on Scotland Street." —The Times-Picayune (New Orleans)