Chances Are . . .: A novel (Hardcover)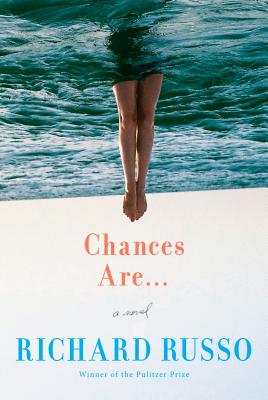 Staff Reviews
---
Here's something new and different: A Russo literary mystery! Three college friends gather on Marta's Vineyard for one last hurrah, but each of them is haunted differently by a beautiful, enigmatic girl named Jacy, who mysteriously disappeared back in college. Russo's warm, friendly style is on full display here, even as he builds the suspense. I'm a huge Russo fan, and so it was a lot of fun to read a new style from him
— Greg
August 2019 Indie Next List
---
"This book reads like a literary mystery. Forty years ago, a woman disappeared while at a get-together at Martha's Vineyard. Now, the four friends who were with her have returned to the scene, still driven by a need to know what happened. This latest story by Richard Russo has all the elements that make him one of the most popular authors today: characters we can relate to, settings that we see in our dreams, and a story both perplexing and satisfying. Fans and new readers alike will enjoy diving in."
— Linda Bond, Auntie's Bookstore, Spokane, WA
Description
---
A NATIONAL BESTSELLER from the Pulitzer Prize-winning author of Empire Falls • Three men in their late sixties—old friends from college, each with a secret—come together on Martha's Vineyard in this "gripping, wise, and wonderful summer treat." (The Boston Globe).

"A cascade of charm…. Russo is an undeniably endearing writer, and chances are this story will draw you back to the most consequential moments in your own life." —The Washington Post

One beautiful September day, three men in their late sixties convene on Martha's Vineyard, friends ever since meeting in college in the sixties. They couldn't have been more different then, or even today—Lincoln's a commercial real estate broker, Teddy a tiny-press publisher, and Mickey is a musician beyond his rockin' age. But each man holds his own secrets, in addition to the monumental mystery that none of them has ever stopped puzzling over since a Memorial Day weekend right here on the Vineyard in 1971. Now, forty-five years later, three lives and that of a significant other are put on display while the distant past confounds the present in a relentless squall of surprise and discovery. Shot through with Russo's trademark comedy and humanity, Chances Are . . . introduces a new level of suspense and menace that will quicken the reader's heartbeat throughout this absorbing saga.

Look for Richard Russo's new book, Somebody's Fool, coming soon.
About the Author
---
Richard Russo is the author of eight novels, most recently Everybody's Fool and That Old Cape Magic; two collections of stories; and the memoir Elsewhere. In 2002 he received the Pulitzer Prize for Empire Falls, which like Nobody's Fool was adapted to film, in a multiple-award-winning HBO miniseries; in 2016 he was given the Indie Champion Award by the American Booksellers Association; and in 2017 he received France's Grand Prix de Littérature Américaine. He lives in Port­land, Maine.
Praise For…
---
"[Russo's] first novel in ten years hits the ball out of the park . . . Along with his wry eye for irony and regret, [Russo] offers up a compelling mystery . . . When the denouement comes, it's a stunner. Nevertheless, all bombshells feel earned. If you're on a hammock in the Vineyard or under a tent in Acadia, or slumped over the fire escape of your hot city apartment, chances are your chances are awfully good that you'll lap up this gripping, wise, and wonderful summer treat."— Mameve Medwed, The Boston Globe

"A cascade of charm . . . Each [character is] so appealing that you hate to let him go, though you'll quickly feel just as fond of the next one . . . One of the great pleasures of Chances Are... stems from how gracefully Russo moves the story along two time frames, creating that uncanny sense of memories that feel simultaneously near and remote . . . Russo is an undeniably endearing writer, and chances are this story will draw you back to the most consequential moments in your own life." —Ron Charles, The Washington Post

"Chances Are... is, at heart, less a mystery than an evocation of what happens when [its characters] discover that 'the membrane separating sympathy from pity could be paper thin' . . . . The cloud of remorse that hangs over [the novel] can be affecting precisely because these old friends have so much difficulty articulating their emotions. Will they be able to open up to whatever the future holds?" —Alida Becker, The New York Times Book Review

"Irresistible . . . with the complexities of human relationships, from first love to parenthood to aging [and] rich with humor." —Colette Bancroft, Tampa Bay Times

"No one understands men better than Russo, and no one is more eloquent in explaining how they think, suffer, and love. At a rough time for masculinity, Russo's flawed but always decent characters are repositories of the classic virtues of their gender. . . . [Chances Are...] blends everything we love about this author with something new. Yes, this is a novel about male friendship, fathers and sons, small-town class issues, and lifelong crushes, and it provides the familiar pleasure of immersion in the author's distinctive, richly observed world and his inimitable ironic voice. But this is also a mystery about a 1971 cold case."—Kirkus (starred)

"For his first stand-alone novel in 10 years, Russo has written a bewitching tale of male friendship with thriller elements . . . This is vintage Russo with a cunning twist."—Carol Haggas, Booklist (starred)

"A surprising work that is as much a mystery as a meditation on secrets and friendship . . . a moving portrait of aging men who discover the world's worst-kept secret:  You may not know the people you thought you were closest to." —Michael Magras, BookPage

"Russo's first standalone novel in a decade mixes his signature themes—father-and-son relationships, unrequited love, New England small-town living, and the hiccups of aging—with stealthy clue-dropping in a slow-to-build mystery . . . In the final stretch, surprising, long-kept secrets are revealed. This is vintage Russo."—Publishers Weekly