Moments of Hope Through God's Grace (Paperback)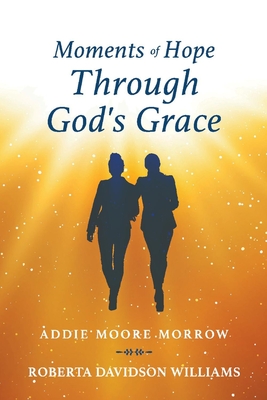 $15.99

Usually Ships in 1-5 Days
Description
---
This is a compelling collaborative memoir of two college friends, Roberta Davidson Williams, whose cultural experience as a Black woman from a Canadian background, living in Caribbean culture is uniquely different from her friend, Addie Moore Morrow Northerner, with southern roots. As the authors reflect on their experiences, they learn how their enduring trust and faith in God create a legacy for future generations.

The authors attended Eastern Michigan University together. They both felt that their stories could help the next generation find hope. Writing brought forth a tumultuous journey – taking both through hurt and fond memories. Roberta and Addie both have strong ancestral foundations – their fathers rose above racist conditions to send both of their daughter's to college. Roberta's father, a Canadian railway porter, and Addie's father, a Detroit autoworker, loved beautiful landscapes and vegetable gardens. Years after their death, Roberta, a retired career horticulturist, and Addie, a retired licensed professional counselor and educator, took up the writing challenge.

Roberta's book, which borrows the title from a Bible scripture, 'The Lord is the Shade upon My Right Hand,' is a journey from her safe Canadian childhood to United States' Jim Crow history and racist policies. She faced her challenges and fought for survival in the backdrop of black awareness and now credits her success to God. Roberta's book mentions the recent injustices and protests movement and her own experience in a protest sparked by the death of Dr. Martin Luther King, Jr, while she was attending Eastern Michigan University.

Similarly, Addie's book, Angelic Testimonies, is also an acknowledgment of historical racism and its impact on her family and today's similar political discourse and fears of turning back a century of race progress to return to a time of racial divide. Addie's journey of survival is an awareness of how generational "Angels" carried her and her family through turbulent times. Angelic Testimonies appears somewhat biographical and portrays her parents' survival from Selma, Alabama, to Detroit and how she felt their entire lives were covered by God's grace to the end.

About the Author
---
Addie Moore Morrow, MA, LPC, is a retired Community College Professor, counselor, and CEO who is focused on violence prevention, racial conversation, and mental health counseling. She is a Solution-Focused Trainer with more than forty-five years of experience as a school educator. A graduate of Eastern Michigan University, she holds a Bachelor of Science in Political Science, English Literature, and a Secondary Teacher Certification. She received her Master of Arts from Western Michigan University in Guidance, Counseling, and Personnel. Some of her career awards include a Educational Policy Fellowship, a Distinguished Faculty Award, and a Salute To Excellence. Roberta Williams was born and raised in Montreal, Quebec, Canada. She completed her tertiary education in the USA with a Bachelor of Science in Sociology and Psychology at Eastern Michigan University and a Master of Science in Plant and Soil Sciences from Tuskegee Institute in Alabama.

Her marriage took her miles away to the Caribbean country of Antigua and Barbuda, where she has lived for over 43 years. She spent twenty-seven of those years with a non-governmental skills training organization for vulnerable youth and women, which she helped establish under the auspices of the Methodist Church in the Caribbean and the Americas. Nationally, Mrs. Williams was awarded the Insignia of Grand Officer of the Most Illustrious Order of Merit (GOM) by the Governor-General of Antigua and Barbuda.

Her greatest joys are her grandchildren, her partnership in a new hydroponic lettuce farm in retirement, and above all is the opportunity to serve God and spread the Gospel through a puppet ministry that she directs.