A Little Too Familiar: an Uncanny Romance Novel (Paperback)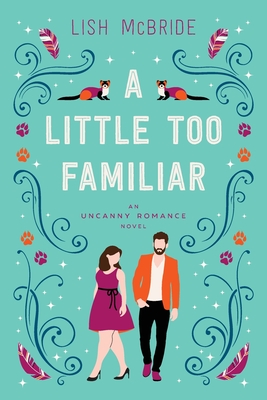 $17.99

Usually Ships in 1-5 Days
Description
---
"A Little Too Familiar is a knock-it-out-of-the-park, magic on every page delight." -Christina Lauren, NYT Bestselling authors of the Unhoneymooners
"Wildly inventive, thoroughly romantic, and cozily delightful, Lish McBride will leave you head over heels for this world and her characters." Gwenda Bond, New York Times bestselling author of The Date from Hell

"Intricate world building, sexy and smart leads who can't live without each other, a diabolical villain you will delight in hating, vengeance pigeons, murder ferrets - all while sneaking in beautiful messages about the family of the heart. What more could you ask of a story?"-Molly Harper, author of the Half-Moon Hollow & Mystic Bayou series
Love brings out the animal in you
Louise Matthews has got it good. Wonderful job? Check. Loving family? The best. Roommates? Pretty fantastic, thank you. All of this helps her
stay focused on what she wants: to finish out her apprenticeship and become a fully licensed Switch-an animal mage who bonds familiars to their witches.
Only a problem has just moved in-a hot, occasionally wolf-shaped problem.
Declan Mackenzie doesn't want to be a lone wolf, but he doesn't have a choice. Girlfriend? Gone. Sister? Starting a new life. Parents? In prison where they belong, thankfully. All he wants is a fresh start-new home, new job, new life. What he gets is a house full of witches, a fledgling phoenix named Dammit, and rogue ferrets who won't stay out of his business.
And he could handle all of that if it wasn't for Louise. It's not great to crush on your roommate. It's even worse when you realize she wields the kind of
magic that sends you running for the door.
Still, Declan is no pup, and he's not going to let this set him back.
Until the past comes back to haunt him-the parents he put in jail have busted out. They want revenge.
And the only thing standing between them and Declan is Louise and the very magic he vowed never to go near again.