Invasion: Zombie Apocalypse (Paperback)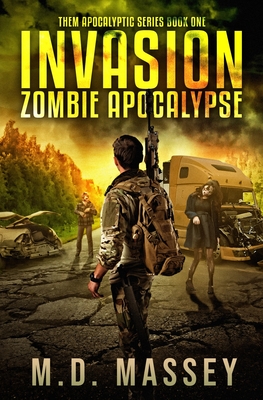 $11.99

Usually Ships in 1-5 Days
Description
---
The action-packed prequel to M.D. Massey's THEM Post-Apocalyptic Military Fantasy Series...
Aidan is a war vet coping with PTSD by isolating himself from the world. After a violent encounter causes him to relapse, he retreats to the only place he feels safe-the deep wilderness of his family's Hill Country ranch.
But when a surprise nuclear attack forces him from hiding, he finds the world he left behind to be a much different and more deadly place. Now to rescue his aging parents he must traverse a post-apocalyptic landscape populated by violent redneck looters, rogue military factions, and an army of hungry undead.
Aidan knows he's in a race against the clock, because it's only a matter of time before his parents' home is overrun by the walking dead. Will he save them from the dead, or lose the last of his family to a world that's slipped into chaos and madness?
Find out in THEM Invasion: Zombie Apocalypse
More About THEM Invasion: Zombie Apocalypse -
If you're a fan of the zombie apocalypse military genre, or if you love post-apocalyptic zombie fiction in general, then you're sure to relish spending time killing Z's with Scratch Sullivan. And fans ofparanormal apocalypse and Western horror novels will also surely revel in this action-packed romp through a zombie-ravaged central Texas.
THEM: Invasion is a paranormal take on the end of the world as we know it, post-apocalyptic Western, military SHTF fiction at its gory best. Get your copy today and discover the twisted, dystopian, post-apocalyptic world of Scratch Sullivan and Them