Fried Windows: In a Light White Sauce (Paperback)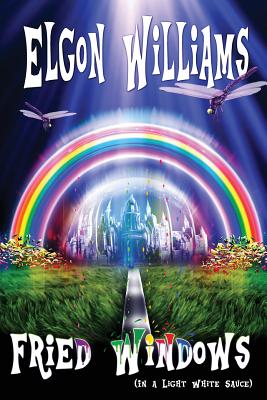 $14.99

Usually Ships in 1-5 Days
Description
---
Leave your world behind and enter an adventure forever lost but never forgotten. Where only magic is real, and anything is possible.
When Brent Woods, a middle-aged computer technician delivers a new computer system to an eccentric woman who lives in a strange house with no windows, she offers to reconnect him with his childhood dreams and fantastic imagination. Alongside his best friend Lucy, Brent explores the seemingly infinite possibilities of the "Inworld" where she lives, a place where everything about anything can change with a thought. Nevertheless, in the process of remembering his past as Carlos, Lord of Bartoul in the Interrealm, Brent exposes a dark potential that threatens his family and his life as he knows it.
Then his youngest daughter is attacked in her dreams by the same forces that took away his kingdom, and Lucy's. Brent seeks answers that lie somewhere in the truth of what happened in his past, and how he lost his connection to the Interrealm. He must find a way to correct his mistakes and solve the puzzle of his best friend's life.
Fried Windows: In a Light White Sauce is an unforgettable journey into imagination-a feast of delightful characters whose perspective of their worlds will change the way you think about yours-forever.
About the Author
---
Born in Springfield, Ohio, Elgon Williams was given a name hardly anyone knows how to pronounce. L-gun is the best phonetic rendering. His father's farm was near the town of South Charleston in rural southeastern Clark County, roughly two miles from nowhere and wedged between cornfields. Anywhere closer to a big city seemed a better place to live. Having spent much of his adult life living close to cities, currently he has a different perspective. To the great relief of parents, teachers, and fellow students, he graduated on schedule from Shawnee High School in 1974. While in high school he became interested in creative writing and journalism, which he studied at Purdue University. In the summer of '79, in the midst of a major economic crisis and the height of the gas shortages, he hitched a U-Haul trailer to a gas-guzzling '76 Monte Carlo and moved his worldly belongings to Austin where he spent a couple of years studying Marketing Administration at the University of Texas. Following college he relocated to Florida's west coast and worked for a small advertising agency by day and a grocery store by night. Seeing no career potential in what he was doing, he joined the U.S. Air Force in early 1983. For forty-seven weeks he studied Chinese Mandarin at the Defense Language Institute in Monterey, California. Upon completion of his training, Williams worked in Asia until the fall 1986. While in Korea, he served a secondary role, as unit historian publishing what was technically his first book. Due to the security classification of the 400-page unit history very few people ever read it, though it did win an award. He returned home to civilian life and sold computer software for a while as a telemarketer before beginning his long career in retail management working for several major retailers between 1987 and 2012. Working in management by day and writing by night, Williams finished his first novel, One Over X, in 2000. It was a project begun as a creative writing assignment for a class at Purdue in January 1977. Although his early writing is categorized as sci-fi and fantasy, it is difficult to assign any genre to his fiction. A number of his stories are historical, loosely based on childhood experiences. His many published works can be found on his Amazon author's page.