Beholder's Eye (Web Shifters #1) (Mass Market)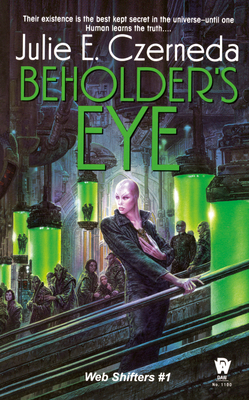 Other Books in Series
This is book number 1 in the Web Shifters series.
Description
---
United in their natural form they are one, sharing all their memories, experiences, and lives. Apart they are six, the only existing members of their ancient race, a species with the ability to assume any form once they understand its essence.

Their continued survival in a universe filled with races ready to destroy anyone perceived as different is based on the Rules. And first among those Rules is: Never reveal your true nature to another being. But when the youngest among them, Esen-alit-Quar, receives her first independent assignment to a world considered safe to explore, she stumbles into a trap no one could have anticipated.

Her only means of escape lies in violating the First Rule. She reveals herself to a fellow captive―a human being/ While this mistake might not ordinarily prove fatal, the timing of the event could not be worse. For something new has finally made its way into the Universe, the Enemy of the Web, bringer of death to all forms of life. And the hunt it about to begin.
About the Author
---
Julie E. Czerneda is a biologist and writer whose science fiction has received international acclaim, awards, and best-selling status. She is the author of the popular "Species Imperative" trilogy, the "Web Shifters" series, the "Trade Pact Universe" trilogy and her new "Stratification" novels. She was a finalist for the John W. Campbell Award for Best New Writer. Her stand-alone novel, In the Company of Others, won Canada's Prix Aurora Award and was a finalist for the Philip K. Dick Award for Distinguished SF. Julie lives with her husband and two children in the lake country of central Ontario, under skies so clear they could take seeing the Milky Way for granted, but never do. You can find her at www.czerneda.com.
Praise For…
---
Praise for the Web Shifters series:

 "Julie Czerneda's novels ignite my sense of wonder, from the amazing worlds she creates, to the fully realized aliens and likeable characters. I eagerly await her next" ―Kristen Britain, author of Green Rider

"The plot of Beholder's Eye will strike the chords with readers familiar with the work of C.J. Cherryh or Hal Clement, but Czerneda stamps this with her own style, proving that a story told from the viewpoint of an alien race is worth reading when properly handled." ―Starlog

"It's all good fun, a great adventure following an engaging character across a divertingly varies series of worlds, with just a bit of unfulfilled romantic tension for spice." ―Locus

"That unusual premise and excellent writing combine to make…a wonderfully entertaining book. Czerneda uses the opportunity to create widely different species, a far cry from the cookie-cutter critters found in so much science fiction." ―SF Site