More Than Money: Real Life Stories of Financial Planning (Paperback)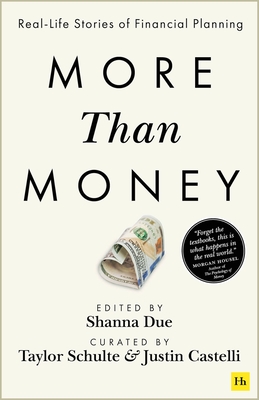 $18.99

Coming Soon - Available for Pre-Order Now
Description
---
Despite an expansive array of financial planning tools, advice, and gurus, putting real financial planning into practice is deeply personal—and incredibly difficult.

More Than Money: Real-Life Stories of Financial Planning is a collection of surprising and inspiring true stories that reveal how real clients applied financial planning to derive tangible results that changed their lives.

These stories by award-winning financial advisors feature people from all walks of life—young and old, those in debt and those with great wealth—and a wide variety of situations, from designing a desired lifestyle to dealing with catastrophe. They show how well-thought-out, personalized, and high-touch financial planning can truly impact lives for the better.

These leaders in a growing industry remind us that financial planning is more than dollars and cents—it is about resourcing dreams and improving lives in the near-term and beyond.

Financial planning is More Than Money.

Contributions from: Elliott Appel, Michael H. Baker, Vincent R. Barbera, Jordan Benold, Todd Bessey, Todd A. Bryant, Marguerita Cheng, Kevin D. Christensen, Christopher Clepp, Cathy Curtis, Shanna Due, Jessica L. Fahrenholz, Brett K. Fellows, Matt Fizell, Steven Fox, Melissa Joy, Michael Kelly, David Kuzma, Douglas M. Lynch, Kevin Mahoney, Andrew Martz, Stephanie W. McCullough, Dana J. Menard, Amar Pandit, Matthew G. Ricks, Jeffrey J. Smith, Nicola Tomlin, Simon A. Tryzna
About the Author
---
Taylor Schulte, CFP® is the founder of Define Financial, a fee-only financial planning firm dedicated to helping people over age 50 lower taxes, invest smarter, and retire with confidence. He's also the co-founder of Advisors Growing as a Community (The AGC) and host of the Stay Wealthy Retirement Show, a Forbes top 10 podcast. Schulte was named as the #3 top independent financial advisor by Investopedia in 2021. His contributions are regularly featured in Kiplinger, Business Insider, and CNN.

Justin Castelli is the founder of RLS Wealth, a registered investment adviser based in Fishers, Indiana and a co-founder of Advisors Growing as a Community (The AGC). More importantly, he is a husband and a father to three boys. As a CFP® practitioner, he focuses on helping clients identify their passions in life and make them the focus of their financial lives. Justin is also the creator of the All About Your Benjamins blog and podcast and recently launched a new creative effort called PRST. Passion is the driver behind all of Justin's endeavors and experiments in life, and he is inspired to help more people find their passions and purpose in life.

Shanna Due is an Accredited Financial Counselor (AFC ®), co-founder of The Due Collaborative consulting group and Due Financial. Whether working with her financial planning clients, consulting through The Due Collaborative, or volunteering in support of her local community and military families, Shanna is committed to seeing individuals use their capital, time, treasure, and talents to create a life focused on making an impact in the world around them. She has served as a board member, an advisor, seminar leader, and coach to hundreds of participants ranging from teens to retirees. Shanna currently lives in Williamsburg, Virginia with her husband, two children, and rescue pup. In her free time, you can find her on the sidelines cheering on her children, searching for a hidden mountain lake, or reading a book on her latest obsession.