Pursuit: A Novel (Paperback)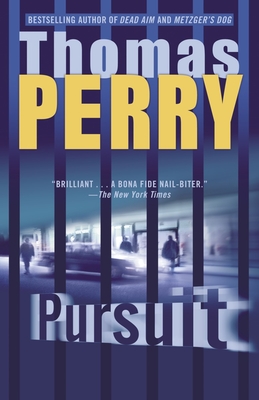 $17.00

Usually Ships in 1-5 Days
Description
---
"Perry is the best suspense writer in the business. . . . Pursuit is relentless, filled with twists and turns, that rare page-turner that keeps one reading late into the night to finish."
–The Boston Globe

Thirteen bodies are found in a Louisville restaurant. When the police can find no suspect or motive, a victim's family seeks the services of the enigmatic and solitary specialist Roy Prescott, known for his ability to find people who don't want to be found. Working outside the law and willing to do what the police can't, Prescott hunts the killer, an elusive adversary who is as smart, as methodical, as deadly as he is. The only way to conduct this pursuit is to goad the killer into believing that he must kill Roy Prescott. It is a contest fought from one end of the country to the other, and both men understand that when it's over, only one of them will be alive.
About the Author
---
Thomas Perry won an Edgar for The Butcher's Boy, and Metzger's Dog was a New York Times Notable Book of the Year. His other books include Death Benefits, Blood Money, The Face-Changers, and Shadow Woman, Dance for the Dead, and Vanishing Act. He lives in Southern California with his wife and two daughters.
Praise For…
---
"Brilliant . . . a bona fide nail-biter."
–The New York Times

"Perry is the best suspense writer in the business. . . . Pursuit is relentless, filled with twists and turns, that rare page-turner that keeps one reading late into the night to finish."
–The Boston Globe

"Once Prescott takes the job, the novel shifts into a gear so high that putting the book aside is no longer an option. . . . a bravura performance from one of the few crime writers who never lets you down."
–Los Angeles Times

"[A] dazzling new thriller . . . Perry has devised a game board of infernal ingenuity."
–The New York Times Book Review

"A compulsive page-turner . . . Pursuit is expertly crafted and features a climax guaranteed to set hearts racing."
–The Denver Post

"A thriller that actually thrills."
–The Plain Dealer