Rainy River Lives: Stories Told by Maggie Wilson (Paperback)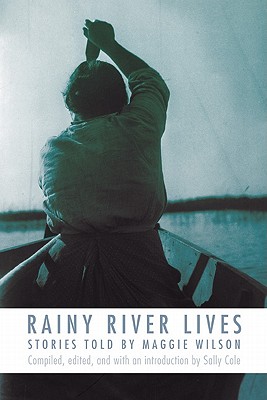 $35.00

Usually Ships in 1-5 Days
Description
---
Rainy River Lives is the long-lost collection of stories of Ojibwe men and women as told by a hitherto unpublished, traditional Ojibwe storyteller, Maggie Wilson (1879–1940). Wilson lived on the Manitou Rapids Reserve on the Rainy River, which flows along the Ontario-Minnesota border. When anthropologist Ruth Landes arrived at Rainy River to conduct her doctoral research in 1932, Wilson often worked with the young scholar, telling her many stories. Their relationship continued after Landes returned to Columbia University. During the following decades, however, the letters and stories Wilson had sent Landes, which Landes had carefully collected, were lost. Only recently were they discovered in the basement of the Smithsonian Institution, where they had been misfiled with papers of another anthropologist.
This rich set of narratives takes us inside the intimate world of Ojibwe families at the turn of the twentieth century, a time of great upheaval when the Ojibwes were being relocated onto reserves and required by the government to abandon their seasonal migrations and subsistence activities. These remarkably detailed stories of ordinary Native people, precisely through their everyday character, reveal much about Ojibwe cultural beliefs and paint a nuanced ethnographic portrait of Ojibwe life. In the distinctive voice of an exceptional and highly creative individual, the stories address both the culturally specific world of the Ojibwes and universal human themes of love,  loss, and perseverance.
About the Author
---
Sally Cole is a professor of anthropology at Concordia University. She is the author of Ruth Landes: A Life in Anthropology (Nebraska 2003) and Women of the Praia: Work and Lives in a Portuguese Coastal Community.
Praise For…
---
"Providing new insights into an episode in collaborative anthropology that happened eight decades ago, this book contributes fresh material to our understandings of Native women's lives in the early twentieth century."—Jennifer S.H. Brown, Collaborative Anthropologies

"Wilson and Cole have made an excellent contribution on several levels. Every reader will find a favorite story. Ojibwe readers in particular will likely find traces of stories and experiences shared by their own families."—Jill Doerfler, Ethnohistory

"Rainy River Lives presents an intriguing compilation of stories told by Maggie Wilson to her daughter Janet, who used the skills she learned at a residential school to transcribe them onto a stenographer's pad."—Mishuana Goeman, Journal of Anthropological Research