The Female Brain (Hardcover)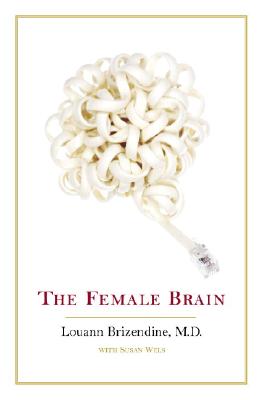 Description
---
Every brain begins as a female brain. It only becomes male eight weeks after conception, when excess testosterone shrinks the communications center, reduces the hearing cortex, and makes the part of the brain that processes sex twice as large.
Louann Brizendine, M.D. is a pioneering neuropsychiatrist who brings together the latest findings to show how the unique structure of the female brain determines how women think, what they value, how they communicate, and whom they ll love. Brizendine reveals the neurological explanations behind why
A woman remembers fights that a man insists never happened
A teen girl is so obsessed with her looks and talking on the phone
Thoughts about sex enter a woman's brain once every couple of days but enter a man's brain about once every minute
A woman knows what people are feeling, while a man can t spot an emotion unless somebody cries or threatens bodily harm
A woman over 50 is more likely to initiate divorce than a man
Women will come away from this book knowing that they have a lean, mean communicating machine. Men will develop a serious case of brain envy.
About the Author
---
Louann Brizendine, M.D., a diplomate of the American Board of Psychiatry and Neurology and the National Board of Medical Examiners, is an endowed clinical professor of psychiatry at the University of California, San Francisco. She is founder and director of the Women s Mood and Hormone Clinic. After receiving her degree in neurobiology at University of California, Berkeley, and her medical degree from Yale University School of Medicine, she completed an internship and residency in psychiatry at Harvard Medical School. She has served as faculty at both Harvard and UCSF. She sits on the boards of peer reviewed journals and is the recipient of numerous honors and awards."
Praise For…
---
Men, get ready to develop brain envy.

Advance praise for The Female Brain

"Finally, a satisfying answer to Freud's question, 'What does a woman want?' Louann Brizendine has done a great favor for every man who wants to understand the puzzling women in his life. A breezy and enlightening guide to women—and a must-read for men."
—Daniel Goleman, author of Social Intelligence

"Sassy, witty, reassuring, and great fun. All women—and the men who love them—should read this book."
—Christiane Northrup, M.D., author of The Wisdom of Menopause

"An eye-opening account of the biological foundations of human behavior. Destined to become a classic in the field of gender studies."
—Marilyn Yalom, author of A History of the Breast

"A timely, insightful, readable, and altogether magnificent book."
—Sarah Blaffer Hrdy, author of Mother Nature: A History of Mothers, Infants and Natural Selection