Dark Light: Dawn (Mass Market)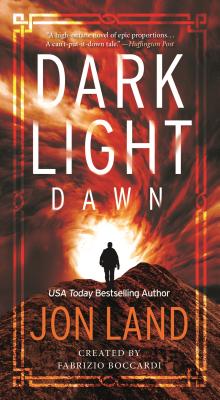 Description
---
From author Jon Land and creator Fabrizio Boccardi comes Dark Light: Dawn, a heart-pounding supernatural thriller about a deadly, global epidemic and the man who holds the power to either save the world or destroy it.

With an uncanny ability to survive any combat situation, Max Younger has built a good life for himself as a Navy SEAL. That is, until a rogue rescue operation plunges him back into the past he thought he'd escaped forever.

Waiting for him back home in New York are terrible, long-hidden truths rooted in the tragic death of his father. But the origin of those truths lie further back than that, and Max finds himself ensnared in a sinister plot involving nothing less than the biblical apocalypse.

The explosive conflagration of events reunites him with the only woman he ever loved: Victoria Lewin, a brilliant expert in infectious disease who may be the only one who can stop the spread of a deadly pestilence threatening the planet. Max's reunion with Vicky comes amid a firestorm being unleashed by forces that date back to the very origins of the universe.

Across the globe, the stage is being set for a final, epic confrontation between the forces of good and evil. Sides are chosen, a fearsome army rises, and the lines between science and superstition become increasingly blurred. Max desperately seeks to discover whether he is fated, under the shadow of the Medusa Strain, to help save the world . . . or destroy it.
About the Author
---
Jon Land is the USA Today bestselling author of more than fifty books, over ten of which feature Texas Ranger Caitlin Strong. The critically acclaimed series has won more than a dozen awards, including the 2019 International Book Award for Best Thriller for Strong as Steel. He is also the author of Chasing the Dragon, a detailed account of the War on Drugs written with one of the most celebrated DEA agents of all time. A graduate of Brown University, Land lives in Providence, Rhode Island and received the 2019 Rhode Island Authors Legacy Award for his lifetime of literary achievements.

FABRIZIO BOCCARDI is an entrepreneur, investor, creator, producer, and CEO & Chairman of the Board of Directors of King Midas World Entertainment Inc. Boccardi is the creator and owner of the multimedia brand and franchise the Tyrant. In addition, he controls numerous investments in the United States and abroad.
Praise For…
---
"A rip-roaring story grounded in science . . . If you like my books, or Michael Crichton's, or similar science-based thrillers, then this is the book for you. A terrific read!"
—Douglas Preston, New York Times bestselling author

"Has everything—mystery, action, sex, violence, widescreen apocalypse and close-up chills, along with the creepiest little girl you'll never want to meet. 'I couldn't put it down' has become such a cliché, but . . . I couldn't put it down."
—F. Paul Wilson, New York Times bestselling author

"A masterfully plotted labyrinth of mystery and suspense, packed with staggering twists and turns, rocketing toward a cataclysmic denouement that will blow your mind!"
—TopShelf Magazine

"Combining the supernatural conspiracies of The X-Files with the pandemic panic of Contagion and World War Z,Dark Light Dawn is an addicting, intense, nail-biting big budget summer movie brought to the page by creator Fabrizio Boccardi and author Jon Land. Hopefully, we'll see the return of Max Younger sooner than later."
—Forces of Geek Magazine