The Time-Saving Mom: How to Juggle a Lot, Enjoy Your Life, and Accomplish What Matters Most (Hardcover)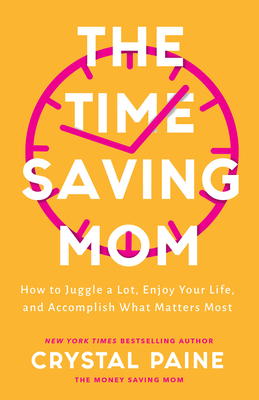 $22.99

Usually Ships in 1-5 Days
Description
---
If you've ever felt behind, overwhelmed, stressed out, and exhausted by all that's on your plate, this book is for you. Sharing her proven time-saving habits and productivity hacks, New York Times bestselling author and successful entrepreneur--and mom of six--Crystal Paine delivers a real-world, no-nonsense guide to keeping you sane and doing the things you love most.

She takes you inside her days, showing you her simple system and easy-to-implement solutions to effectively juggle your responsibilities and maximize your time. She reveals that it's not about hustling harder or being a productivity queen; it's about wrapping your time, energy, and life around the things that really make a difference. You'll discover how to set up a system that works for you, prioritize your days, and simplify your life.

Time is short--here's how to invest it in what matters most.
About the Author
---
Crystal Paine is a New York Times bestselling author known widely as the Money Saving Mom. Crystal is a wife and mom of six kids. Her desire is to help women across the globe live with more joy, purpose, and intention in their everyday lives. Learn more at moneysavingmom.com.