Timmy Failure: Now Look What You've Done (Paperback)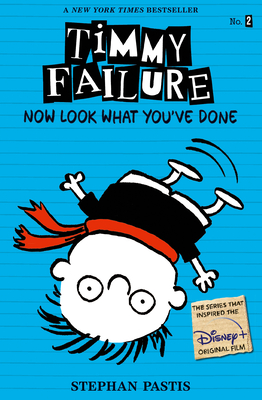 Other Books in Series
This is book number 2 in the Timmy Failure series.
Description
---
"Puns, plays-on-words, and clever comedic timing will result in laugh-out-loud moments." —School Library Journal

The clueless, comically self-confident detective Timmy Failure is about to crack the biggest case of his generation: a school competition to find a stolen globe. But someone is clearly trying to game the system. Hoodwink. Con. Defraud. Timmy, with the dubious help of his lazy polar bear sidekick, Total, must avenge the shenanigans, defeat the injustice—and get an entry form in on time.
About the Author
---
Praise For…
---
Pastis has a knack for comic timing, and the interplay between cartoon, text, and the absurdities of the story should continue to attract readers who wish they could shake their fists at the world with such inept panache.
—Booklist

If Inspector Clouseau were in grade school, he'd be Timmy Failure. ... [H]is many fans will speed through the pages, and they'll love Pastis' illustrations, which feature an adorable polar bear shaped like a bowling pin. They may even adopt Timmy's motto: "When you lose hope, find it." A loonily intellectual alternative to that wimpy kid.
—Kirkus Reviews

Timmy is a wonderfully frustrating narrator. ... [A]s Timmy's grip on reality begins to weaken and his actions begin to alienate those around him, readers will nevertheless sympathize with his unraveling. Fans of the "Diary of a Wimpy Kid" series or the "Big Nate" books will enjoy the sharp, ironic humor as well as the black-and-white comic illustrations. ... [P]lenty of the puns, plays-on-words, and clever comedic timing will result in laugh-out-loud moments.
—School Library Journal

Great-aunt Colander is the gem of the series thus far. She truly "gets" and seeks out Timmy, and she's the resourceful and clear-eyed antidote to the discombobulated detective. ... This heartwarming companion will make Timmy's fans even more eager for the third adventure, planned for this coming November.
—Shelf Awareness