The Ensemble: A Novel (Hardcover)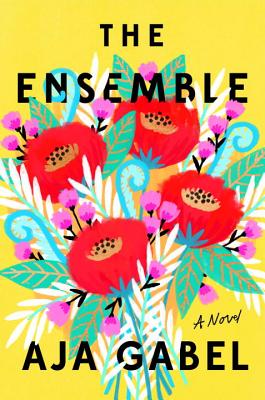 Staff Reviews
---
What an utterly gorgeous(both literally and figuratively) and immersive book this is! The stars of Gabel's debut novel - Jana, Brit, Daniel, and Henry - are members of a professional string quartet that forms in the early '90's and manages to withstand success, failure, and various major life changes.  These character's' choices to tie their careers to each other has far-reaching effects , and Gabel does a beautiful job exploring the fallout.  This is a book filled with love - romantic, platonic, and love of music - and it's a complete wonder to read.
— Erika
May 2018 Indie Next List
---
"My goodness, I love the quartet of flawed and wonderful characters Aja Gabel brings to life. I felt the heartbreak and triumph each time the ensemble performed. The Ensemble captures everything from the relentless rehearsals to the particular hand injuries musicians worry over to the conflict within the group. Henry, Daniel, Jana, and Britt are each characters unto themselves, but together they create a fifth character: the quartet itself. An inventive novel about the lives of musicians and the world they inhabit, full of tension, ambition, confusion, and loyalty. The Ensemble is a remarkable achievement."
— Sarah Bagby, Watermark Books, Wichita, KS
Description
---
"Pitch-perfect." —People

"You won't be able to quit these characters." —goop

The addictive novel about four young friends navigating the cutthroat world of classical music and their complex relationships with each other, as ambition, passion, and love intertwine over the course of their lives.

Jana. Brit. Daniel. Henry. They would never have been friends if they hadn't needed each other. They would never have found each other except for the art which drew them together. They would never have become family without their love for the music, for each other.

Brit is the second violinist, a beautiful and quiet orphan; on the viola is Henry, a prodigy who's always had it easy; the cellist is Daniel, the oldest and an angry skeptic who sleeps around; and on first violin is Jana, their flinty, resilient leader. Together, they are the Van Ness Quartet. After the group's youthful, rocky start, they experience devastating failure and wild success, heartbreak and marriage, triumph and loss, betrayal and enduring loyalty. They are always tied to each other - by career, by the intensity of their art, by the secrets they carry, by choosing each other over and over again.

Following these four unforgettable characters, Aja Gabel's debut novel gives a riveting look into the high-stakes, cutthroat world of musicians, and of lives made in concert. The story of Brit and Henry and Daniel and Jana, The Ensemble is a heart-skipping portrait of ambition, friendship, and the tenderness of youth.
About the Author
---
Aja Gabel's writing has appeared in BOMB, The Kenyon Review, Glimmer Train, and elsewhere. A former cellist, she earned her B.A. at Wesleyan University, her MFA at the University of Virginia and has a Ph.D. in Literature and Creative Writing from the University of Houston. Aja has been the recipient of fellowships from the Sewanee Writers'' Conference, Literary Arts Oregon, and the Fine Arts Work Center in Provincetown, where she was a fellow in fiction. She currently lives in Los Angeles.
Praise For…
---
A BOOKLIST "TOP 10 FIRST NOVEL"

"In Ms. Gabel's terrifically entertaining debut, the frictions of long-term friendships are woven into the "webbed, collaborative endeavor" of the quartet. Their music doesn't transcend the mess of living; it testifies to it." —The Wall Street Journal

"Pitch-perfect." —People

"Reminded me of Zadie Smith's Swing Time... The language that Gabel uses to describe both the pressures of prestige chamber orchestras and, simply, what it is to be a human in the world, is a work of art in and of itself. I found myself highlighting dozens of passages, marveling at just how impossibly relatable these people are... [I]t's the perfect form of escapism for me." —Entertainment Weekly

"This lilting, richly detailed story follows a group of friends — also a string quartet — as they grow and change together thoughout adulthood. Told from alternative perspectives, it gives us a riveting look inside the world of classical musicians and an intimate study of friendships." —Marie Claire

"Phenomenal first novel.... The Ensemble is really a love story. Love of music. Love of friends. Love of family. The genius here is that the reader becomes a part of the ensemble, too, so immersed in these people, that to call them characters seems a disservice. Like them, we feel the pull of time, the need for the music. In the brilliant coda, after we have become very aware of them as individuals, their lives are once again part of one single whole, and here, are collectively narrated, with the yearning of nostalgia." —San Francisco Chronicle

"Gabel's rich characters and melodic prose (fitting for a story about professional chamber musicians) make the novel a satisfying read. Comparisons to Meg Wolitzer's The Interestings are apt." —Real Simple

"[A]bsolutely sublime... Mark our words: you won't be able to put this exquisite book down." —Refinery29

"A page-turner of a debut.... The Ensemble is set in the world of classical music (so, yes, this is a good book for all you Mozart in the Jungle fans) and tracks the way the friends, who comprise the Van Ness Quartet, navigate their youthful inexperience, riotous success, professional failures, and all of the other things that come with sky-rocketing ambition and a reliance on other people." —Nylon

"I fell so hard for the four friends in Aja Gabel's debut novel, which follows a young, ambitious string quartet as they try to sort out their complicated relationships to music and each other. The last time I wanted characters to be real this badly—or, you know, felt like they were—was when Lauren Groff's Fate and Furies came out. The Ensemble is about desire, disappointment and success, betrayal and loyalty, and the ways that our friendships shape the people we become. You won't be able to quit these characters." —goop

"Stunningly resonant... With remarkable assurance, Gabel takes the four [characters] through their shaky early performances and expertly ties their individual and collective lives together with generous doses of empathy... A virtuoso performance." —Booklist (STARRED review)

"Gabel explores friendship and art with great warmth, humanity, and wisdom." —Library Journal (STARRED review)

"Wonderful.... The four characters are individually memorable, but as a quartet they're unforgettable." —Publishers Weekly (STARRED review)

"Aja Gabel's ambitious debut novel is a beautiful study of just how apt a metaphor classical music is for relationships." —New York magazine's Vulture

"Aja Gabel's debut novel centers around the four friends who make up the Van Ness Quartet: Brit, Daniel, Henry, and Jana, each wildly different but electric together despite the ups and downs of their career in music. Gabel examines the intricate complexities of their intense friendship, loyalties, and ambitions over a decade and a half in this book, which itself reads quite like a lyrical composition. You'll come for the music and stay for Gabel's realistic portrait of modern friendship." —Buzzfeed

"Aja Gabel's powerful debut offers a sensitive portrait of four young musicians forging their paths through life: sometimes at odds with each other, sometimes in harmony, but always inextricably linked by their shared pasts."
—Celeste Ng, New York Times bestselling author of Everything I Never Told You and Little Fires Everywhere

"With uncommon clarity and empathy, Aja Gabel brings us inside the passionate, complex, and sometimes cutthroat intimacy that exists among the four members of a string quartet. A wise and powerful novel about love, life, and music. I didn't want it to end."
—Maggie Shipstead, New York Times bestselling author of Seating Arrangements and Astonish Me

"Sweeping, romantic, elegiac, The Ensemble gives you the feeling of being inside the music of a quartet, a look into the relationships under the music, the love and heartbreak, set against their ruthless commitment to both their art, and to each other. Aja Gabel is a phenomenon."
—Alexander Chee, author of The Queen of the Night and How to Write an Autobiographical Novel

"Compelling." —Town & Country

"The Ensemble deserves a standing ovation. A gripping tale of four musician's journeys through discord and harmony, life and love. Aja Gabel is a brilliant young writer with the rare gift of an old soul."
—Mat Johnson, author of Pym and Loving Day

"I often admire novels that are platforms for their writers' own stories, upon which their own singular character, with its own singular history, is carefully incised. This, however, is a novel of a different, more expansive, and altogether more electrifying kind. Aja Gabel contains at least four complete human beings inside her, and I'm guessing countless others. She knows these people down to their cells, and she gives all of herself to them."
—Kevin Brockmeier

Coverage from NPR