Technopoly: The Surrender of Culture to Technology (Paperback)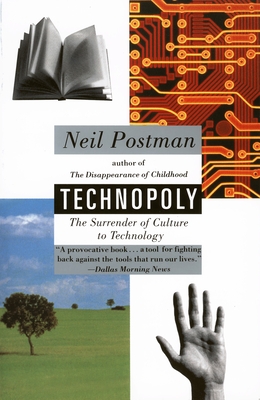 Description
---
A witty, often terrifying that chronicles our transformation into a society that is shaped by technology—from the acclaimed author of Amusing Ourselves to Death.

"A provocative book ... A tool for fighting back against the tools that run our lives." —Dallas Morning News

The story of our society's transformation into a Technopoly: a society that no longer merely uses technology as a support system but instead is shaped by it—with radical consequences for the meanings of politics, art, education, intelligence, and truth.
About the Author
---
NEIL POSTMAN was University Professor, Paulette Goddard Chair of Media Ecology, and Chair of the Department of Culture and Communication at New York University. Among his twenty books are studies of childhood (The Disappearance of Childhood), public discourse (Amusing Ourselves to Death), education (Teaching as a Subversive Activity and The End of Education), and the impact of technology (Technopoly). His interest in education was long-standing, beginning with his experience as an elementary and secondary school teacher. He died in 2003.