The Best American Mystery Stories Of The Century (Paperback)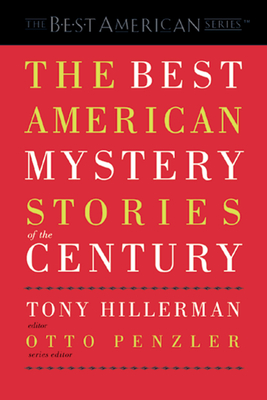 $23.99

Usually Ships in 1-5 Days
Description
---
In THE BEST AMERICAN MYSTERY STORIES OF THE CENTURY, best-selling author Tony Hillerman and mystery expert Otto Penzler present an unparalleled treasury of American suspense fiction that every fan will cherish. Offering the finest examples from all reaches of the genre, this collection charts the mystery's eminent history from the turn-of-the-century puzzles of Futrelle, to the seminal pulp fiction of Hammett and Chandler, to the mystery story's rise to legitimacy in the popular mind, a trend that has benefited masterly writers like Westlake, Hunter, and Grafton. Nowhere else can readers find a more thorough, more engaging, more essential distillation of American crime fiction.
Penzler, the Best American Mystery Stories series editor, and Hillerman winnowed this select group out of a thousand stories, drawing on sources as diverse as Ellery Queen's Mystery Magazine and Esquire, Collier's and The New Yorker. Giants of the genre abound -- Raymond Chandler, Stephen King, Dashiell Hammett, Lawrence Block, Ellery Queen, Sara Paretsky, and others -- but the editors also unearthed gems by luminaries rarely found in suspense anthologies: William Faulkner, John Steinbeck, Damon Runyon, Harlan Ellison, James Thurber, and Joyce Carol Oates. Mystery buffs and newcomers alike will delight in the thrilling stories and top-notch writing of a hundred years' worth of the finest suspense, crime, and mystery writing.
About the Author
---
Tony Hillerman's many honors include the Mystery Writers of America's Edgar and Grandmaster prizes, the Silver Spur Award for best novel set in the West, and the Navajo Tribe's Special Friend Award. His best-selling novels include
Hunting Badger, The First Eagle,
and
The Fallen Man.
OTTO PENZLER is a renowned mystery editor, publisher, columnist, and owner of New York's The Mysterious Bookshop, the oldest and largest bookstore solely dedicated to mystery fiction. He has edited more than fifty crime-fiction anthologies. He lives in New York.
Praise For…
---
"I wound up these 800-odd pages accepting [the editors'] proposition that mysteries come in many respectable guises, whether as puzzles, romps, chillers, social commentary, or ,very occasionally, literary endeavors, and sorting them out does not seem to be worth the trouble. So forget about what certifies a true mystery and enjoy the skill, ingenuity and surprises that the species, however described, offers. The only distinction that matters in so happily free-ranghing an endeavor is whether the story works." - Wednesday, February 16th The New York Times

"This anthology is a cornerstone volume for any mystery library." Publishers Weekly —