The Hutt Gambit: Star Wars Legends (The Han Solo Trilogy) (Star Wars: The Han Solo Trilogy - Legends #2) (Mass Market)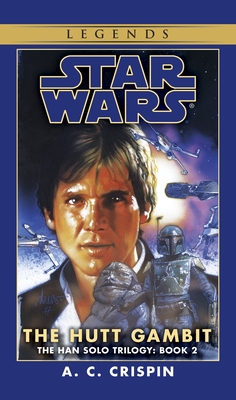 $7.99
Usually Ships in 1-5 Days
Description
---
Here is the second novel in the blockbuster new trilogy that reveals the never-before-told story of the young Han Solo.  Set before the Star Wars(r) movie adventures, these books chronicle the coming-of-age of the galaxy's most famous con man, smuggler and thief.

Solo is now a fugitive from the Imperial Navy.  But he has made a valuable friend in a former Wookiee slave named Chewbacca, who has sworn Han a  life debt.  Han will need all the help he can get.  For the Ylesian Hutts have dispatched the dreaded bounty hunter Boba Fett to track down the man who already outsmarted them once.  But Han and Chewie find themselves in even bigger trouble when they agree to lend their services to the crime lords Jiliac and Jabba the Hutt.  Suddenly the two smugglers are thrust into the middle of a battle between the might of the Empire and the treachery of their outlaw allies...a battle where even victory means death!
About the Author
---
A.C. Crispin was the author of the bestselling Han Solo Trilogy. Ms. Crispin writes in her own universes, including her seven book StarBridge series and Storms of Destiny. She also created stories in other media universes, including Star Trek, V, and Alien. Crispin was active in Science Fiction and Fantasy Writers of America and served as the chair of Writer Beware, SFWA's "scam watchdog" volunteer group. She died in 2013.