Anna and the Swallow Man (Hardcover)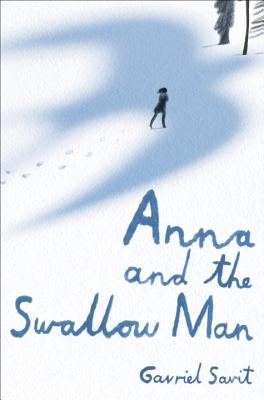 Description
---
A New York Times Bestseller
A Publishers Weekly Best Book of the Year
A Shelf Awareness Best Book of the Year
A Bulletin Blue Ribbon Book
Winner of the Indies Choice Book Award                             
Winner of the Sydney Taylor Book Award


"Exquisite." —The Wall Street Journal

"This is masterly storytelling." —The New York Times Book Review

A stunning, beautiful, and ambitious debut novel set in Poland during the Second World War perfect for readers of All the Light We Cannot See and The Book Thief.
 
Kraków, 1939. A million marching soldiers and a thousand barking dogs. This is no place to grow up. Anna Łania is just seven years old when the Germans take her father, a linguistics professor, during their purge of intellectuals in Poland. She's alone.

And then Anna meets the Swallow Man. He is a mystery, strange and tall, a skilled deceiver with more than a little magic up his sleeve. And when the soldiers in the streets look at him, they see what he wants them to see.

The Swallow Man is not Anna's father—she knows that very well—but she also knows that, like her father, he's in danger of being taken, and like her father, he has a gift for languages: Polish, Russian, German, Yiddish, even Bird. When he summons a bright, beautiful swallow down to his hand to stop her from crying, Anna is entranced. She follows him into the wilderness.

Over the course of their travels together, Anna and the Swallow Man will dodge bombs, tame soldiers, and even, despite their better judgment, make a friend. But in a world gone mad, everything can prove dangerous. Even the Swallow Man. 
 
Destined to become a classic, Gavriel Savit's stunning debut reveals life's hardest lessons while celebrating its miraculous possibilities.
About the Author
---
Gavriel Savit holds a BFA in musical theater from the University of Michigan in Ann Arbor, where he grew up. As an actor and singer, Gavriel has performed on three continents, from New York to Brussels to Tokyo. He lives in Brooklyn. This is his first novel.
Praise For…
---
"Chilling yet tender." —People Magazine

"Savit's economical prose beautifully captures a child's loss of innocence and the spiritual challenges that emerge when a safe world suddenly becomes threatening." —Publishers Weekly, Starred Review

"The third-person narrative—lyrical, fluid, with a pervasive shadow of menace—lends a folkloric feel to a graceful story steeped in history, magic, myth, and archetype; comparisons to The Book Thief are apt." —The Horn Book, Starred Review

"Savit's novel, with its wise, philosophical narrator, has the classic feel and elegant, precise language of a book that's been around forever." —Shelf Awareness, Starred Review

"[A] quiet exploration of love and its limits." —The Bulletin of the Center for Children's Books, Starred Review

"Artful, original, insightful." —Kirkus Reviews

"A moving, thought-provoking story about coming-of-age in the midst of trauma." —Booklist 

"The Book Thief. The Boy in the Striped Pajamas. Any book compared to both of these is in my eyes sure to have an exciting plot, be a fantastic eye opener, and have loveable characters. Anna and the Swallow Man did not disappoint. Just go and read it—it is impossible not to love." —The Guardian

"The story is powerful enough to resonate with all ages....Savit's novel, though a quick read, is a powerful one. And just like the child is follows, it has a deeper poignancy masked by its seemingly simple surface." —Mashable

"Written like a love song for language — heartbreaking and entrancing and filled with characters whose survival is intimately, sometimes tragically, tied to their love of words." —Bustle