Lives of the Presidents: Fame, Shame (and What the Neighbors Thought) (Lives of . . .) (Hardcover)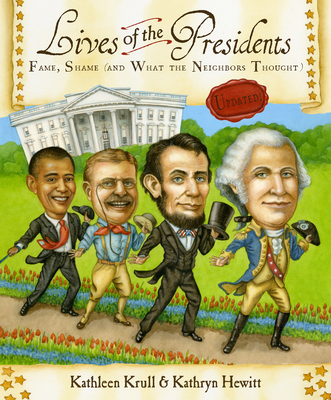 Description
---
Every U.S. president is the focus of public scrutiny, but how well do we know these men? What kind of fathers do presidents make? Husbands? Neighbors? Other books focus on the historical achievements of those who have occupied our country's highest office; Lives of the Presidents looks instead at their bad habits, silly nicknames, and strange pets. Every president—from George Washington to Barack Obama—is included, with an emphasis on those who have had the greatest impact on history. Discover their high points, low points, and the times in between. In this stunning addition to their acclaimed series, Kathleen Krull and Kathryn Hewitt take us beyond politics and photo opportunities, revealing the entertaining, complex, and very real lives of the presidents.
About the Author
---
Kathleen Krull is well known for her innovative, award-winning nonfiction for young people, including Lives of the Explorers, Lives of the Musicians, and all other books in this popular series illustrated by Kathryn Hewitt. She is also the author of Harvesting Hope: The Story of Cesar Chavez, illustrated by Yuyi Morales, as well as The Beatles Were Fab (and They Were Funny) and Lincoln Tells a Joke: How Laughter Saved the President (and the Country), both co-written with Paul Brewer and illustrated by Stacy Innerst. She lives in San Diego, California. Visit her online at kathleenkrull.com. 

Kathryn Hewitt's caricatures of famous figures led kids to dub the Lives of . . . series the "Big Head" books. She has illustrated many books for young readers, some of which she also wrote. She lives in Santa Monica, California. Visit her website at www.kathrynhewitt.com.