All Grown Up (Hardcover)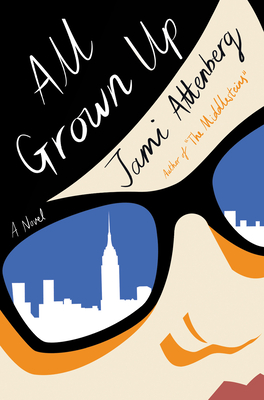 Staff Reviews
---
Hilarious and insightful this is Attenberg at her best! This terrific novel is about what some would consider a fate worse than death: being single in your late 30's.  Is it possible to be 'all grown up' without marriage and children?  Of course it is! And we're along for the ride with a hot-mess character who has her ups and downs, but does all she can to live her best life... or not.  Really fun!
— Greg
March 2017 Indie Next List
---
"Though Andrea Berg hasn't hit society's milestones for adulthood - no husband, no baby, an anemic career - she is clearly 'all grown up,' and in Jami Attenberg's wonderful new novel, she struggles to define her place to the wider world, her family, and herself. In funny, often poignant vignettes of one woman's life, All Grown Up perceptively explores what it means to be an adult."
— Sarah Baline (W), Kramerbooks, Washington, DC
Summer 2018 Reading Group Indie Next List
---
"All Grown Up, a raw but funny novel, tells the story of the ever-present battle between when it's appropriate to put yourself first versus when it's time to simply grow up. Through the life of Andrea, the reader is taken on a journey of true friendships and sexual failures, pathetic dependency and heart-wrenching family dynamics. Needless to say, Attenberg has done it again."
— Hannah Farrow, The Oxford Exchange, Tampa, FL
Description
---
From the New York Times best-selling author of The Middlesteins comes a wickedly funny novel about a thirty-nine-year-old single, childfree woman who defies convention as she seeks connection.​

Who is Andrea Bern? When her therapist asks the question, Andrea knows the right things to say: she's a designer, a friend, a daughter, a sister. But it's what she leaves unsaid—she's alone, a drinker, a former artist, a shrieker in bed, captain of the sinking ship that is her flesh—that feels the most true. Everyone around her seems to have an entirely different idea of what it means to be an adult: her best friend, Indigo, is getting married; her brother—who miraculously seems unscathed by their shared tumultuous childhood—and sister-in-law are having a hoped-for baby; and her friend Matthew continues to wholly devote himself to making dark paintings at the cost of being flat broke.
 
But when Andrea's niece finally arrives, born with a heartbreaking ailment, the Bern family is forced to reexamine what really matters. Will this drive them together or tear them apart? Told in gut-wrenchingly honest, mordantly comic vignettes, All Grown Up is a breathtaking display of Jami Attenberg's power as a storyteller, a whip-smart examination of one woman's life, lived entirely on her own terms.
About the Author
---
JAMI ATTENBERG is the New York Times best-selling author of seven books of fiction, including The Middlesteins and All Grown Up. She has contributed essays to the New York Times Magazine, the Wall Street Journal, the Sunday Times, and Longreads, among other publications. She lives in New Orleans.
Praise For…
---
A National Bestseller
 
An LA Times Bestseller
A New Atlantic Independent Booksellers Association Bestseller
A Southern California Independent Booksellers Association Bestseller
A Northern California Independent Booksellers Association Bestseller
An IndieNext List Pick
An Amazon Top 100 Best Book of 2017
A Kirkus Best Fiction of 2017 Pick

"Deeply enjoyable."—Marisa Meltzer, Elle
 
"Bravo to Attenberg, who, with hilarity and honesty, tells the story of an adult woman who wants what she wants, not what she's supposed to want."—Marie Claire
 
"All Grown Up [is] a smart, funny/sad and unflinchingly honest novel about a single New Yorker. . . . In sparkling prose, [Attenberg] brings this wonderful character so fully to life that after the book ended, I found myself wishing Andrea well as if she were a good friend and wondering what she would do next."—Milwaukee Journal Sentinel

"I read it twice, laughing, cringing, and even tearing up."—Judy Blume, New York Times

"Addicting and incredibly refreshing…. Attenberg brings the often upsetting, often comedic realities of life across in poignant, astute vignettes that will live in the reader's heart for a long, long time."—Travel and Leisure

"Thank you, Jami Attenberg, for pushing back against society's assumptions about what is allowed to matter in our lives. For giving us a different kind of narrative. All Grown Up is not all fluffy and lovely. It turns out that we have other stories — we single people. We human beings."—Bustle
 
"Revolutionary…. [A] perceptive study of love, sacrifice, and what it really means to be an adult."—Tablet

"Jami Attenberg deftly travels inside the head of a 39-year-old woman who has no interest in doing what she's supposed to do and follows her heart instead of her mind—a story that's sexy, charming, and impossible to put down."—Newsweek

"Powerful…All Grown Up is so intimately [and] sharply observed."—Vogue

"Attenberg is one of our finest contemporary storytellers, and here, with her trademark clever, witty voice, she tackles the age-old question plaguing people of all ages: When do we know if we're actually all grown up?"—Nylon, "50 Books We Can't Wait to Read in 2017"
 
"Smart, heartfelt, and really freakin' funny."—Sara Nović, Elle.com, "25 Most Anticipated Books by Women for 2017"
 
 "Attenberg knows how to make a reader laugh and feel. This novel takes a hard look at what it means to be a woman living on her own terms."—Lisa Lucas, Martha Stewart Living, "Page Turners for 2017"

"I read it start to finish in one go, I can't think of another book I've done that about recently."—Mary Louise Kelly, NPR's Weekend Edition Sunday

"Attenberg's fifth novel is her best yet. It's a super-smart, often extremely funny, sometimes heartbreaking portrait of a 39-year-old, single, child-free heroine in New York City who's taking her very best shot at living life on her own terms. . . . As angry, sad and raw as it is astute, hilarious and hopeful, All Grown Up puts other novels in this vein to shame."—The Observer

"There's something fresh and enquiring in Attenberg's writing; a gloriously technicolor quality to the voice of her anti-heroine. As is often the hallmark of these projects, much of the humour comes from a wicked brew of truth-telling, honesty and bravery. Of saying the unsayable. In this respect, Attenberg writes with a scalpel, and has presented one of the finest, and most unexpected, character studies you're likely to read all year."—The Irish Independent

"Jami Attenberg will have you laughing, cursing, and ranting right along with her book's vibrant main character, Andrea — a 39-year-old single New Yorker trying to figure out how hold her life together. (And trying to figure out what 'having your life together' even means.) This book has got serious spunk."—Bustle, "The 9 Best Fiction Books Coming Out in March"

"Amidst the gems of mordant wit, All Grown Up plumbs deeper, darker veins, the ready ease with which sex (and drugs and alcohol) can become coping mechanisms, the specter of being stuck forever as everyone else moves on, "architecting new lives." Do yourself a favor and buy this book."—Tomi Obaro, Buzzfeed Books

"Told in smart and funny vignettes, All Grown Up is an examination of what it means to be a woman and a grown-up in today's times. This deceptively short novel will stay with you long after finishing the last page."—Popsugar, "26 Hot New Books You'll Want to Get Your Hands On This Spring"

"With a flair for understatement and crack timing, she makes Andrea Bern immensely flawed but highly resilient and self-aware, capable of reflecting on the lack of ballast in her life without drowning in clichés or Issues. It's essential to the story that Andrea is unreservedly single; what makes it so good is that she's absolutely singular."—Vulture, "8 Books You Need to Read This March"

"With a satirical voice and astounding pathos, Attenberg's latest protagonist draws readers into the enthralling and thought-provoking world she inhabits, against the backdrop of an important social conversation about contemporary gender roles."—Harpers Bazaar

"Fantastic–and wholly unlike anything else she's written."—Vol.1 Brooklyn

"Attenberg's latest takes on the ridiculous standards we set for ourselves, all with humor and aching relatability."—PureWow

"Funny, insightful."—Dallas Morning News

"This is a novel about how to step up when your smug married friend suddenly gets divorced, or when your annoying mum really needs you; about 'being there' for people when you don't even know where 'there' is. It has hope, in spades."—The Guardian

"All Grown Up is a smart, addictive, hilarious and relevant novel."—Meredith Maran, Washington Post

"Andrea, 39, is totally single. No kids, no men, nothing keeping her from living her life to its full potential, which she does. Until her niece is born with a tragic illness, and Andrea's whole family is forced to confront their values, their lifestyles, and their choices. Told in vignettes, All Grown Up asks what happens after you've got the whole "adult" thing under control."—Glamour, "Best Books to Read in 2017"

"This is where Attenberg's brilliance lies: in her ability to mix tenderness with tragicomedy; to find what's funny in the funereal; to render the dignity of those who fear they've lost it. . . . Outstanding."—Haaretz

"Funny, tragic and delightful."—Chicago Tribune
 
"Attenberg captures the kaleidoscopic flow of Andrea's life in spare and witty vignettes that build to a surprising and moving conclusion."—Jane Ciabattari, "Ten Books You Should Read in March," BBC.com

"Hilarious, courageous and mesmerizing from page one, ALL GROWN UP is a little gem that packs a devastating wallop.  It's that rare book I'm dying to give all my friends so we can discuss it deep into the night.  I'm in awe of Jami Attenberg."—Maria Semple, author of Where'd You Go, Bernadette?
 
"Jami Attenberg's sharply drawn protagonist, Andrea, has such a riveting, propulsive voice that ALL GROWN UP is hard to put down, but I urge you to resist reading it in one sitting. Both the prose and the author's knowing excavation of one woman's desires, compromises, strengths and fears deserve closer attention. Like Andrea herself, this novel is beautiful and brutal, intelligent and funny, frank and sexy."—Cynthia D'Aprix Sweeney, New York Times bestselling author of The Nest
 
"Jami Attenberg's Andrea is the most addicting female protagonist voice I have read in years, with her cutting observations on human relationships. This witty journey through a mess of men, female friendships, family and boozy urban existence positions the single girl not as object to be fixed but as contemporary sage and seer: the ultimate witness of truth in love today."—Melissa Broder, author of So Sad Today
 
"Jami Attenberg has written her frankest, funniest, and most riveting and heartbreaking book yet. In Andrea, she has created a character women will be talking about for years; she has opened the door for us to see ourselves in literature in a new way, writing with skill and fearlessness few others can match."—Emily Gould, author of Friendship
 
"What a voice. Honest and hilarious, unflinching and unapologetic, Jami Attenberg writes what it is to be single, sexual, and childfree by choice. I read the first page of ALL GROWN UP and knew the novelist was going to outdo herself. I am happy to report that she most certainly did."—Helen Ellis, author of American Housewife
 
"Jami Attenberg's ALL GROWN UP is one part Denis Johnson, one part Grace Paley, but all her. Every sentence pulls taut and glows--electric, gossipy, searing fun that is also a map to how to be more human."—Alexander Chee, author of The Queen of the Night
 
"Is all life junk - sparkly and seductive and devastating - just waiting to be told correctly by someone who will hold our hand and walk with us a while confirming that what we're living is true. This is a good proud urban book, a sad and specific blast for the fearless to read. Thank you Jami."—Eileen Myles, author of Chelsea Girls
 
"All Grown Up is one of those rare books –even the greatest writers often only get one or two in their careers— in which an author's unique sensibility meets with the story she was born to tell. This fractured, soulful portrait of a determinedly independent woman –a woman whose radical independence often puts her at odds with a misunderstanding society— is vital reading for women and men alike."—Stefan Merrill Block, author of The Story of Forgetting and The Storm at the Door