I Hear Your Voice (Paperback)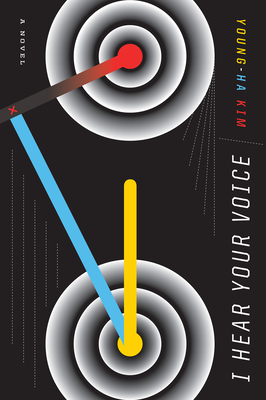 Description
---
From one of Korea's literary stars, a novel about two orphans from the streets of Seoul: one becomes the head of a powerful motorcycle gang, and the other follows him at all costs 

In South Korea, underground motorcycle gangs attract society's castoffs. They form groups of hundreds and speed wildly through cities at night. For Jae and Dongyu, two orphans, their motorcycles are a way of survival.

Jae is born in a bathroom stall at the Seoul Express Bus Terminal. And Dongyu is born mute—unable to communicate with anyone except Jae. Both boys grow up on the streets of Seoul among runaway teenagers, con men, prostitutes, religious fanatics, and thieves. After years navigating the streets, Jae becomes an icon for uprooted teenagers, bringing an urgent message to them and making his way to the top of the gang. Under his leadership, the group grows more aggressive and violent—and soon becomes the police's central target. 

A novel of friendship—worship and betrayal, love and loathing—and a searing portrait of what it means to come of age with nothing to call your own, I Hear Your Voice resonates with mythic power. Here is acclaimed author Young-ha Kim's most daring novel to date.
About the Author
---
YOUNG-HA KIM is the author of seven novels—four published in the United States, including the acclaimed I Have the Right to Destroy Myself and the award-winning Black Flower—and five short-story collections. He has won every major Korean literature award, and his works have been translated into more than a dozen languages. He lives in Seoul, South Korea. 
KRYS LEE is the author of the short story collection
Drifting House
and the forthcoming novel
How I Became a North Korean.
She is a recipient of the Rome Prize and the Story Prize Spotlight Award, the Honor Title in Adult Fiction Literature from the Asian/Pacific American Libraries Association, and a finalist for the BBC International Story Prize. Her fiction, journalism, and literary translations have appeared in
Granta
, the 
Kenyon Review
,
Narrative
, the 
San Francisco Chronicle
, and the
Guardian
, among others. She teaches creative writing and literature at Yonsei University in South Korea.
Praise For…
---
Included on TIME's "What to Read Now: Summer Reading" 
Included on THE MILLIONS's "Most Anticipated: The Great Second-Half 2017 Book Preview"
Included on BOOKRIOT's "New and Noteworthy"

"Kim, an acclaimed South Korean writer, snares us with his taut and eventful opening…a gritty account of what might best be called trying to survive while sinking… Kim has created bleak scenarios before… but here he goes further, blending dark hues with coarse textures…Kim excels with his tour of Seoul's underbelly and his examination, or evisceration, of urban culture. His warts-and-all portrayal of young disaffected, disenfranchised or delinquent misfits recalls Bret Easton Ellis's Less Than Zero, and his characters' anguished alienation is as palpable as that found in Haruki Murakami's fiction. Krys Lee deserves credit for her skilled translation…An absorbing novel about life lived on the skids, on the margins, and, ultimately, in the fast lane." 
―THE NATIONAL

"The plight of an orphan whose teenage mother disappears after giving birth to him in a bus terminal sets of Kim's dark tale about teenage gangs and the underside of Korean city life… Donggyu, though still a teenager, leaves the comforts of home to join him, and his feelings about Jae, which waver from adoration to murderous jealousy, are vividly portrayed… Kim casts an unwavering spotlight on the gritty street life of teenagers, capturing their angst, ennui, and vulnerability."
―PUBLISHERS WEEKLY

"Elegantly rendered into English by Lee, author of How I Became a North Korean (she is also translating Kim's next novel), this is a wrenching examination of discarded youth, abuses of power, and the irreparable disintegration of societal structures."
—BOOKLIST

"Kim (I Have the Right to Destroy Myself, 2010, etc.), a prolific and eclectic Korean novelist, has found artistically fertile ground in the broken lives of his country's misfits… Like the shifting gears of an engine, Kim's narrative changes perspectives from Donggyu's first-person recollections to wide-screen omniscience to the point of view of an enigmatic police officer and even to that of the author himself, following a climactic motorcycle rally whose stunning denouement leaves behind many more questions than answers… [Kim's]own empathetic gifts applied toward even the quirkiest and seediest of his characters evoke a vivid panorama of what life along the edges is like in Seoul."
―KIRKUS REVIEWS

"I Hear Your Voice is compulsively readable—it zips along on light feet, relating sad and often horrifying events without judgement. Young-ha Kim is kin to those writers of more experimental times than ours: Daniel Defoe and Thomas Nashe, writers who followed their stories and themes into whatever haunted, humid dark corners they found, and who weren't afraid to linger in those places to see what else might be there. Kim shares their unmoored curiosity as well as their deep discipline—usually, you have to pick one. In a relatively short space, Kim accomplishes much, and saves his very best work for the book's miraculous final act: a rare treat."
—JOHN DARNIELLE, New York Times bestselling author of Universal Harvester and National Book Award-finalist Wolf in White Van