Eat And Run: My Unlikely Journey to Ultramarathon Greatness (Paperback)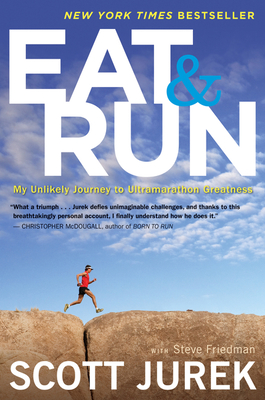 $16.99

Usually Ships in 1-5 Days
Description
---
The New York Times bestseller Eat and Run is "the inspiring story of an inspired man. Scott Jurek's phenomenal success as an ultra-marathoner demonstrates that meat and other animal foods are not necessary for optimum health, strength, and endurance."—Andrew Weil, #1 New York Times bestelling author of Spontaneous Happiness

For nearly two decades, Scott Jurek has been a dominant force — and darling — in the grueling and growing sport of ultrarunning. He held the American 24-hour record and he was one of the elite runners profiled in the runaway bestseller Born to Run. In Eat and Run, Jurek opens up about his life and career as a champion athlete with a plant-based diet and inspires runners at every level.

From his Midwestern childhood hunting, fishing, and cooking for his meat-and-potatoes family to his slow transition to ultrarunning and veganism, Scott's story shows the power of an iron will and blows apart the stereotypes of what athletes should eat to fuel optimal performance. Full of stories of competition as well as science and practical advice — including his own recipes — Eat and Run will motivate readers and expand their food horizons.
About the Author
---
SCOTT JUREK is a world-renowned ultramarathon champion who trains and races on a vegan diet, as chronicled in his New York Times besteller Eat and Run. He has prominently appeared in two New York Times bestsellers, Born to Run and The 4-Hour Body, and has been featured on CNN and in The New York Times, USA Today, the Wall Street Journal, and numerous other media. Known and admired for his earth-conscious lifestyle, Scott is also a highly sought after motivational speaker, physical therapist, coach, and chef. He has delivered talks to numerous organizations, including Microsoft, Starbucks, and the esteemed Entertainment Gathering. 
STEVE FRIEDMAN is the author of
Lost on Treasure Island
,
Driving Lessons
, and
The Agony of Victory
and co-author of the
New York Times
bestseller
Loose Balls
. His work has appeared numerous times in
The Best American Sports Writing
. His website is stevefriedman.net.
Praise For…
---
"The surprise here isn't that Scott Jurek knows a lot about nutrition—I especially love his "Holy Moly Guacamole" recipe. Or that he ran prodigious mileage to prepare for his many ultramarathon victories. More impressively, we discover that Jurek studied many of the great philosophers, and used their lessons to focus his running. In pursuing the mental side of endurance, Jurek uncovers the most important secrets any runner can learn." —Amby Burfoot, winner of the 1968 Boston Marathon and author of The Runner's Guide to the Meaning of Life

"What a triumph—both Scott Jurek's life and this one-of-a-kind book. I've seen Scott in action as he defies unimaginable challenges, and thanks to this breathtakingly personal account, I finally understand how he does it. He rebuilt himself literally from the inside out, and the result is a man—and a story—unlike any other." —Christopher McDougall, best-selling author of Born to Run "This is the inspiring story of an inspired man. Scott Jurek's phenomenal success as an ultramarathoner demonstrates that meat and other animal foods are not necessary for optimum health, strength, and endurance." —Andrew Weil, M.D. author of Spontaneous Happiness and 8 Weeks to Optimum Health —