Running to the Edge: A Band of Misfits and the Guru Who Unlocked the Secrets of Speed (Paperback)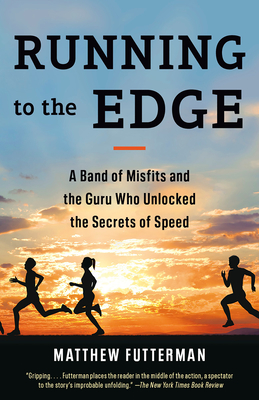 List Price: $18.00
Our Price: $16.95
(Save: $1.05 6%)
Description
---
The story of visionary American running coach Bob Larsen's mismatched team of elite California runners who would win championships and Olympic glory in a decades-long pursuit of "the epic run."

In the dusty hills above San Diego, Bob Larsen became America's greatest running coach.
Running to the Edge is a riveting account of Larsen's journey, and his quest to discover the unorthodox training secrets that would lead American runners to breakthroughs never imagined. Futterman interweaves the dramatic stories of Larsen's runners with a fascinating discourse on the science behind human running, as well as a personal running narrative that follows Futterman's own checkered love-affair with the sport. The result is a narrative that will speak to every runner, a story of Larsen's triumphs--from high school cross-country meets to the founding of the cult-favorite, 70's running group, the Jamul Toads; from his long tenure as head coach at UCLA to the secret training regimen of world champion athletes like Larsen's protégé, Meb Keflezighi. Running to the Edge is a page-turner . . . a relentless crusade to run faster, farther.
About the Author
---
MATTHEW FUTTERMAN is Deputy Sports Editor of the New York Times. He has previously worked for The Wall Street Journal, The Philadelphia Inquirer and the Star-Ledger of New Jersey, where he was a part of the team that won the Pulitzer Prize for Breaking News in 2005. Like a lot of sportswriters, he is something of a frustrated athlete, who is still smarting from going 0-8 in singles his senior year at Union College. He blames a formerly weak psyche and sub-optimal serve. He grew up in Larchmont, New York, and graduated from Mamaroneck High School, Union College and Columbia University's Graduate School of Journalism. He also attended the creative writing program at the University of Arkansas. He lives in New York with his wife and children. In his spare time he runs marathons. He is not sure why.
Praise For…
---
"Futterman's subject: Bob Larsen, a visionary coach whose work over the past 50 years changed the course of distance running in this country. Larsen, who started as a high school cross-country coach in the dusty hinterlands of San Diego County, brought together a scrappy, hodgepodge group of fleet-footed male runners known as the Jamul Toads. Futterman places the reader in the middle of the action, a spectator to the story's improbable unfolding. While Larsen's later athletes — most notably the Olympic medalists Meb Keflezighi and Deena Kastor, who dominate the book's second half — ran to international glory and lend a glimmer of star power to the story, it's the long-forgotten Toads who will elicit the most cheers. 'They are chasing victory, but also the primal idea of doing what the body was meant to do, doing it beautifully and to its fullest extent, which are really the same thing.' Long after they faded into obscurity, the Toads stand as testament that the joy of sport doesn't lie in the results but in the process, the pursuit of excellence and self-discipline, the rigors and rewards of dedication."
--The New York Times Book Review

"Running to the Edge reveals the untold history of how a determined coach and his motley crew of underdogs practically defibrillated U.S. distance running. It is at once a beautiful meditation on effort and a tale as captivating and suspenseful as a great race." 
--David Epstein, New York Times bestselling author of The Sports Gene

"Running To The Edge is at its heart a vivid, fascinating and affectionate portrait of a man who changed the sport of running in America, and of the sport that changed him. Through the story of a pioneer coach, Bob Larsen, Matt Futterman deftly describes both the running boom era of the 1970s and 1980s, and the resurgence of American distance-running talent in the aughts. I can't think of a runner who wouldn't enjoy this book."
--Ed Caesar, author of Two Hours: The Quest to Run the Impossible Marathon

"Athletes in any sport stand to learn from Larsen's methods, and Futterman turns in a fluent yarn reminiscent of Plimpton and McPhee."
--Kirkus

"An inspirational road map for runners . . . Fast-paced . . . New York Times sports editor Futterman enthusiastically documents the life of renowned American running coach Bob Larsen. Throughout, Futterman makes physiology easily understandable and shares his own story of qualifying for and competing in his dream race: the 2018 Boston Marathon."
--Publishers Weekly 

"[M]asterful . . . Readers eager for a compelling underdog sports story are sure to enjoy this account, as many will see themselves in the band of 'misfits' Futterman profiles, young rebels who formed the infamous San Diego–based running club, the Jamul Toads."
--Booklist

"A captivating narrative. Futterman gives us an informative history of American distance running while telling a fascinating story about a group of unconventional San Diegan boys who unexpectedly competed for a national cross country championship in 1976 against the well-established major running clubs. Futterman profiles a young coach Bob Larsen, who was developing training methods that would later turn UCLA into a national running powerhouse, and help lead Meb Keflezighi and Deena Kastor to become Olympic marathon medal winners."
--Bill Pierce, co-author of  Run Less, Run Faster

"At the core, running is about pushing one's self to the limit. Matthew Futterman's Running to the Edge is a fascinating account of Bob Larsen's journey to uncover the secrets of optimal run training, initially for himself and then for his runners. The story is riveting. If you love running this book will knock your shoes off--highly recommended!"
--Jordan D. Metzl, MD, author of Dr. Jordan Metzl's Running Strong 

"Matt Futterman's definitive examination of this primal human sport--distance running--richly serves a subject he knows intimately and rewards the reader with a captivating ride. This is a classic American underdog tale, populated by appealing oddballs, in search of answers to an age-old mystery: Why do we run? Running to the Edge takes you right where it promises it go."   
--Mark Frost, author of The Match, and creator of "Twin Peaks"

"Many running fans know about marathon star Meb Keflezighi and perhaps even about his longtime coach, Bob Larsen. But few have heard about Larsen's life and coaching before Meb. That's the story told for the first time in Running to the Edge, a tale about the ragtag, improbably named "Jamul Toads" running club, and how Larsen's training methods turned the toads into national-class gazelles. It's a throwback story, recalling an era when passion was more important than sponsorships and the goal was more often guts than glory. Readers will feel themselves drawn into the Bob Larsen-Jamul Toads ethic, and they'll cheer out loud for the little-known underdogs. I know I did."
--Amby Burfoot, 1968 Boston Marathon champ, former editor in chief of Runners World and author of Runner's World Complete Book of Running

"Packed with valuable knowledge elegantly conveyed, Running to the Edge is an inspiring and eye-opening look into the evolution of the distance running tradition. Matthew Futterman beautifully translates his passion and curiosity for running into a book that speaks to runners of all abilities."
--Alexi Pappas, distance runner and star of Tracktown

"Coach Bob Larsen has been a father figure to me and provided me with guidance that was key to my success. He is knowledgeable and witty and his approach is all about making small progress in order to prepare you for big-time races. I've been fortunate to have his great insight for decades."
--Meb Keflezighi, New York and Boston Marathon Champion, and U.S. Olympic Silver Medalist