Firewatching (A Detective Sergeant Adam Tyler Novel #1) (Hardcover)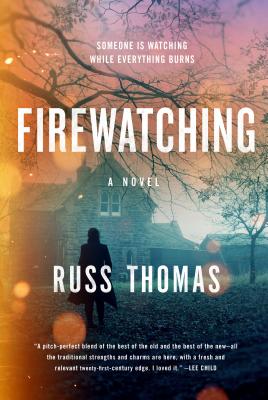 Other Books in Series
This is book number 1 in the A Detective Sergeant Adam Tyler Novel series.
Description
---
"A pitch-perfect blend of the best of the old and the best of the new--all the traditional strengths and charms are here, with a fresh and relevant twenty first-century edge. I loved it."--Lee Child

A taut and ambitious police procedural debut introducing Detective Sergeant Adam Tyler, a cold case reviewer who lands a high-profile murder investigation, only to find the main suspect is his recent one-night stand . . .

When financier Gerald Cartwright disappeared from his home six years ago, it was assumed he'd gone on the run from his creditors. But then a skeleton is found bricked up in the cellar of Cartwright's burned-out mansion, and it becomes clear Gerald never left alive.

As the sole representative of South Yorkshire's Cold Case Review Unit, Detective Sergeant Adam Tyler is not expected to get results, but he knows this is the case that might finally kick start his floundering career. Luckily, he already has a suspect. Unluckily, that suspect is Cartwright's son, the man Tyler slept with the night before.

Keeping his possible conflict-of-interest under wraps, Tyler digs into the case alongside Amina Rabbani, an ambitious young Muslim constable and a fellow outsider seeking to prove herself on the force. Soon their investigation will come up against close-lipped townsfolk, an elderly woman with dementia who's receiving mysterious threats referencing a past she can't remember, and an escalating series of conflagrations set by a troubled soul intent on watching the world burn . . .
About the Author
---
Russ Thomas grew up in the 80s reading anything he could get his hands on, writing stories, watching television and playing videogames: in short, anything that avoided the Great Outdoors. He spent five years trying to master the Electronic Organ and another five learning Spanish. It didn't take him too long to realize he'd be better off sticking to the writing.

After a few 'proper' jobs (among them: pot-washer. optician's receptionist, supermarket warehouse operative, call-center telephonist and storage salesman) he discovered the joys of bookselling, where he could talk to people about books all day. Now a full-time writer, he also teaches creative writing classes and mentors new authors. Firewatching is his first novel.
Praise For…
---
"Firewatching is a UK cop novel with a pitch-perfect blend of the best of the old and the best of the new - all the traditional strengths and charms are here, with a fresh and relevant 21st-century edge. I loved it."—Lee Child

"I've got a new man in my life. His name is Adam Tyler. Yorkshireman. Enjoys cold drinks and colder cases. Hangs out in exceptional debut novels and exceptionaller sequels. Firewatching and Nighthawking are comparable with the best of Michael Connelly's Bosch books and James Lee Burke's Robicheaux novels, and – naturally – Ian Rankin; but there's an elegiac quality here that reminds me of Kate Atkinson's Jackson Brodie titles and the Dublin Murder Squad series by Tana French."—AJ Finn, author of The Woman in the Window

"[An] excellent debut…This stunning police procedural marks Thomas as an author to watch."—Publishers Weekly (starred review)

"The richness of Tyler's character and the vividness of his negotiation of his own sexuality and the casual bigotry in his community are effective. The subsidiary characters are lively and believable, the arsons are particularly well described…This is a rewarding entertainment. A good detective in an incendiary procedural."—Kirkus Reviews

"[A] gritty first novel...Tyler and Rabbani make an intriguing team, and Thomas shows a flair for vivid imagery in this twisty, very dark procedural."—Booklist

"Tortured characters and the story's fires ignite a dramatic, riveting debut about fathers, sons, and secrets. Readers who appreciate Ann Cleeves's intricately plotted stories with complicated protagonists will welcome another British series into that fold."—Library Journal