Cher Ami and Major Whittlesey: A Novel (Hardcover)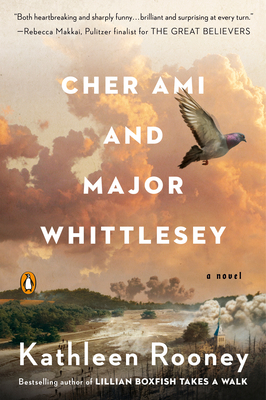 Description
---
"Both heartbreaking and sharply funny...Cher Ami and Major Whittlesey is brilliant and surprising at every turn."--Rebecca Makkai, Pulitzer finalist for The Great Believers

A heart-tugging and gorgeously written novel based on the incredible true story of a WWI messenger pigeon and the soldiers whose lives she forever altered, from the author of Lillian Boxfish Takes a Walk.

From the green countryside of England and the gray canyons of Wall Street come two unlikely heroes: one a pigeon and the other a soldier. Answering the call to serve in the war to end all wars, neither Cher Ami, the messenger bird, nor Charles Whittlesey, the Army officer, can anticipate how their lives will briefly intersect in a chaotic battle in the forests of France, where their wills will be tested, their fates will be shaped, and their lives will emerge forever altered.
A saga of hope and duty, love and endurance, as well as the claustrophobia of fame, Cher Ami and Major Whittlesey is a tragic yet life-affirming war story that the world has never heard. Inspired by true events of World War I, Kathleen Rooney resurrects two long-forgotten yet unforgettable figures, recounting their tale in a pair of voices that will change the way that readers look at animals, freedom, and even history itself.
About the Author
---
Kathleen Rooney is the author, most recently, of the novel Lillian Boxfish Takes a Walk (St. Martin's Press, 2017) and the co-editor of René Magritte: Selected Writings (University of Minnesota Press, 2016). She is a founding editor of Rose Metal Press and a founding member of Poems While You Wait. Her previous work includes poetry, fiction, and nonfiction and has appeared in The New York Times Magazine, Allure, Salon, The Chicago Tribune, The Nation and elsewhere. She teaches English and creative writing at DePaul University and lives in Chicago with her spouse, the writer Martin Seay.
Praise For…
---
"If you haven't yet discovered the offbeat genius of Kathleen Rooney, start here with a novel both heartbreaking and sharply funny. It justifies its own premise on the first page, and quickly surpasses that premise. Cher Ami and Major Whittlesey is brilliant and surprising at every turn."   
—Rebecca Makkai, Pulitzer finalist for The Great Believers

"Imaginative and audacious...Rooney uses Cher Ami's bird's-eye view and curious afterlife to exhilerating, comic, and terrifying effect, while Whit's tragic fate is exquisitely rendered... Unforgettable... A celebration of animal intelligence, and tribute to altruism and courage."
—Booklist *Starred Review*

"Hands down, one of the best books of the year. Cher Ami and Major Whittlesey is a magnificent achievement, and everything I want from a novel. I loved it."
—J. Ryan Stradal, bestselling author of The Lager Queen of Minnesota

"You'll be amazed at the depths of character Rooney plumbs from a literal bird's-eye-view, and by how she entwines the voices of a messenger pigeon and a witty, disconsolate veteran to craft a story based on true events."
—Chicago Magazine

"A properly mysterious, warmly convincing work of bright imagination. A pigeon and a haunted man returned generously, gently, to the story of the world."
—Sebastian Barry, Booker Prize-shortlisted author of Days Without End

"Cher Ami and Major Whittlesey is a splendid novel; so smart, so beautifully written—a heroic tale of the cross-species relationship between pigeon and man during the Great War. Affecting and imaginative, this story vibrated deep in my heart because it all felt so very true." 
—Annie Hartnett, author of Rabbit Cake

"Her well-researched novel touches on the folly of war (particularly this war), the sentience of animals, and—especially—survivor guilt and imposter syndrome. Rooney's writing has a delicate lyricism...she injects humor and whimsy into an otherwise solemn story. A curiosity but richly imagined and genuinely affecting."
—Kirkus Reviews

"Kathleen Rooney's immersive, immaculate new novel is both a memorial and an imperative, broadening our collective definition of humanity and courage. In bell-clear prose, Cher Ami and Major Whittlesey paints a harrowing portrait of the callousness and deep compassion of those—both man and bird—involved in the Meuse-Argonne offensive. Like Rooney's rich and poignant characters, readers will emerge from the pocket irrevocably changed."
—Julia Fine, author of What Should Be Wild
 
"In this extraordinary novel Kathleen Rooney manages to transport the reader both inside the foxholes of World War I and above them, flying over a landscape grotesquely altered by a war whose logic defies all efforts—both human and animal—to grasp it. Both a gripping tale of survival during and after war, and a contemplation of the ties between human and animal, this is a beautiful, original, deeply empathetic book." 
—Caitlin Horrocks, author of The Vexations

"Cher Ami and Major Whittlesey is brilliant—elegant and wise, deeply felt and flecked with humor. Rooney has a gift for illuminating the intimate desires of her historical characters while offering insights into our own bruised reality. It takes command and courage to write a novel as daring yet as quietly resonant as this one. I was blown away."
—Sarah Domet, author of The Guineveres

Praise for Lillian Boxfish Takes a Walk:

"Transporting…witty, poignant and sparkling."
―People (People Picks Book of the Week)

"Prescient and quick....A perfect fusing of subject and writer, idea and ideal."
―Chicago Tribune

"Extraordinary…hilarious…Elegantly written, Rooney creates a glorious paean to a distant literary life and time―and an unabashed celebration of human connections that bridge past and future.
―Publishers Weekly *starred review*

"Rooney's delectably theatrical fictionalization is laced with strands of tart poetry and emulates the dark sparkle of Dorothy Parker, Edna St. Vincent Millay, and Truman Capote. Effervescent with verve, wit, and heart, Rooney's nimble novel celebrates insouciance, creativity, chance, and valor."
―Booklist *starred review*