The Glorious American Essay: One Hundred Essays from Colonial Times to the Present (Paperback)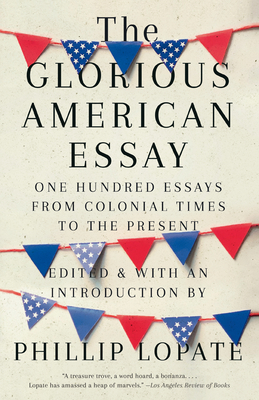 $20.00

Usually Ships in 1-5 Days
Description
---
A monumental, canon-defining anthology of three centuries of American essays, from Cotton Mather and Benjamin Franklin to David Foster Wallace and Zadie Smith—selected by acclaimed essayist Phillip Lopate

"Not only an education but a joy. This is a book for the ages." —Rivka Galchen, author of Atmospheric Disturbances

The essay form is an especially democratic one, and many of the essays Phillip Lopate has gathered here address themselves—sometimes critically—to American values. We see the Puritans, the Founding Fathers and Mothers, and the stars of the American Renaissance struggle to establish a national culture. A grand tradition of nature writing runs from Audubon, Thoreau, and John Muir to Rachel Carson and Annie Dillard. Marginalized groups use the essay to assert or to complicate notions of identity. Lopate has cast his net wide, embracing critical, personal, political, philosophical, literary, polemical, autobiographical, and humorous essays. Americans by birth as well as immigrants appear here, famous essayists alongside writers more celebrated for fiction or poetry. The result is a dazzling overview of the riches of the American essay.
About the Author
---
PHILLIP LOPATE is the author of To Show and to Tell: The Craft of Literary Nonfiction and four essay collections: Bachelorhood, Against Joie de Vivre, Portrait of My Body, and Portrait Inside My Head. He is the editor of the anthologies The Art of the Personal Essay, Writing New York, and American Movie Critics. He was awarded a John Simon Guggenheim Fellowship, a Cullman Center Fellowship, two National Endowment for the Arts grants, and two New York Foundation for the Arts grants. He is a professor of writing at Columbia University's nonfiction MFA program, and lives in Brooklyn, New York.
Praise For…
---
"An endlessly fortifying mixture of famous works and neglected gems that can take pride of place on anyone's bedside table for months before its pleasures come close to being exhausted." 
—The Wall Street Journal

"A treasure trove, a word hoard, a bonanza, perfect for dipping into and rifling through. . . .  Lopate has amassed a heap of marvels. . . .  A superb guide to the nation's most adventurous and searching forays into prose."
—Los Angeles Review of Books
 
"Eight hundred pages of mostly delight and edification. . . . Give in to its choral quality and it's easy to feel not just the sweep of our centuries but the dialogical nature of our grandest ideas and most persistent struggles." 
—The New York Times

"An almost embarrassing abundance of riches. . . . Readers of Lopate's seminal 1994 anthology "The Art of the Personal Essay" will already be familiar with his skill at picking pieces that perfectly offset and interrogate each other. Diving into one of his collections is always a delightful experience."
—Christian Science Monitor

"A feast of American thought, wit, and wisdom." 
—Milwaukee Journal Sentinel

"Phillip Lopate has captured the history of a nation speaking to itself and to the world. Lopate's rich and expansive understanding of the form has allowed him to uncover the essayistic voice in unexpected places—the sermon, the eulogy, the political treatise. To read The Glorious American Essay is to envision the American experiment itself as a kind of essay, a narrative characterized by trial and error, triumphs and false starts. One comes away from this volume with a renewed sense of the essay's vitality and its ability to capture the diverse and evolving consciousness of a country."
—Meghan O'Gieblyn, author of Interior States
 
"In this essential and, I daresay, definitive compendium, Phillip Lopate not only revisits the classics, he offers essays you might not have realized were essays: political speeches, historical documents, the musings of writers who probably had little idea at the time that they were creating lasting art. In doing so, Lopate captures what's most magical about this form; it's all around us at eye level—wherever there are words you can probably find an essay—yet the right hands can take it to places you never imagined."
—Meghan Daum, author of My Misspent Youth: Essays 

"The essay form models the way we need to live now. We need to think and feel in so many directions, reject easy dogmas, test our beliefs and desires. . . . Once again and right on time, Phillip Lopate offers an indispensable anthology. The Glorious American Essay travels from debate to dreamscape, manifesto to musing, from the struggles of history to the intimacies of the solitary self. Race, gender, science, religion, art, and identity: these quests and conflicts are our legacy as Americans."
—Margo Jefferson, author of Negroland
 
"A sumptuous collection . . . exquisitely curated by one of our finest essayists. An indispensable resource for all of us who love the genre."
—Robert Atwan, series editor of The Best American Essays

"The Glorious American Essay is, quite simply, glorious reading. Lopate has curated a collection of some of the best American essays ever written. . . [T]he book demonstrates the art, the power, the beauty and the cinematic scope of the American essay in its many forms.  Lopate's introduction is a vital, eye-opening assessment of the potential and the impact of the essay and the ways in which nonfiction can inform, persuade, delight, surprise and, most importantly, enlighten the reader."
—Lee Gutkind, author of My Last Eight Thousand Days
 
"The Glorious American Essay situates the essay, an inherently democratic form of art, as the citizen-genre and nothing less than the literary cornerstone of the country. The mongrel nature of the essay is its strength: a mode of adaptability fit for differing, shifting, American ideals. This book could hardly be more timely, relevant, urgent, or necessary."
—David Shields, author of Reality Hunger

"Lopate's look at three centuries of essays emphasizes how writers have wrestled, explicitly or sub-textually, with America's national values."
—Publishers Weekly's TOP 10 new titles in Essays & Literary Criticism   
 
"I can't think of anyone better suited than Phillip Lopate to put together an anthology like this. It fully deserves to takes its place alongside The Art of the Personal Essay as an indispensable volume." 
—Geoff Dyer, author of Broadsword Calling Danny Boy

"Phillip Lopate is one of the most brilliant and original essayists now working. . . . He has sustained the lively openness of the student who observes and hypothesizes, refusing, admirably, to harden into the judge. . . . He is a master, and also a joy to read." 
—Louise Glück 

"Phillip Lopate has earned his place at the center of our literary culture. A superb essayist, he also teaches, edits, [and] bestows order and perspective on this ever diversifying genre. The Glorious American Essay, showcases some of the best of what Whitman in another context called 'our varied carols.'"
—Sven Birkerts, author of The Gutenberg Elegies and The Art of Time in Memoir
 
"A is a thrilling tour through that most elusive jungle—the American Mind—over the course of nearly 300 years. There could be no better guide than Phillip Lopate. An invaluable anthology. It should be included in the library of anyone who has even a passing interest in American literature."
—Michael Greenberg, author of Hurry Down Sunshine
 
"As we struggle to come to grips with where America has come from and where it is heading, I can't imagine a better guide than Phillip Lopate's The Glorious American Essay. His selection of incisive essays—from Cotton Mather and Nathaniel Hawthorne through Marilynne Robinson and Zadie Smith—charts the course of the great and flawed American experiment.  It's a timely and invaluable anthology."
—James Shapiro, author of Shakespeare in a Divided America

"What's marvelous is the way Lopate's anthologies—and this new American collection is no exception—manage to be not only comprehensive monuments of deep expertise, but such continuously fresh and thrilling reading companions, right through the biographical notes."
—Jonathan Lethem, author of The Feral Detective
 
"Shaped by Phillip Lopate's tremendous intellect and curiosity, The Glorious American Essay is at once monumental and companionable. The American house of prose has more windows and doors than we had imagined, making this anthology not only an education, but a joy. This is a book for the ages."
—Rivka Galchen, author of Atmospheric Disturbances