The Flying Beaver Brothers and the Mud-Slinging Moles (Paperback)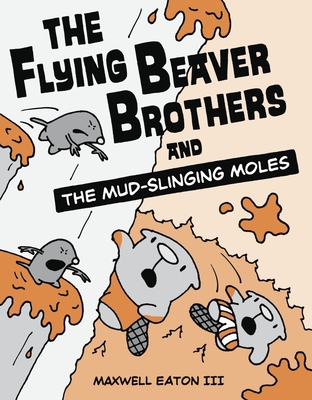 $7.99

Usually Ships in 1-5 Days
Description
---
The Flying Beaver Brothers are back! All is not well on Beaver Island. Ace and Bub have noticed a number of things (trees, houses, evil penguins) sinking into the ground. They soon discover that Captain Jo Jo and his scurvy crew of mud-making moles have hatched a nearsighted plot to steal dirt from Beaver Island to make their own island home even bigger! 

Can Ace and Bub stop their brotherly bickering and save Beaver Island before it disappears forever?
About the Author
---
MAXWELL EATON III grew up in Vermont, where he spent his childhood climbing trees, damming streams, and spying on unsuspecting cows. He now creates children's books in Tucson, Arizona, where the trees can't be climbed, and the streams run dry, but the cows are still relatively unsuspecting. He is the author and illustrator of The Adventures of Max and Pinky series, Two Dumb Ducks, and the Flying Beaver Brothers series.